Day 6 – Pangboche (3,950m) to Dingboche (4,410m)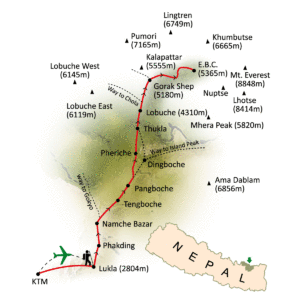 ---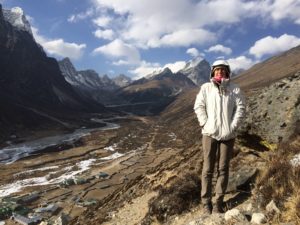 Sat around a welcome morning fire we all ate breakfast before saying goodbye to Colin and the Australian girls before setting off on our way.
One of the Australian girls was complaining of a headache and with no rest/acclimatisation day planned for them in Dingboche we were a little concerned for their well being – our worries were justified a few days later.
---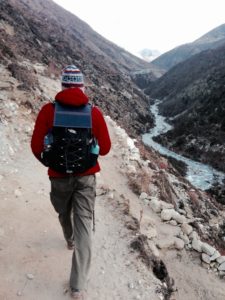 It had been the usual freezing cold night followed by a crisp, bright morning – we were keeping everything crossed that the fine weather would hold for just a few more days. True to our "Nepali time" schedule we left later than planned, but setting off we felt strong and free of any sign of AMS.
Anyone can get altitude sickness, it doesn't discriminate through age, fitness or mental strength. Physically fit people often become ill because they walk fast, gaining height too quickly. With this in mind we kept to a steady pace, reprimanded by Rabin if we went too quickly. The regularity of the rescue helicopters flying above us was a frequent reminder of how easy it is to become sick at these altitudes – complacency here is dangerous.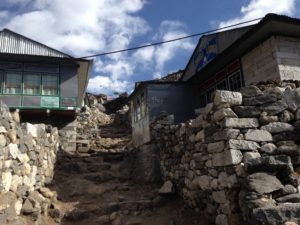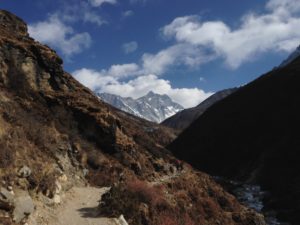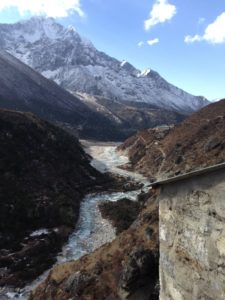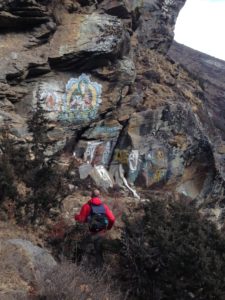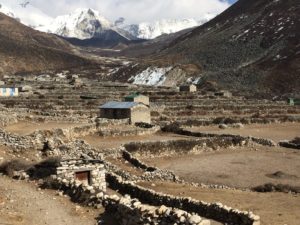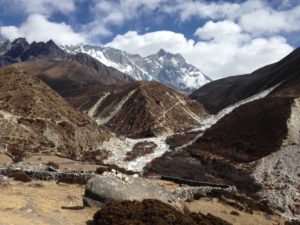 ---
Shortly after the day's trek began we reached the spot where a Frenchman had recently fallen, presumed, to his death. He'd taken a short-cut along a narrow path above a steep drop to the river and sadly, as far as we know his body's not yet been found.
Notices are displayed at intervals along the trek offering a reward for information on his whereabouts. It's a sobering reminder of how dangerous this trek can be. We would be taking no short cuts on our trip to Base Camp.
---
We arrived at Dingboche in time for lunch, where Kate started her garlic soup regime as it had been regularly recommended as a way to keep AMS at bay. On advice from Rabin I continued with my dahl bhat diet. Not only does it contain garlic, but it's the only meal in the mountains where you get seconds!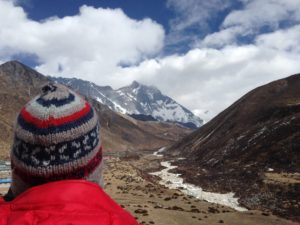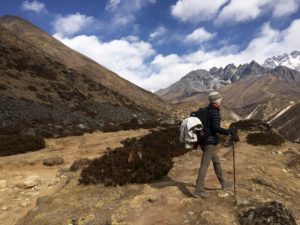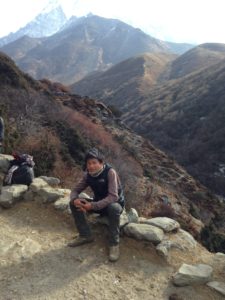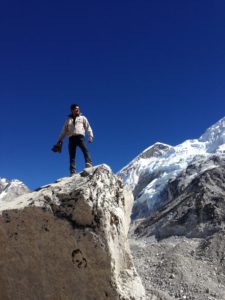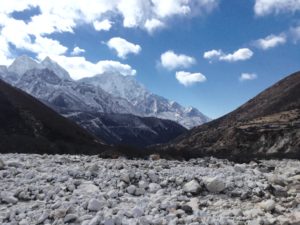 Shortly after our arrival at the tea house we met Fleur and Dirk for the the first time. This young Dutch couple were to be our companions for the remainder of the trip.
After lunch we took a short acclimatisation stroll above the village to some stupas (Buddhist shrines). The views were lovely, but the wind was cold and the night was to be bitter.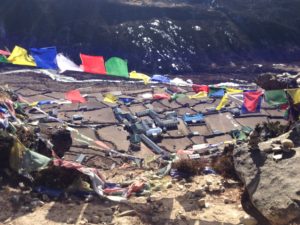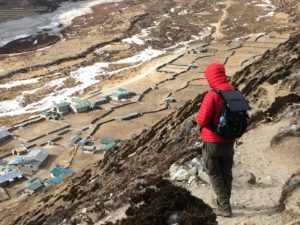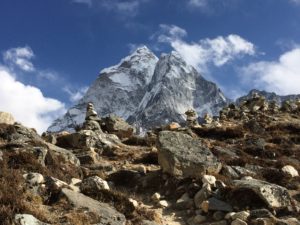 ---
With frozen toilets everywhere and no running water anywhere this was certainly not a trip for the feint hearted…
But we were LOVING it!
---
DAY 6 GALLERY