Kalaw to Inle lake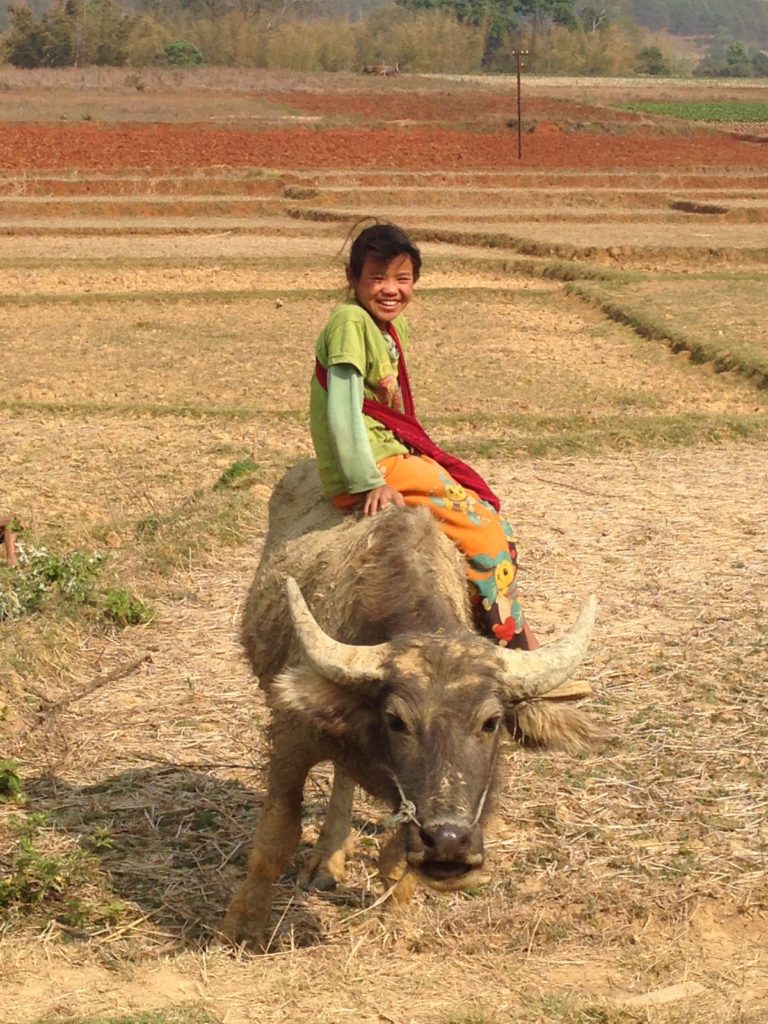 The night bus from Hsipaw arrived in Kalaw at the un-Godly hour of 4:30am. It was dark and the streets were deserted but amazingly, tucked amongst all the little shut up shops we found a small cafe peppered with local folk kick starting their day. Sitting on tiny chairs, set out on raised pavements, we drank our coffee with front row seats of the sunrise over town – despite the hour we felt wide awake.
Getting off the bus in an unfamiliar place, in the shadowy cloak of darkness to watch the day unfurl is one of our favourite things – it's like our adventures are starting afresh every time we do it.
Our guesthouse Thitaw Two was on the other side of town but having been sat on a night bus (unlike neighbouring countries there appear to be no beds on night buses in Myanmar) for the best part of 12 hours it was an easy decision to walk there rather than taking a taxi and besides it was a lovely time of day to wander through the town. With dawn breaking the streets were coming to life, the cafes were opening and the vibrant local market was filling with people – it was shaping up to be a lovely day.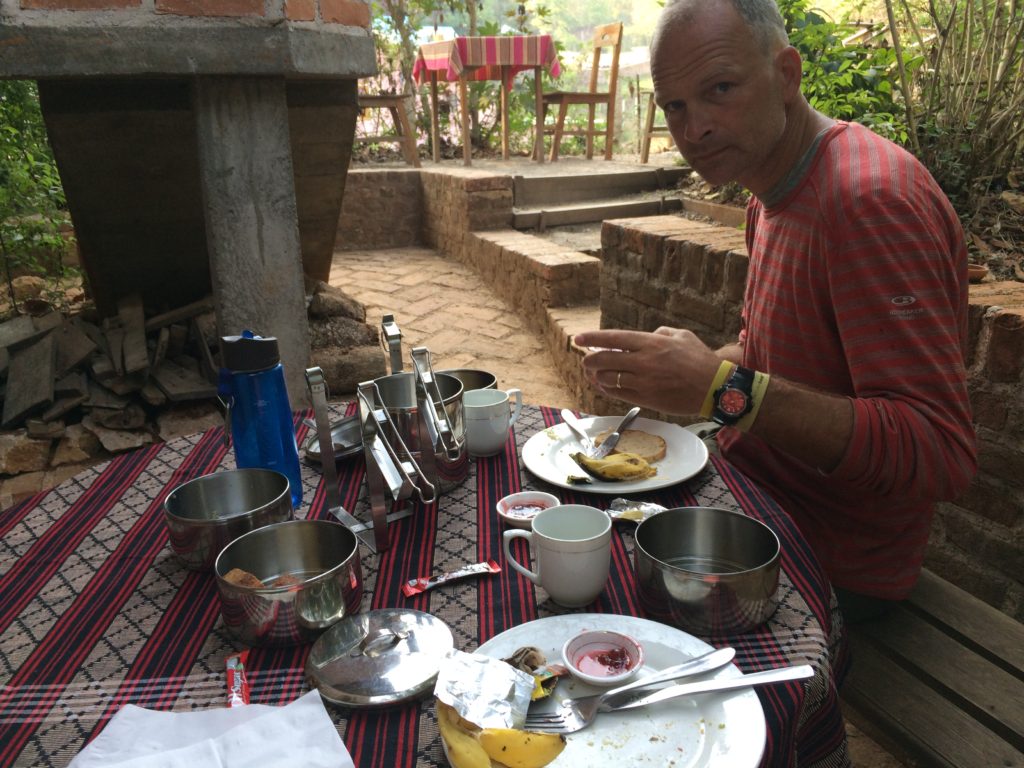 Thitaw Two was a great choice and became yet another favourite. Nestled in its own little grounds and bordered by forested mountains it was very different from anywhere else we'd stayed. We were allowed to make ourselves at home even though we'd arrived many hours before checking-in time and to our joy were treated to a hearty breakfast, including avocados grown in the gardens. Once fed and watered we set about making plans for our trek to Inle Lake, the main reason for our visit to Kalaw. Having talked to fellow guests we made a couple of calls and just like that the next few days were arranged. A 3 day trek through remote villages staying with local families – perfect.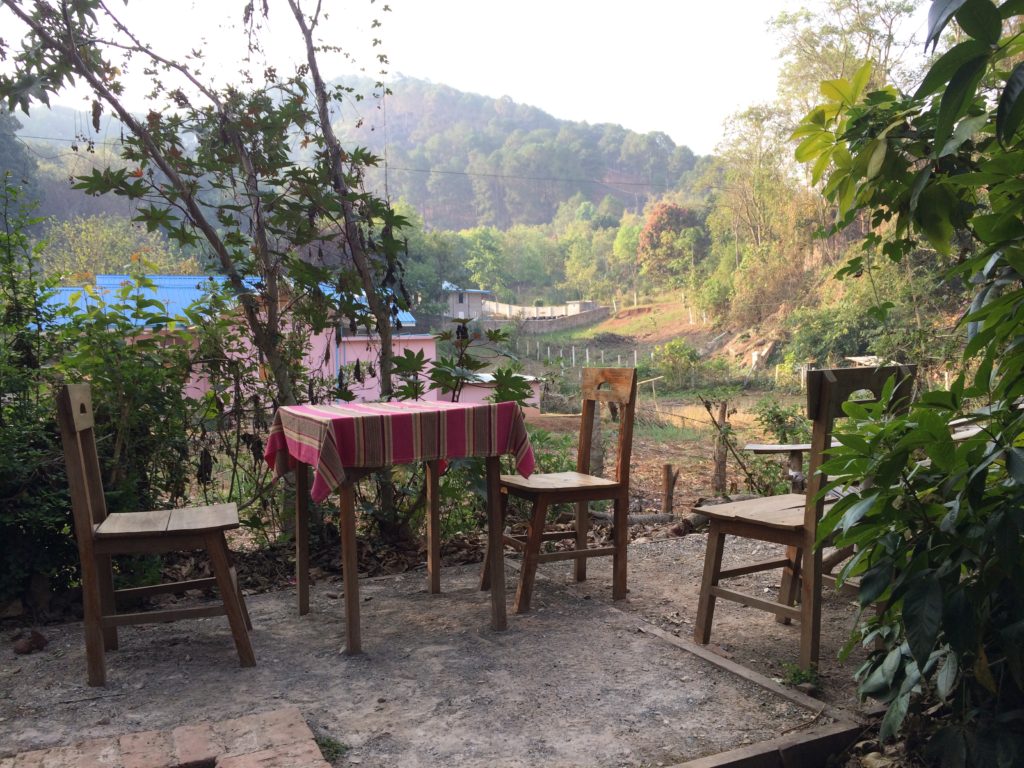 We like sleeper buses for a couple of reasons. They save the expense of a night's accommodation and arriving early in the morning, hopefully refreshed after some sleep, means there's much of the day left to explore new surroundings. Luckily we'd both got some shut eye during the night and so with plenty of time on our hands we headed out on foot to a large cave a few miles away. The day was hot, but fortunately our path threaded through forests where shade offered much welcomed relief from the fierce sun. The Myin Ma Hti cave, although not out of this world, was worth the trek and we spent a good hour or so wandering around it.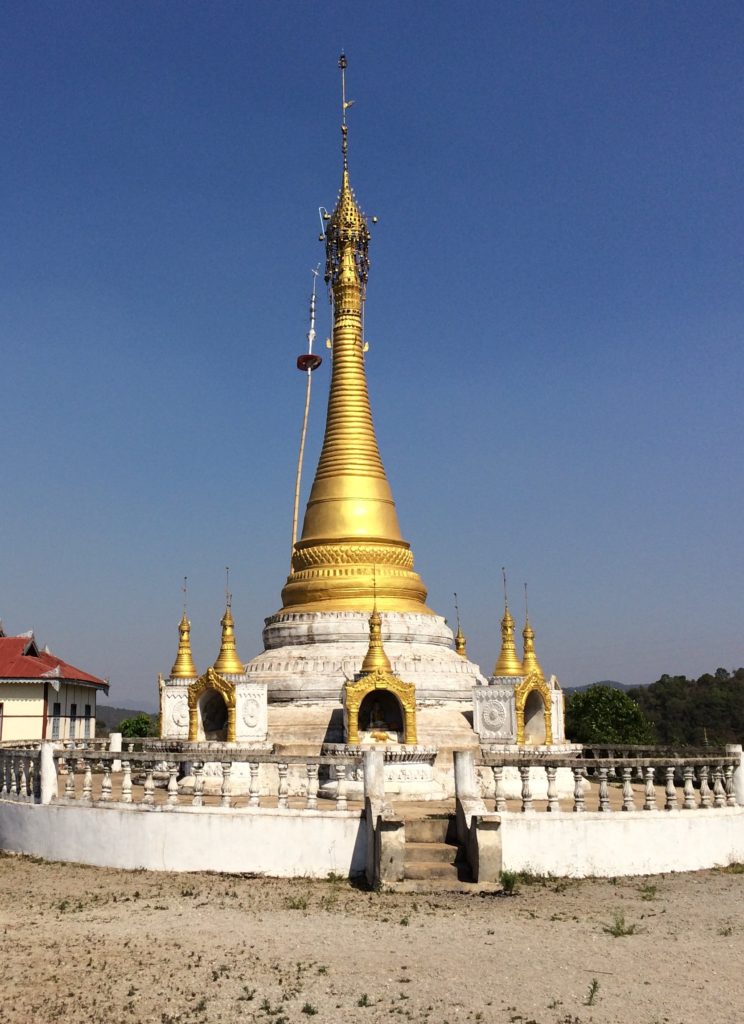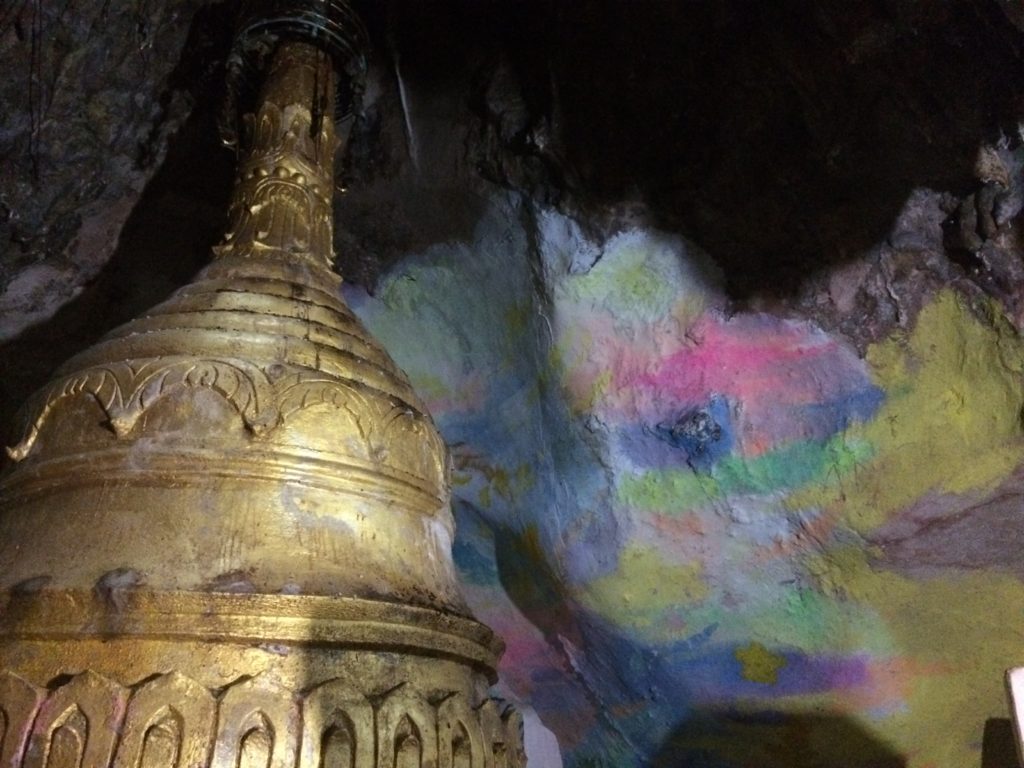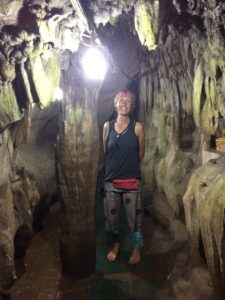 Unusually for us we opted not to walk the return trip and so, with the help of an affable cafe owner, we hitched a lift on the back of a flat bed truck. It was a fun, if somewhat unconventional way to see the surrounding countryside. On the way we passed trucks transporting somewhat larger cargo…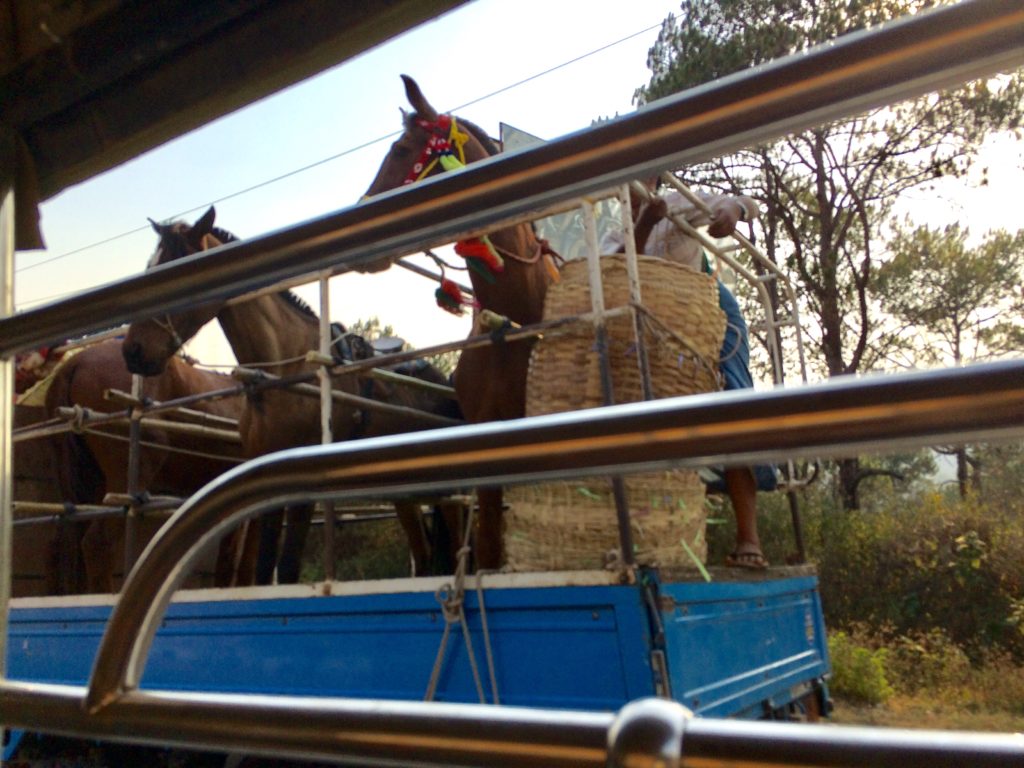 Having been dropped off in town Steve popped into a barbers for a quick trim… 3/4 of an hour later he came out with this – Oops, better put some sun cream on those bare bits!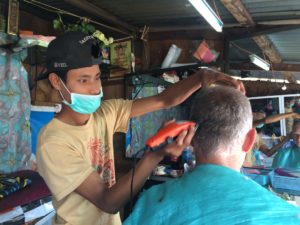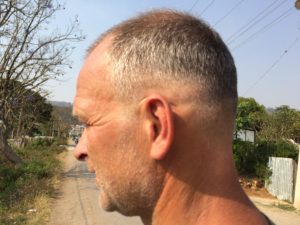 ---
Back at the guesthouse it was a quick freshen up (and straighten up of Steve's new do) before deciding where to eat. Now this can sometimes present a bit of a dilemma, often the biggest of our day. "Where d'you want to eat?" – "I don't mind, where d'you want to eat?" – "Don't ask me!" but tonight the decision was easy and unanimous. During our stroll through the town earlier we'd noticed a Nepali restaurant and so tonight it would be Dahl Bhat for old times sake. It was a great choice and memories of our 5 wonderful months in Nepal flooded back as we ate the deliciously familiar food. We left full and happy.
Whilst in Nepal we were told that there was a sizeable Nepali community in Myanmar. These Burmese Gurkhas number between 350-500,000 and are a legacy of British colonial times, primarily descendants of Gurkha troops and railway navvies. As well as in the major cities there are communities in a number of hill station towns where British housed barracks, including Kalaw, where we now were and Pyin Oo Lwin, where we'd just been.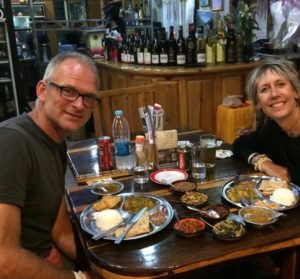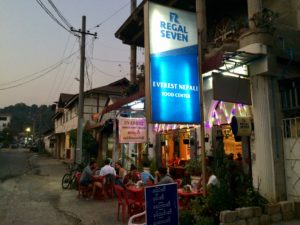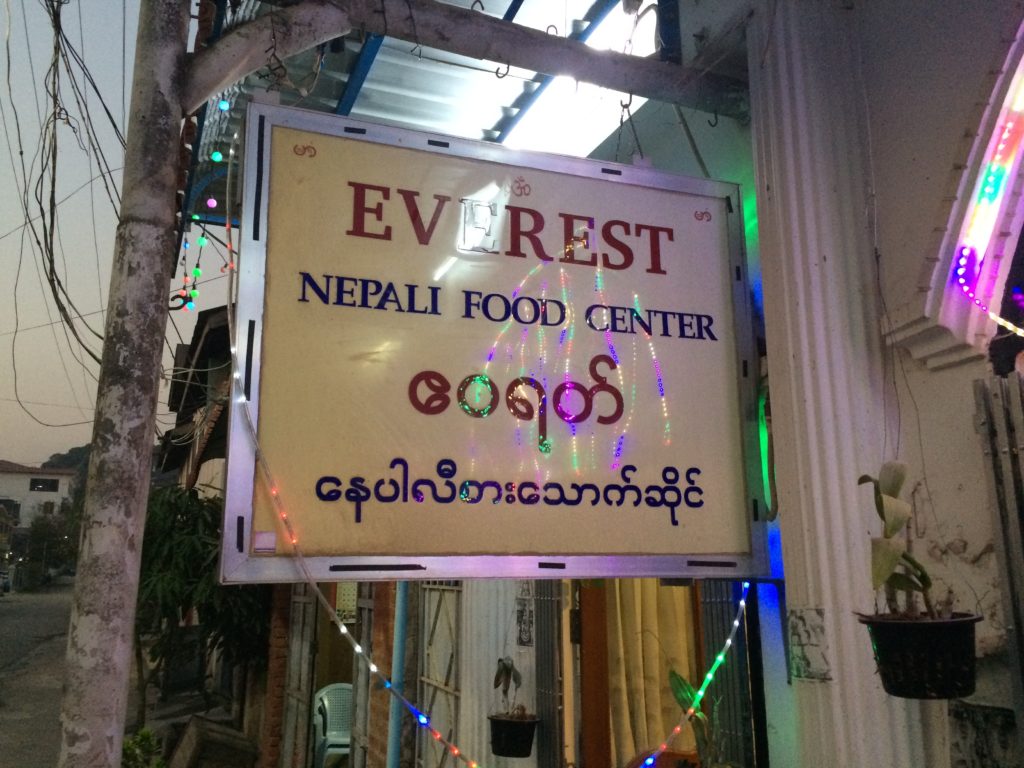 ---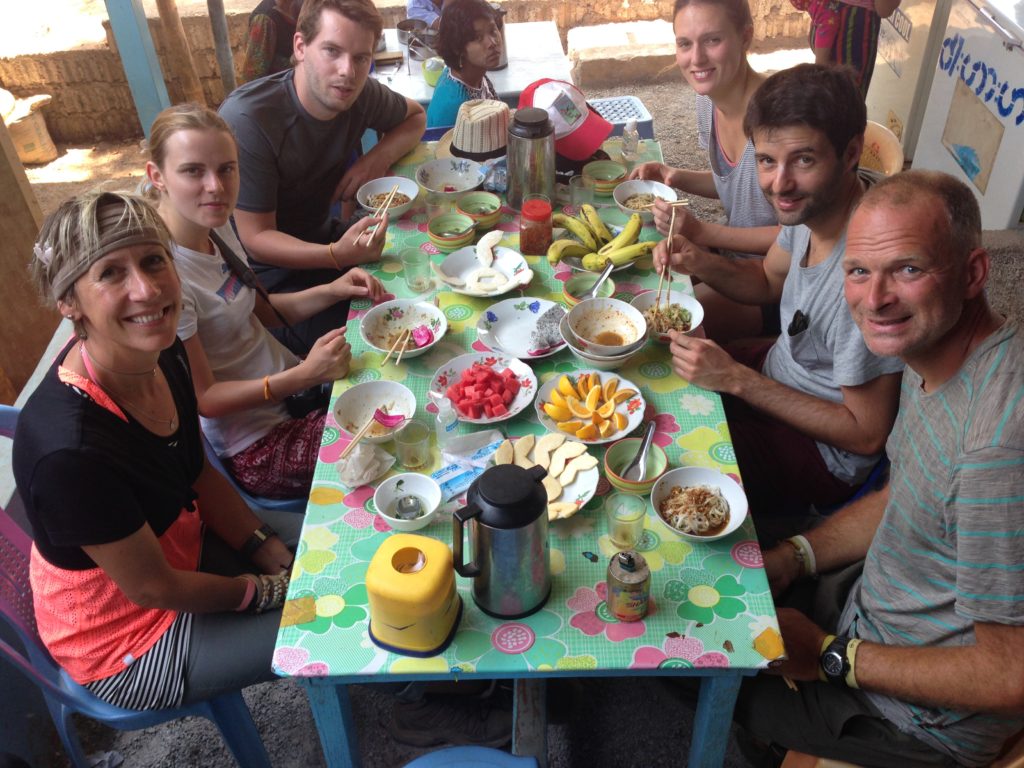 The next day was trek day and we were itching to get started. We'd opted for a small group trip and so were a party of only 6. We instantly warmed to our companions, Franck and Marion, Marek and Kate and we all chatted the miles away. The countryside was beautiful and diverse and our guide Sona (an ethnic Nepali) kept us amused with interesting facts as we went, one of which was the Myanmar love of betel nut, a Burmese habit that takes some getting used to. Many people here chew the nut which has the creepy side effect of staining teeth and gums red. It can't be swallowed so the large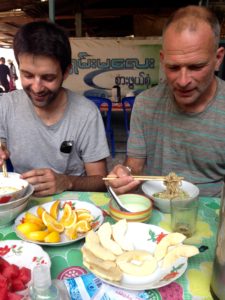 amounts of red saliva produced are spat out – everywhere! Apparently it gives you a buzz, is very addictive and people of any age can do it. Sona said that in the past he'd smoked, drank and chewed betel and of the three betel was the hardest to give up. Sadly judging by the amount of youngsters we saw chewing it, it's not a national addiction about to end anytime soon. Sona added that he likes his bus drivers to have red teeth because he believes they're more likely to stay awake – we made a point of checking our drivers more carefully from then on! Guides are strongly recommended for this trek and although Steve and I generally shy away from guided walking there are times when it is necessary. On these occasions we relish the extra snippets of local knowledge we glean, try to learn some native language and feel good about giving employment to people from local communities, especially out of high season (as it now was) when work is harder to come by.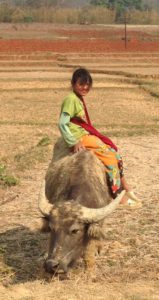 The first day's trek was long, but not difficult. The heat of the sun was by far the biggest obstacle to overcome. We walked through rural villages and beautiful countryside. We were invited to drink local tea by people who won all our hearts with their warmth and generosity and were high fived enthusiastically by curious youngsters with beaming smiles on their faces.
The route we were hiking, we'd been told by Sona, was a new one and therefore much less busy than the more established trails in the area. Not wanting to be disappointed we took his words with a pinch of salt as it seemed unlikely we'd be heading anywhere into the unknown here. But what he'd said was true, the happy inquisitive folk we were meeting genuinely hadn't crossed paths with many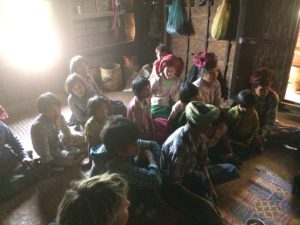 tourists before. We felt incredibly privileged and humbled to be spending time with these people in their remote communities, to be a part of their so far untainted lives. For Steve and I though our joy was with mixed emotion – we were relishing this unique experience, whilst knowing that us and travellers like us who seek 'off the beaten track' adventures change the very things we want to experience simply by doing them. For us it raised some interesting questions and moral dilemmas. But here we were anyway, enjoying the hospitality of these amazingly friendly people. 
We drank copious amounts of tea, played with the children and chatted (via our guide) with our hosts. Their favourite question was how old are you? Their favourite game was guessing who was with who in the group – both proved very entertaining and they clearly enjoyed our company as much as we enjoyed theirs.
Later in the day we passed through a village where a local farmer was setting off on his cart pulled by two beautiful Oxen. Steve asked our guide if he gave rides on his cart, the question was relayed to the farmer who looked somewhat bemused, "no" was the answer to come back. Sona asked if we could have a ride on his cart, another bemused look, followed by a dubious "yes." All 6 of us piled onto the cart with the obliging smiley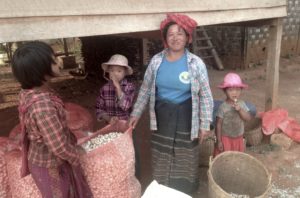 farmer and headed off down the dirt track. It was apparent as we became the centre of attention that this really was a first, that a farmers cart loaded with foreigners had never passed through this community before. Villagers were jostling for the best vantage points to see this obviously weird spectacle. It turned out to be a long and bumpy ride for which the farmer wouldn't take a single penny. He did it simply because we'd asked him if it was possible and to make us happy. As he turned and left to go home we couldn't help but think it was a light bulb moment for him and the community who had witnessed it – a new and easy way to access the tourist dollar…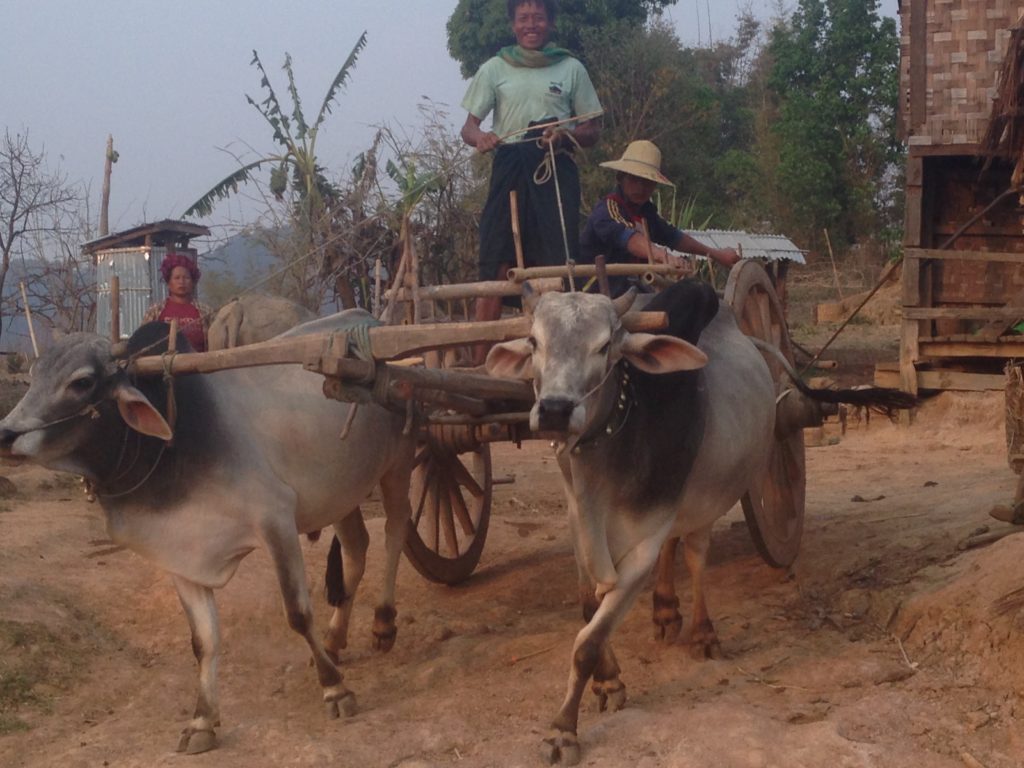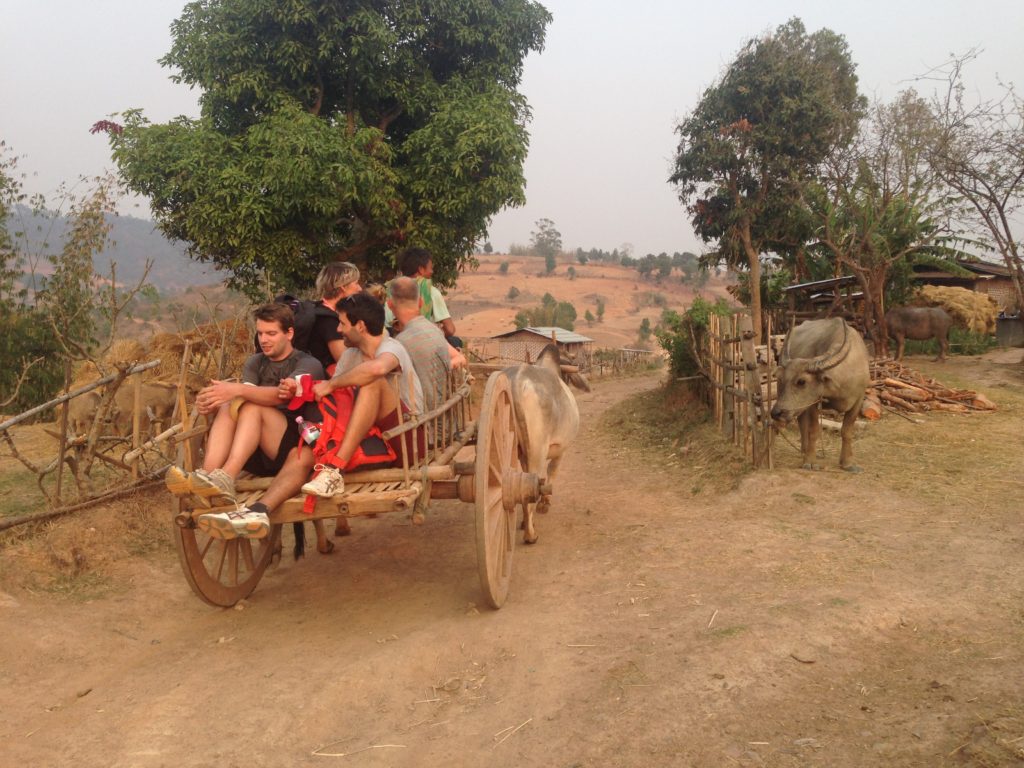 That night at our very basic homestay we enjoyed some glorious local food and settled into our little mosquito net tents set up inside a villager's home. We all slept soundly – it had been a very special day.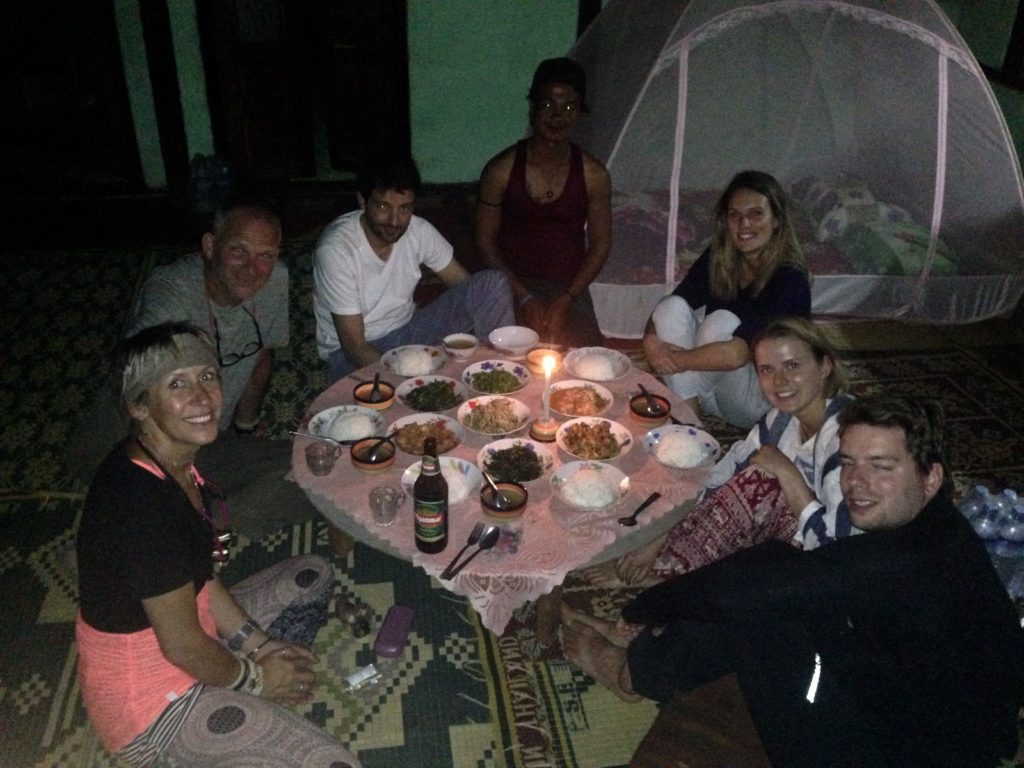 We woke to more glorious sunshine and enjoyed a hearty breakfast setting us up perfectly for the day. Our trek passed through more villages and stunning countryside, we watched local people weaving baskets, we marvelled at the beauty and condition of the oxen pulling the carts, the girls spent time with the children and the boys played a keepie uppie game with some lads and their homemade ratan ball. We had a huge lunch and a siesta before walking some more to reach the village that would be home for the night and the place where things took a downhill turn.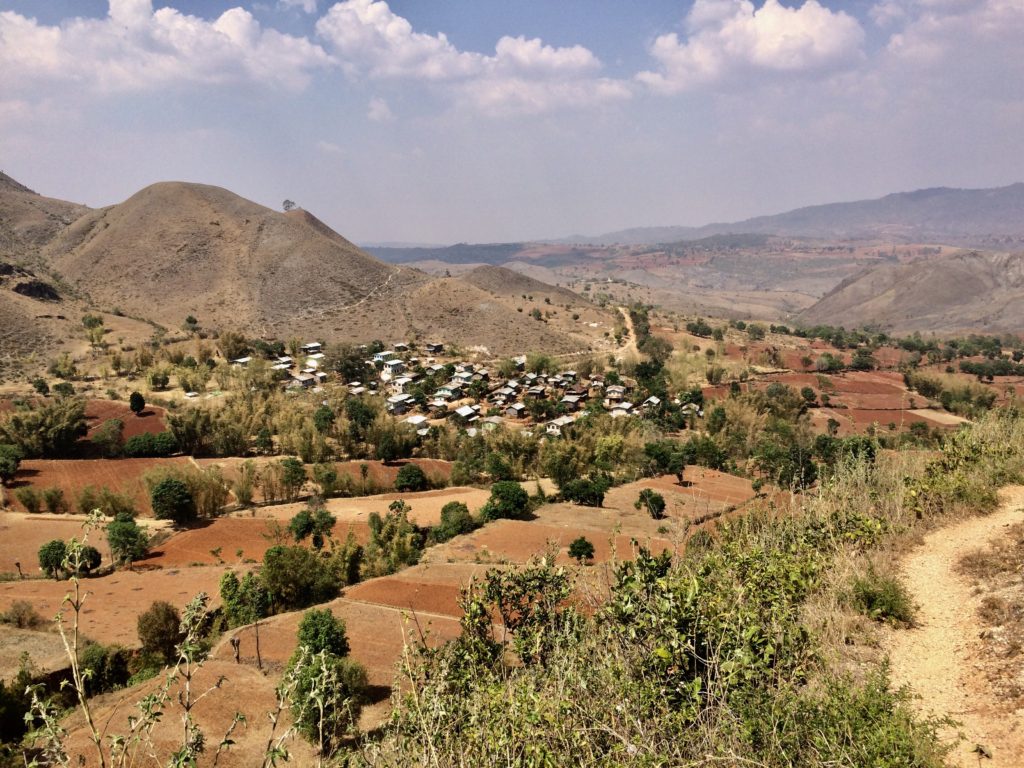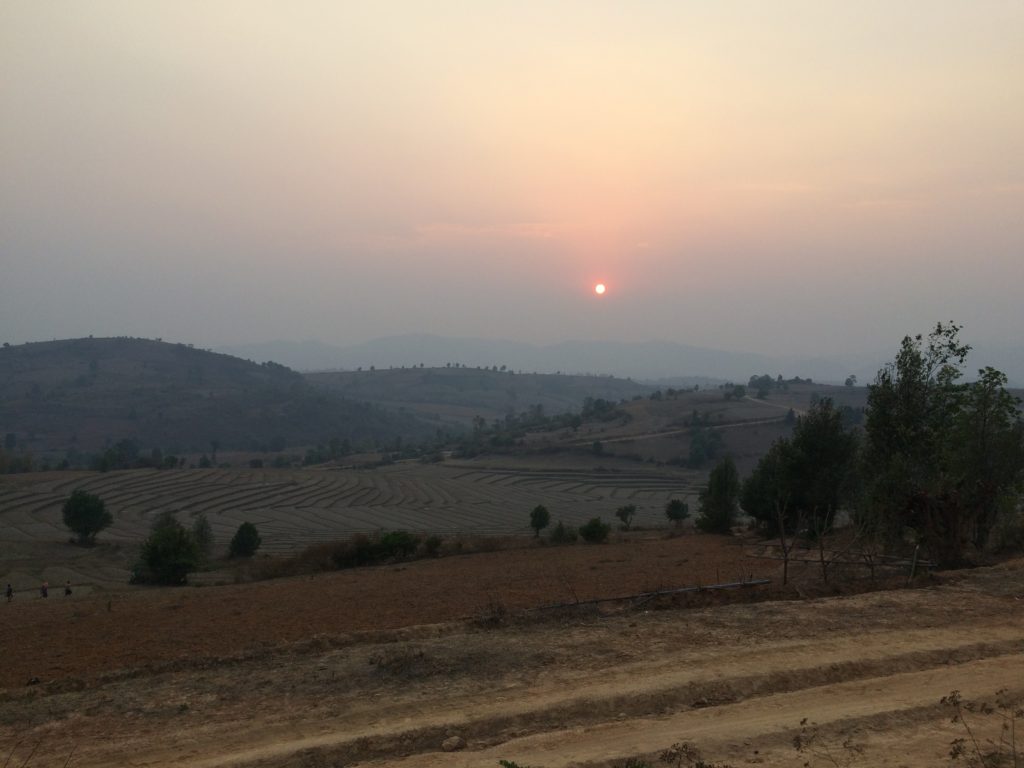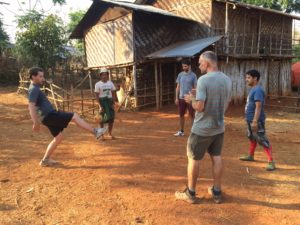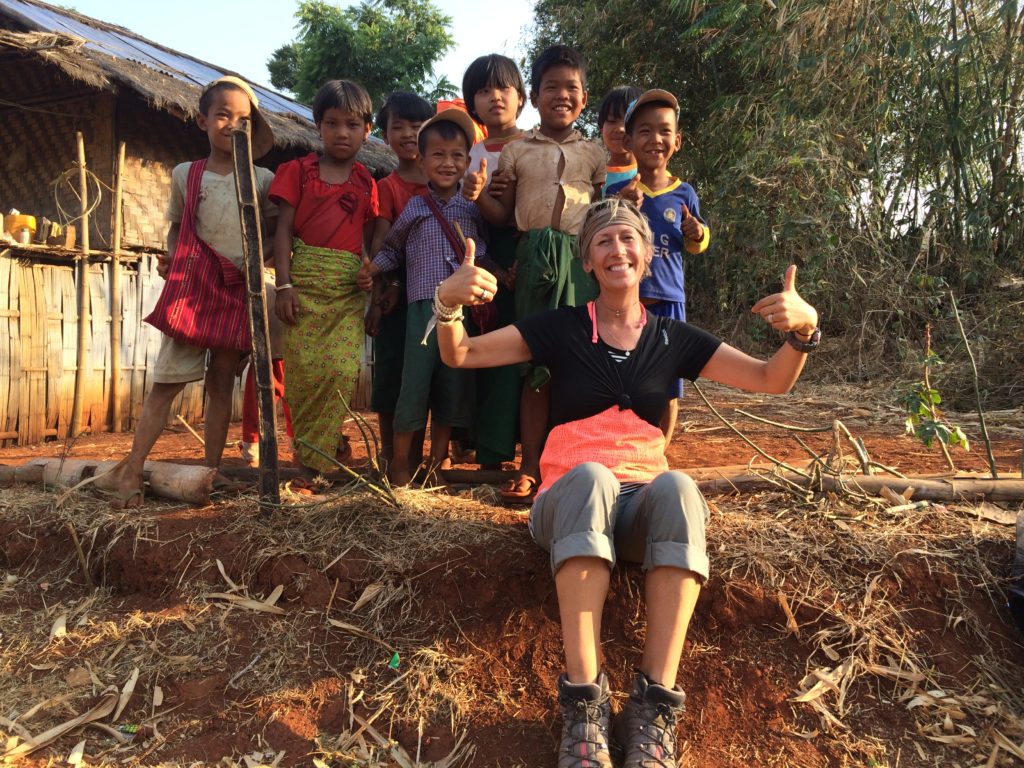 This homestay was as we expected basic. It was little more than a garage with an upper floor of two sleeping areas accessed by a bamboo ladder. It had only one crude toilet some distance from the house to be shared by the six of us and our hosts. None of this would usually be a problem, but throw in a bunch of extremely poorly people and it very soon became a big problem – it was not a happy place.
Scene set, the rest of the night goes like this…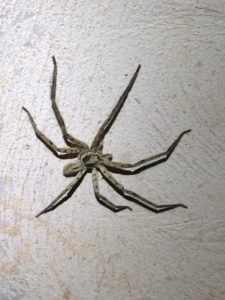 I started feeling ill for the first time in 6 months of our travels. Everyone else at this point was fine. I went to bed, everyone else ate dinner including a goat stew for the non vegetarians. I became very ill finding it increasingly difficult to get from room to toilet in time – no more detail needed. As the night went on we heard moaning and groaning from next door – 4 out of the 6 of us were now sick. Some people slept well, as in our host below sleeping on his paint can pillow, but the tricky bamboo stairs and longish walk to get to the one and only toilet (housing a rather large spider) made for a long and unpleasant night for the rest of us!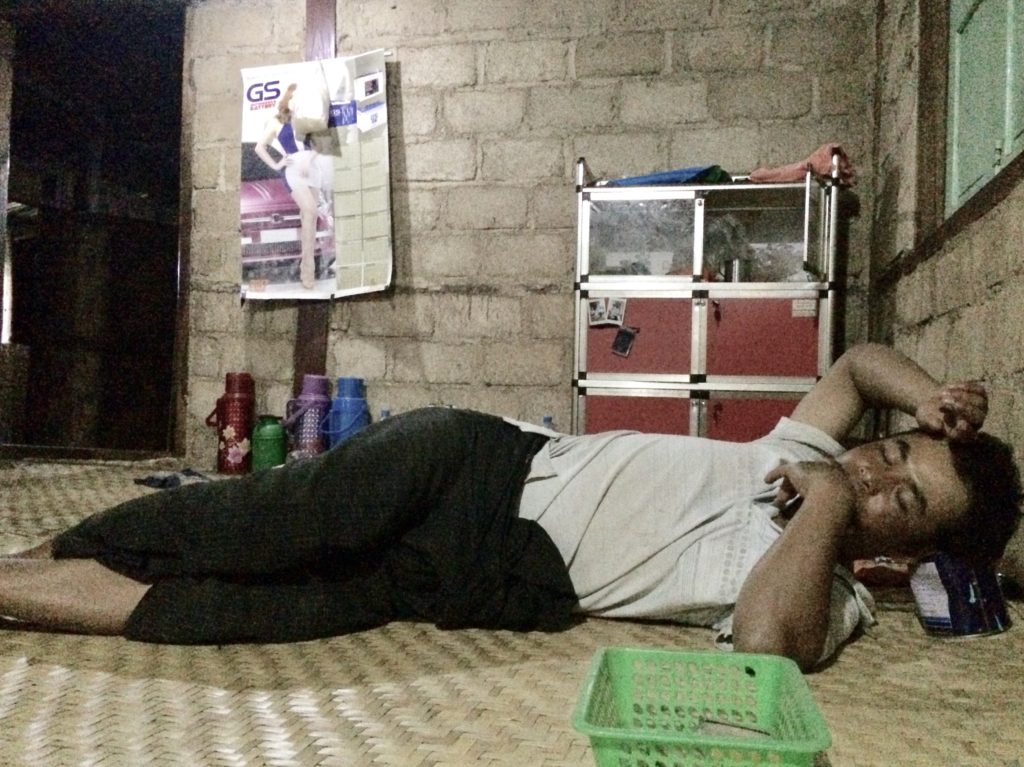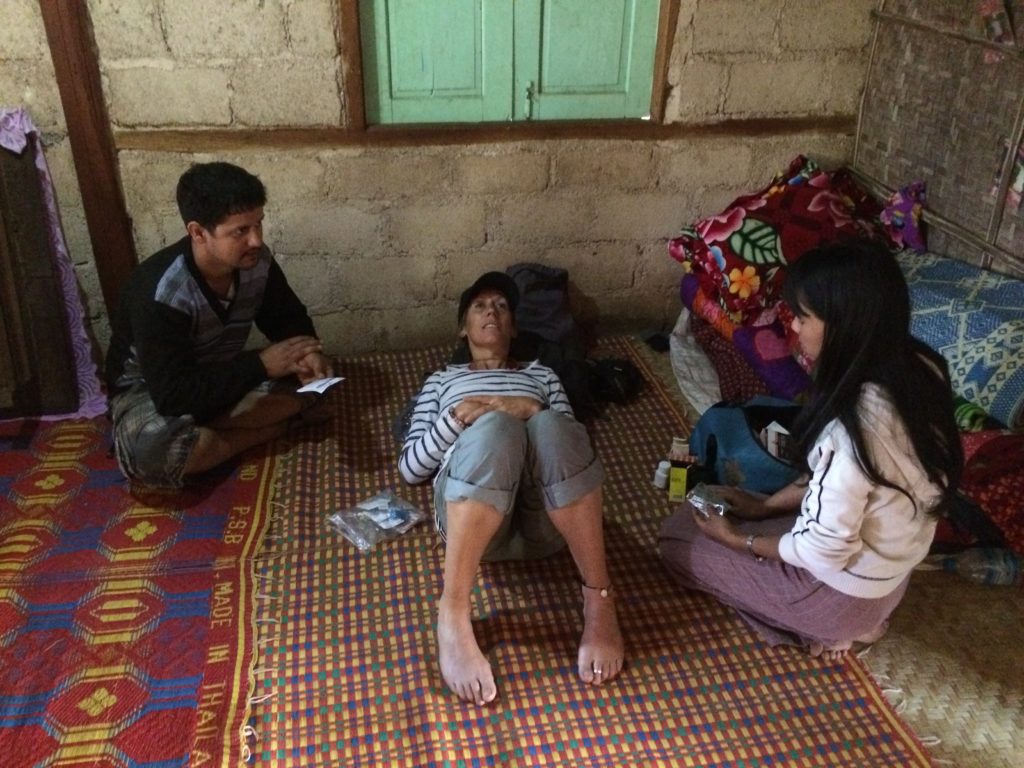 By morning everyone was less violently ill but, to be on the safe side, a lovely and very young doctor from goodness knows where was called to check on us and medication of goodness knows what was given out. The 4 of us were unable to trek any further and so emergency evacuation via jeep was needed. We were miles from anywhere and so getting to civilisation proved neither quick nor comfortable. Marion and Sonar continued the trek while Steve, ironically now the only well person following his long illness, was our guardian, making sure we all got to where we needed to be. The day felt like it went on forever.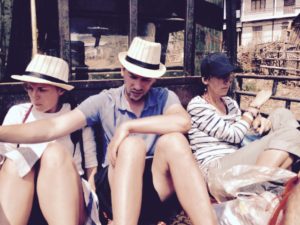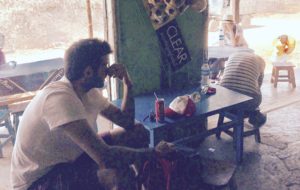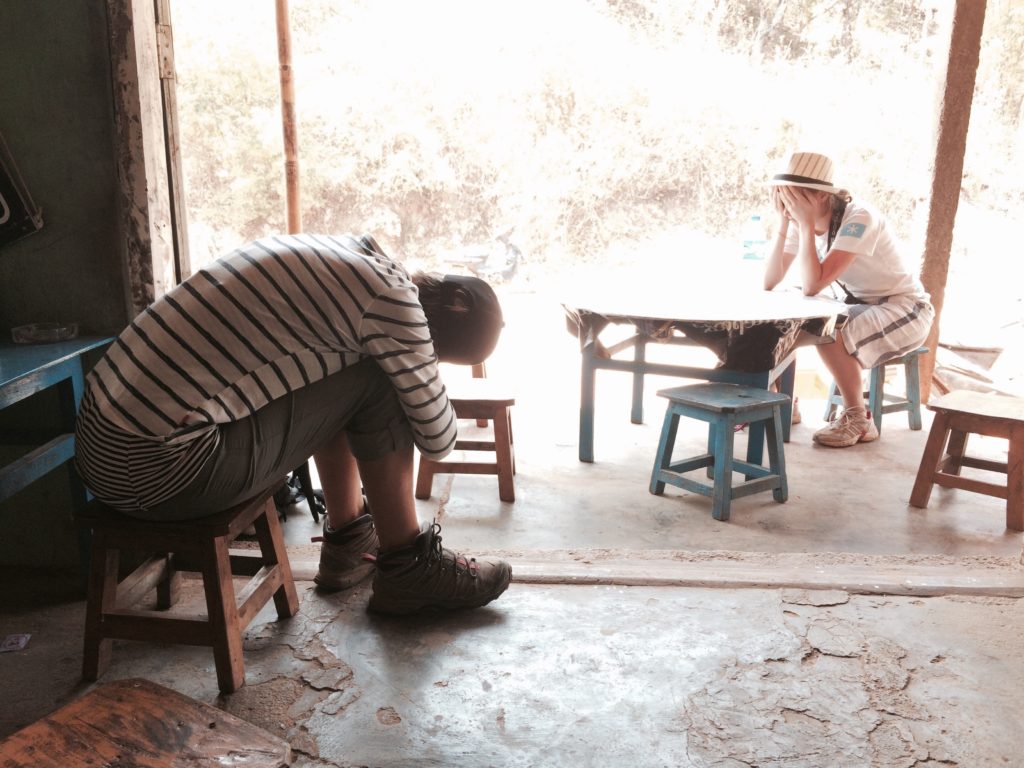 The moment we arrived at our guesthouse I crashed on my lovely comfy bed and didn't move for hours. It would be a couple of days before I was up and about again.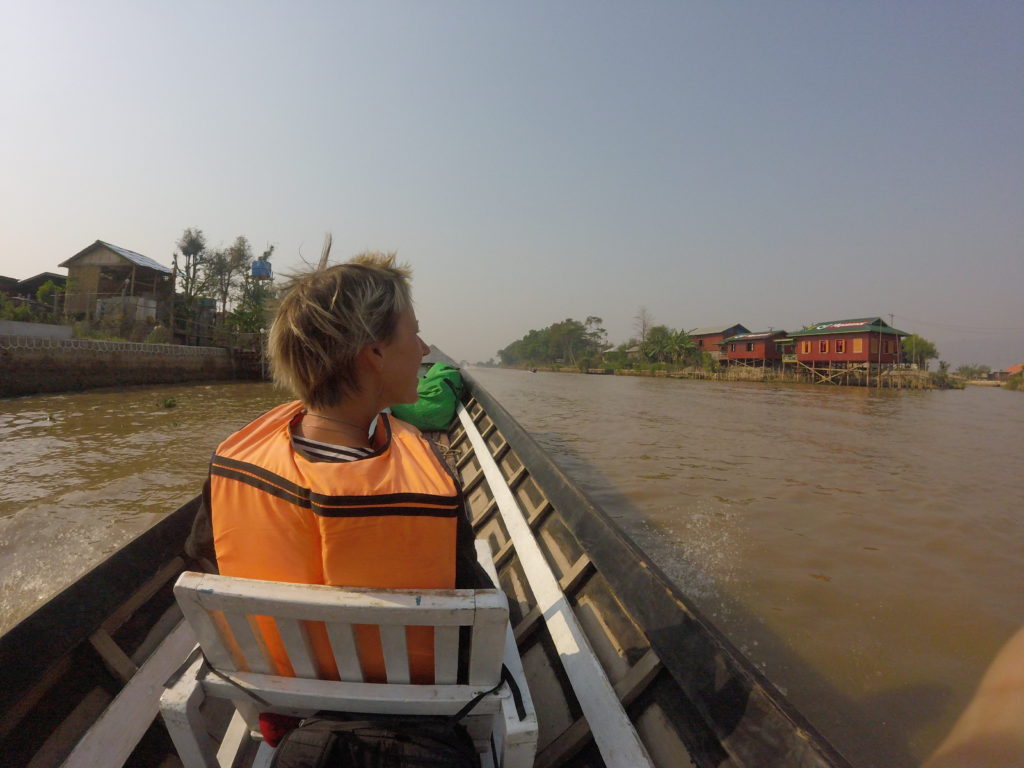 Once well enough we booked a boat trip to Inle Lake, one of the must sees in Myanmar. The lake is a huge 13.5 mile long, 7 mile wide expanse of shallow clear water no more than 12 feet deep at its deepest point. It's fringed by marshes and floating gardens, where stilt-house villages and Buddhist temples rise from the water. The Intha fisherfolk work here propelling their boats using an unusual leg-rowing technique and the famous and fascinating long necked women can be seen weaving at various touristy stop off points. There are markets selling local trinkets and shops selling silverware – it was a brilliant day exploring a unique part of the world.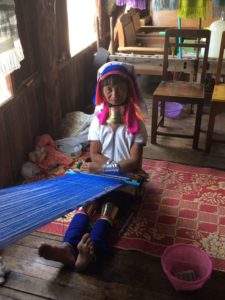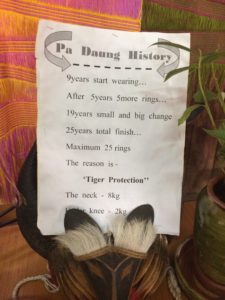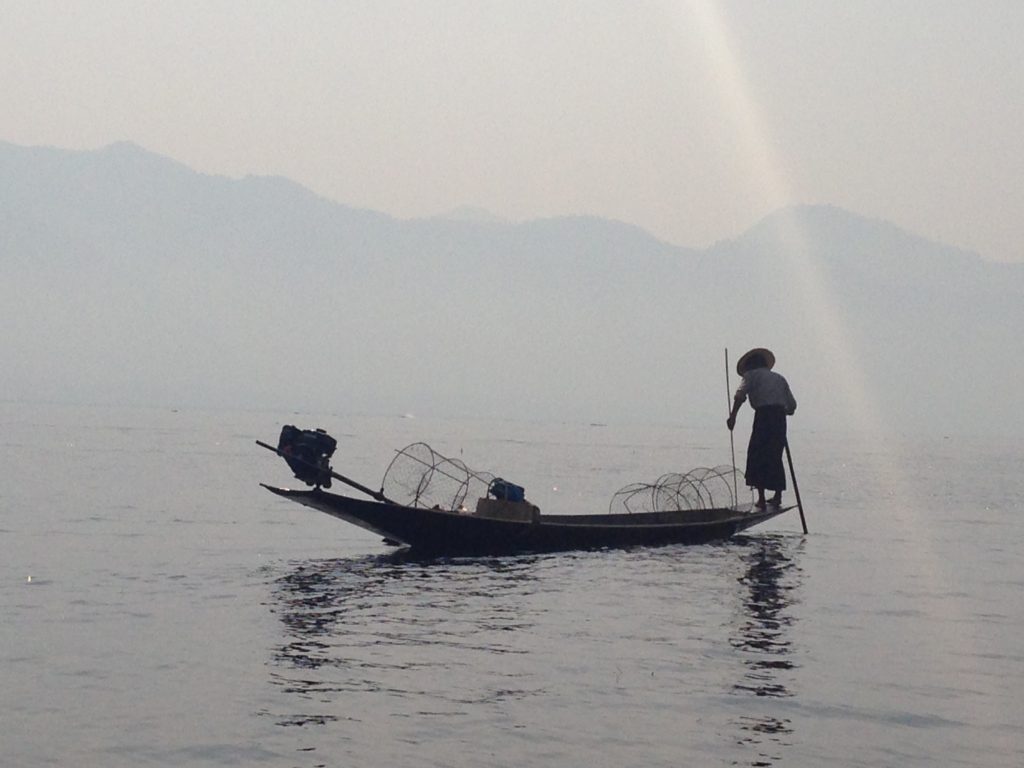 This was the very last thing on our Myanmar to do list, sadly it was now time to pack our bags and leave this wonderful country and its warm and friendly people.
What an experience it had been – from the buzz of Yangon to the stunning Ngapali beaches, from the beauty of the Bagan temples to the serenity of Inle Lake, from the enjoyable boat and train travel to the trekking in remote areas – we'd loved it all.
Where had the last 4 weeks gone?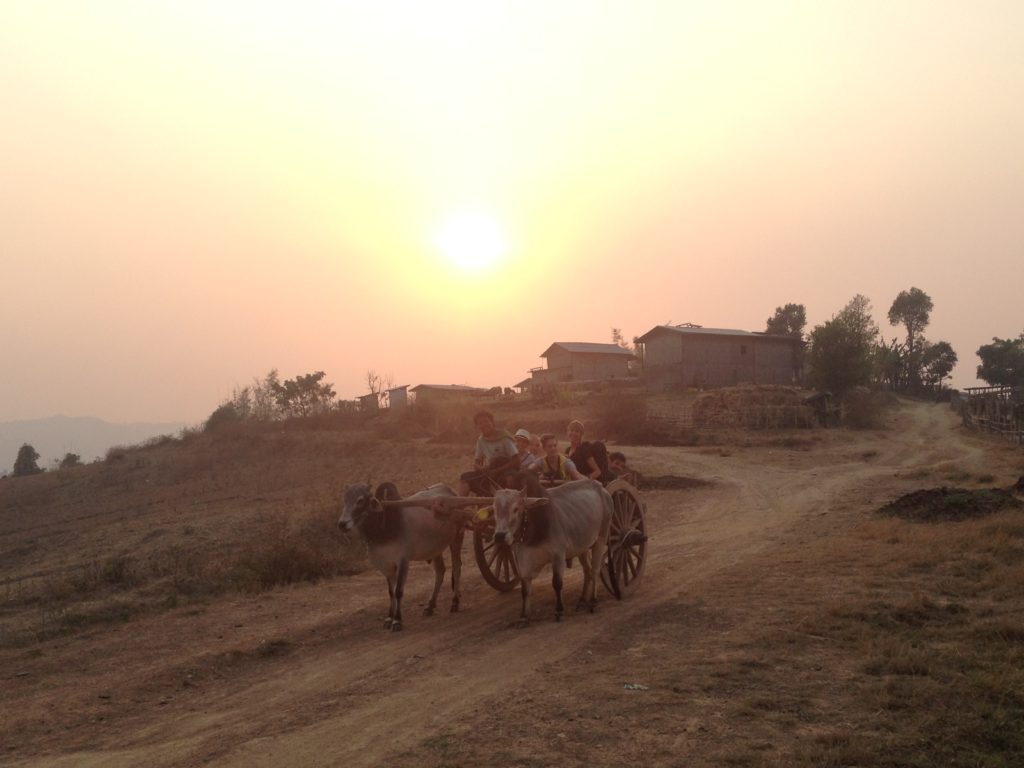 ---
So Long Myanmar – it's been an awesome adventure!