Our adventure continues…
---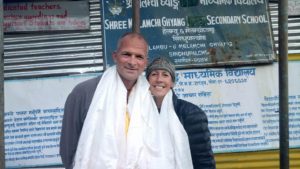 On the 27th February 2017 we sadly left the Himalayan mountain village of Melamchi-Ghyang, Nepal, our home for the last 5 months, to set off on the next leg of our adventures.
Destination Myanmar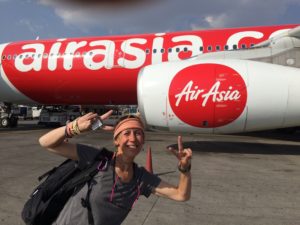 On the 5th March 2017 we boarded our Air Asia plane bound for Yangon via Kuala Lumpur.
Feeling a little concerned that I'd agreed to a low cost asian airline I was relieved to find that not only did it have 2 engines, both apparently working, but it was also rather plush inside. None of the Qatar airline trappings we'd become accustomed to such as inflight entertainment or free food, but at a fraction of the price it was perfect for us and our budget backpacking pockets!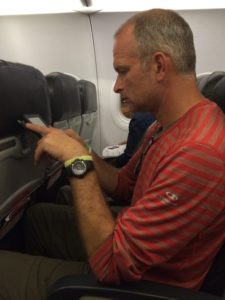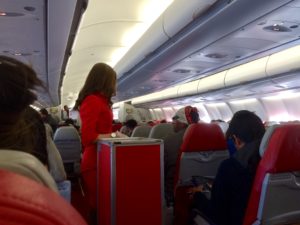 ---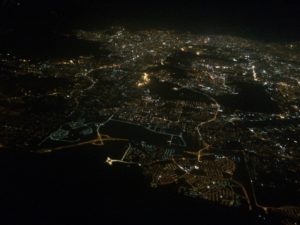 The reasonable price tag came with an overnight stopover of 9 hours in Kuala Lumpa airport, which as it turns out is also rather plush. Just as well because flashpacking days behind us meant a suitable area of floor was to be our bed for the night. Having chosen our spot, after much umming and ahhing from me, we secured our bags and settled down for the duration – only one of us slept!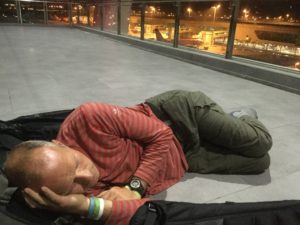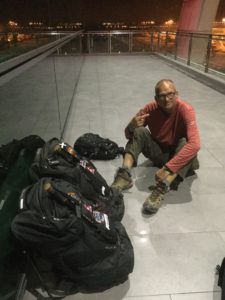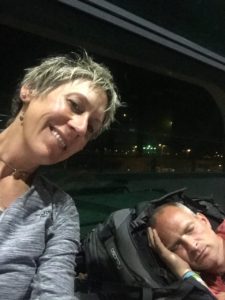 Morning dawned, I was feeling tired, Steve was feeling stiff! But our next Air Asia plane didn't disappoint and was equally as smart as the previous one. With a shortish flight of a little under 3 hours ahead of us we were starting to get excited – we were very nearly there.
---
The first flying hiccup of our travels happened on this leg the of the trip. All was going well, the weather had been perfect, the landing gear had been lowered and we were almost at rubber touching tarmac point when the engines suddenly roared into life and the plane ascended steeply back into the sky! Everyone was anxious – everyone that was apart from the hostess who, being sound asleep in her seat at the rear of the plane, was blissfully unaware that anything untoward had happened… Soon after our rapid ascent and with terrifying thoughts of faulty landing gear and the like in our heads the captain announced an apology over the tannoy, explaining a thick band of fog had obscured his sight of the runway at the very last minute. With thoughts of what happens if the fog doesn't lift now going through our minds we circled for a further 20 minutes before attempt number 2 which, to the relief of all on board, was textbook.
---
And so, with feet firmly on the ground, it was time to work our way through the obligatory visa and passport controls, before arranging local SIM cards for our phones, drawing out local currency and sorting a taxi to our hostel. Thankfully everything was far less painful than either of us had expected and all was managed with relative ease. There was efficiency at the airport, the ATM worked first time – which rarely happened in Nepal – and we were fortunate to meet a great taxi driver who didn't take us for a ride in anything other than the transportation sense. Even through our sleep deprived haze first impressions of Myanmar were good.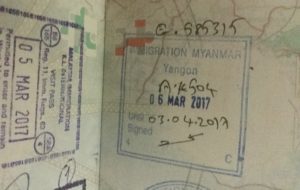 ---
It was HOT!
Yangon was, until reletively recently, the capitol city of Myanmar. A far cry from the bedlam of Kathmandu that we'd become accustomed to, it wasn't what either of us was expecting. The roads, although busy were tarmacked and felt like proper roads. Motor bikes are banned from the main streets, meaning less traffic chaos, the taxis are smart, as are the drivers who mostly wear uniforms consisting of the local longyi (a sarong type skirt) and a white shirt, the streets are clean and there is little dust. We liked what we saw.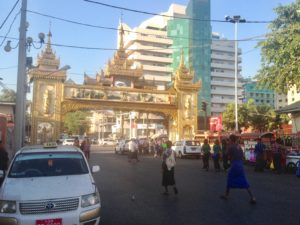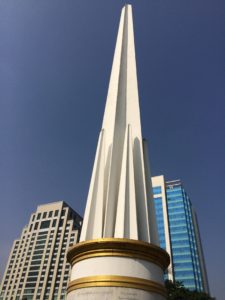 ---
Our taxi driver Aung Aung (hold your nose and say "On On") deftly talked us into a tour with him the following day. Generally we shy away from guided tours, preferring to find our own way round, but making the most of our 1 full day in Yangon was important and so it made perfect sense on this occasion to take him up on his offer. Besides we liked Aung Aung and were happy to spend more time with him – daily budget blown!
---
He was surprised at our hostel choice, pointing out the more glamorous hotels his guests usually stay in, but Shannkalay turned out to be a great decision. With no windows in the bedrooms and shared bathroom facilities it shouldn't have been nearly so cool as it was, but with murals painted all over the walls, funky, loud, flowery, (clean) bedding, hot showers and much welcomed air conditioning it was a quirky little bolthole and one of our favourite places of the trip so far.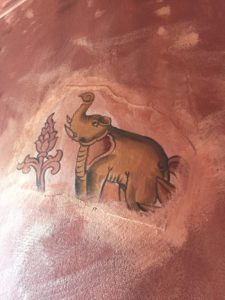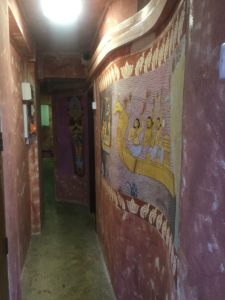 For dinner we found a small street cafe packed with local people, usually a pretty reliable indicator of a safe bet, we immersed ourselves in the buzzing atmoshere. The food was both delicious and cheap, the local brew was every bit as good as the Nepali beer and the locals were very happy to have us crash their party. It was a fun evening.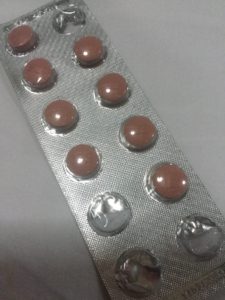 Following a great nights sleep in a very comfy bed, we enjoyed our simple breakfast of eggs and coffee before downing our (Malarone) malaria pills which, after much consideration, we'd decided to take. Heading to a high risk Malarial area next we thought better safe than sorry – if we suffered adverse reactions from the medication we'd resort to plan B, which was not to take them! We met Aung Aung our friendly taxi driver at the agreed time for a whistle stop tour of Yangon.
---
First to Sule Pagoda, an amazing Burmese stupa bizarrely on a roundabout surrounded by main roads. Tardis like, it was far more impressive on the inside than it looked from the outside. Aung Aung told us a neat little fact about the temples here having birthday corners dedicated to different days of the week. The idea is to find your corner and carry out a little ritual. It's snippets of information like this which make having a guide worthwhile and we now find our corners everywhere we go.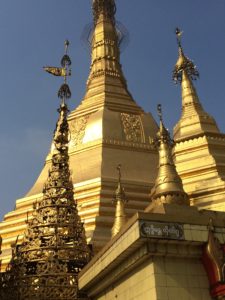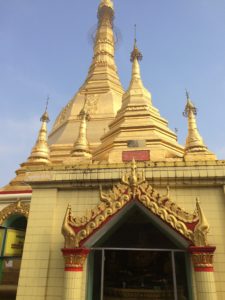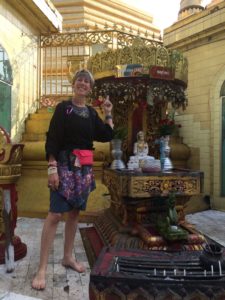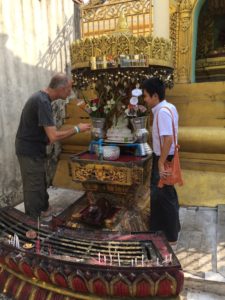 Each day of the week has an animal associated with it.
I'm a Saturday which is a dragon snake, Steve is a Thursday making him a rat!
---
Next stop was Shwedagon Pagoda which was huge and simply stunning. It was the landmark we most wanted to see and it didn't disappoint. At around 2,500 years old Shwedagon Pagoda today stands close to 100 meters high, it's covered with hundreds of gold plates and the top of the stupa is encrusted with 4,531 diamonds; the largest of which is around 70 carats! Shwedagon Pagoda consists of hundreds of colorful temples, stupas, and statues painted in vivid colours and with beautiful glass and mirror mosaics everywhere the reflecting light from the bright sunshine was blinding. It's clearly one of the wonders of the religious world, but whatever your beliefs you can't help but be impressed with it's magnificence – we savoured our visit there.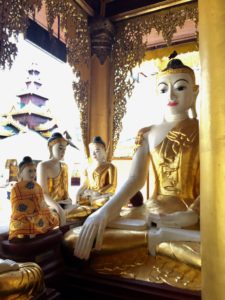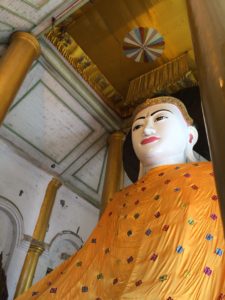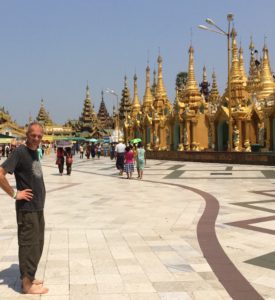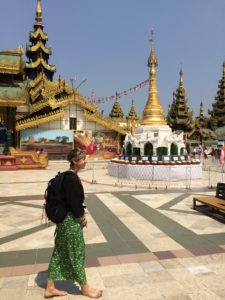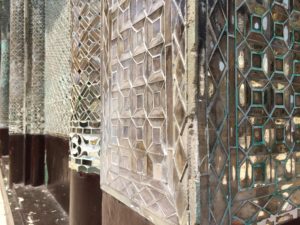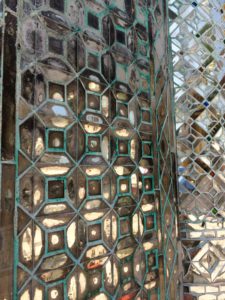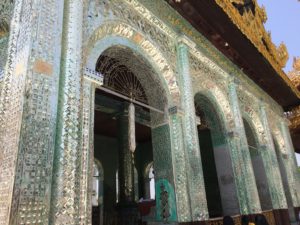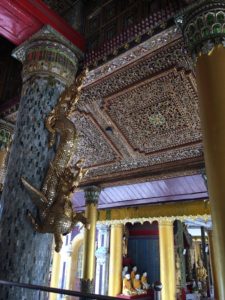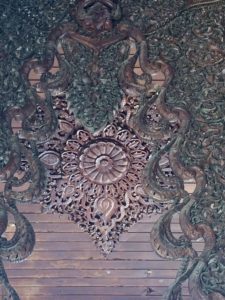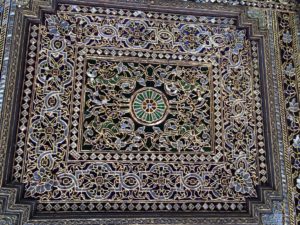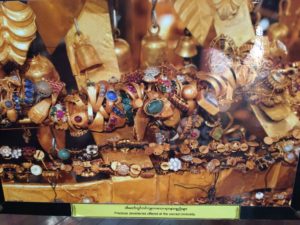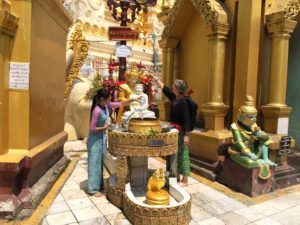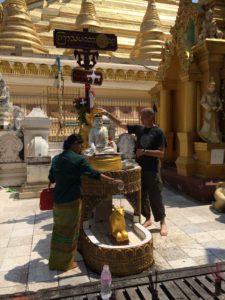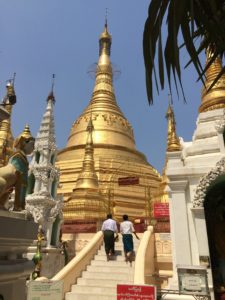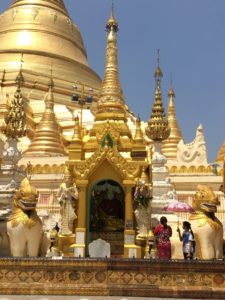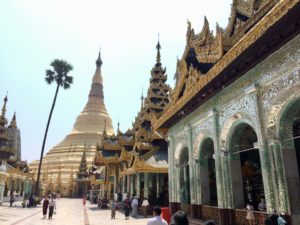 ---
Following a lovely lunch at a bustling local cafe we visited Chaukhtatgyi Pagoda which houses a vast reclining Buddha. At 66 meters long it's an enormous visual delight and my favourite destination of the day. There's so much more to this statue than it's staggering size. It's beautifully carved from stone and the face, especially the eyes, emanate lifelike emotion which sent shivers down my spine. With birds flying in and out of it's nostrils the shear scale of it was incredible.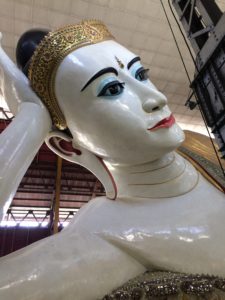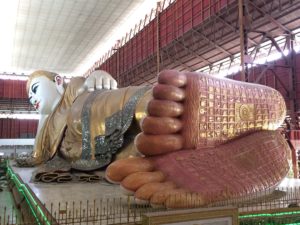 ---
Our next stop was Nga Htat Gyi Buddha Temple. A splendid seated statue of Budha which paled a little into insignificance having just seen the vast reclining one. But it was beautiful in its own right and its birthday corners kept us amused – little things…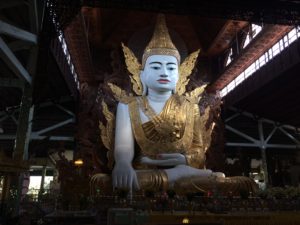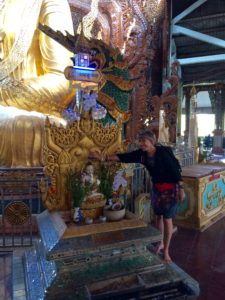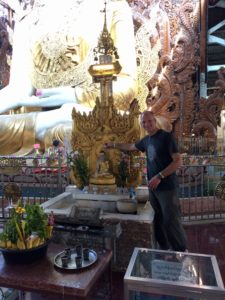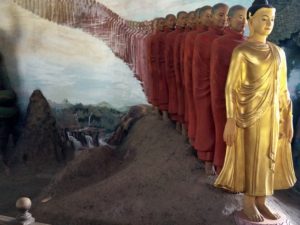 ---
Bogyoke market, otherwise known as Scott market, was next on our hit list. Catering for the tourist trade it was interesting enough, but not wanting to carry nik naks around with us for the foreseeable future and with Steve's hands tightly on the purse strings a quick scoot around was all we needed.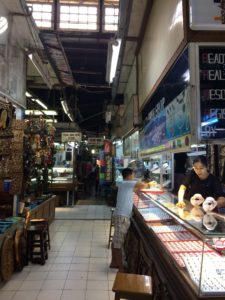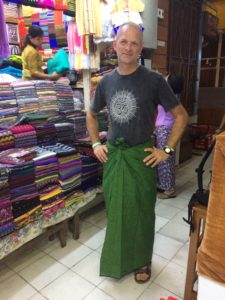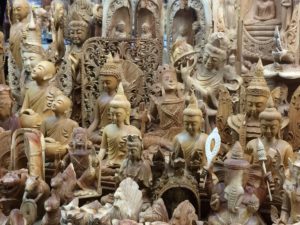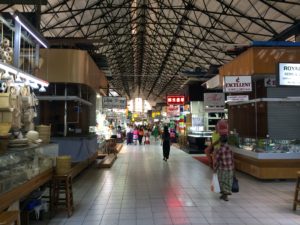 ---
Via beautiful Kandawgyi Lake our last stop was the National Museum. Closing at 4:30 we only had an hour and a half to wander round it, but we could easily have spent much longer exploring its 5 floors. Beautifully laid out with great displays it was somewhere we could happily have spent more time.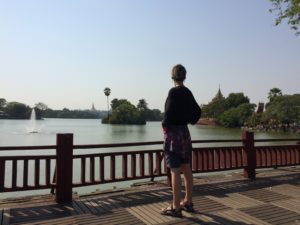 ---
Our day was done and with only farewells left Aung Aung tried to convince us one last time that flying by (expensive) plane to our next destination of Ngapali Beach rather than by our chosen (and already booked) method of roading it by (cheap) bus would make for a much more comfortable trip – he hadn't been on our last flight! We politely stood our ground and with him for the second time in 2 days bemused by our travel choices said our goodbyes. We were happy, today had been money well spent, we'd done everything on our Yangon to do list.
---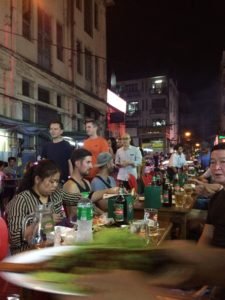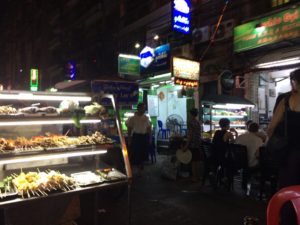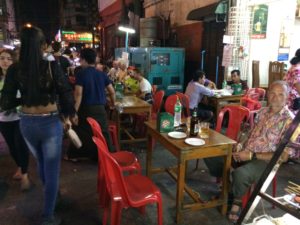 We did follow one piece of Aung Aung's advice and visited China Town on 19th and 20th street for dinner. He told us that the food would be delicious, plentiful and safe and he was right on all counts. With the streets bustling with far more locals than tourists and stalls everywhere selling a huge variety of goodies to eat and drink we enjoyed a memorable evening soaking up the atmosphere and filling our bellies. We ignored Aung Aung's final piece of advice which was to take a taxi (not because he thought it unsafe to walk, but because he thought it a long way) opting to walk there and back instead. We were very glad for our decision, not only did we experience Yangon at night, but it also gave us a chance to digest our food babies…
---
Off to our funky room for bedtime – we both slept soundly.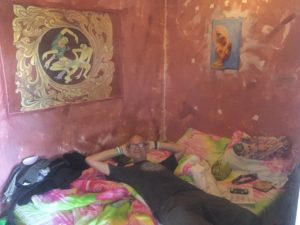 ---
Breakfast eaten we explored the local area and stocked up on bus biscuits in preparation for the 13 hr long coach ride ahead of us later that day.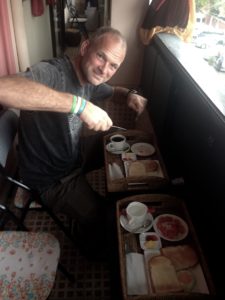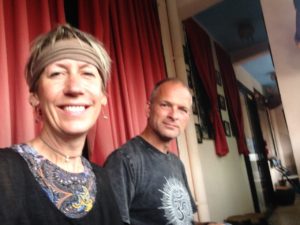 ---
Ngapali Beach, you'd better be worth it…
---