Days 10 to 13 – Gorak Shep (5,140m) to Kathmandu
Via Lukla!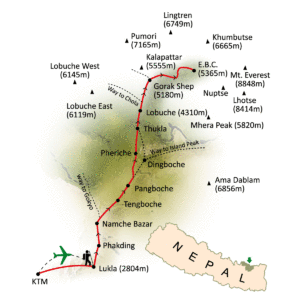 ---
Accompanied by Dirk and Fleur we took three days to get back to Lukla. It was a return trek of early starts and far more uphill walking than we'd anticipated!
---
Unfortunately the first of these days was littered with news of people we knew who'd been rescued from the mountain.
At breakfast we heard that Singapore Charles had made his way up to Gorak Shep, but that following a bad night we were told he had to take a pony ride down to Lobuche (4,910m) from where he was flown to Kathmandu. During lunch at Pheriche (4,240m) we received news that having reached Base Camp and on her way back down Colombian Stephanie had become ill so she and Paulo had also been evacuated. Finally, that evening, on arrival back at Pangboche (3,930m and from where American Elle had been flown out on our way up) we heard that one of the two Australian girls had become ill during their descent and so they too had been airlifted to safety.
Along with Fleur and Dirk we pretty much felt like the last men (and women) standing!
---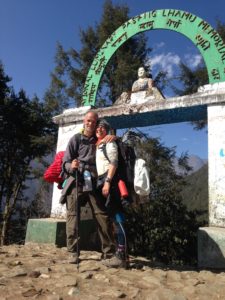 ---
A couple of less eventful days later found us still in sunshine and back at Lukla where celebratory beverages were enjoyed. Our first alcohol since acclimatising in Namche Bazaar on our way up – other than the tot of rum at Base Camp – it hit the spot nicely!
Rabin's successful negotiations with the "Lukla Mafia" secured us a flight back to Kathmandu a day earlier than originally planned – our first shower in a fortnight was getting ever nearer! We arrived at Lukla airport before 7 am where we obtained our boarding passes and booked in our luggage. Having said our goodbyes to Padam we tentively boarded our Goma Air plane.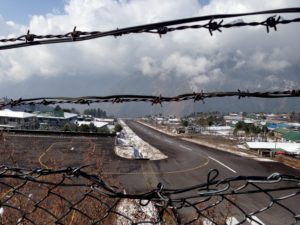 The plane readied for takeoff and we braced ourselves for what was to come as we gathered pace down the short, steeply sloping runway heading straight for the 2000ft drop! Our fears of plummeting off the end were soon forgotten as we smoothly ascended into the air.
An hour or so later, having spent anxious time circling over perfect conditions to the north and fog to the south we landed at Tribhuvan International airport. We were safely back to the delightful, polluted madness of Kathmandu with our feet firmly on the ground and I was very happy!
---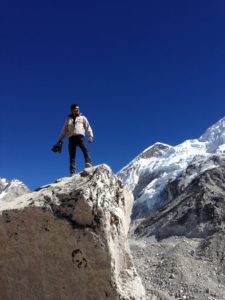 ---
We would like to thank Bicky from Super Holiday Trip for all his help in arranging such a fantastic trek – it couldn't have been more perfect. We would also like to thank Rabin, our guide, for getting us there & back safely, and for all the laughs along the way; Padam, our porter for carrying our pack and last, but by no means least, the skilful pilots of Goma Air!
It had been the most incredible adventure and a challenge we shall remember for the rest of our lives.

Kate and Steve – EVEREST BASE CAMP – Jan 2017
---