Ngapali Beach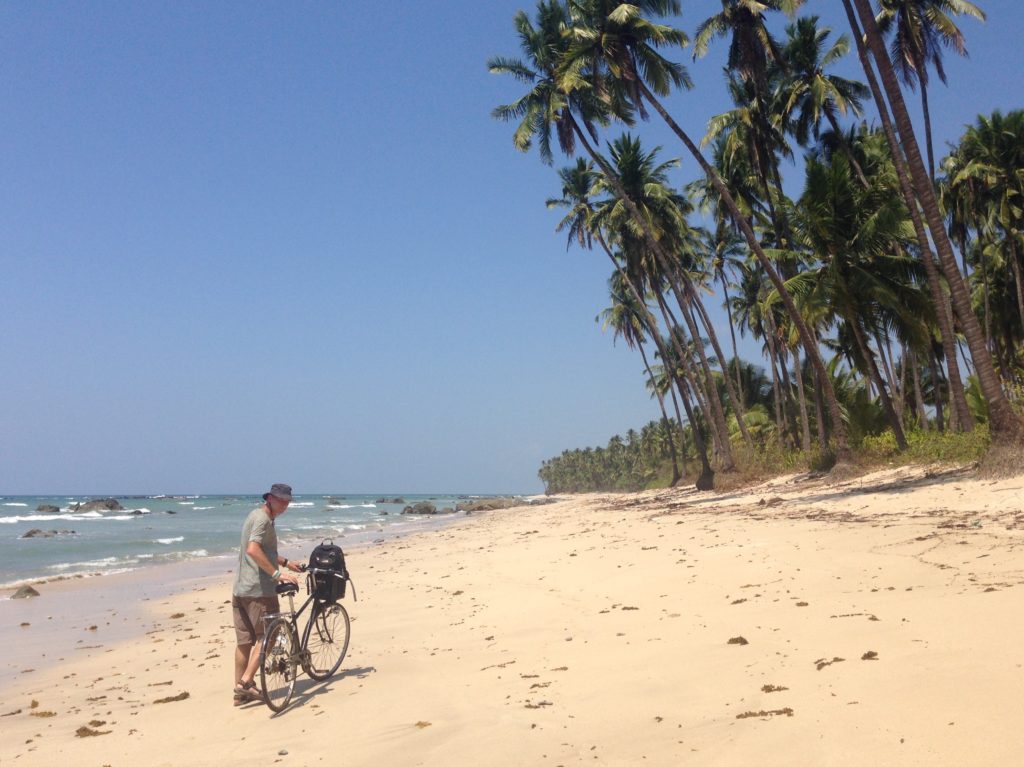 Sun-Sand-Sea
---
The night bus, a journey of around 13-hours, wasn't nearly as bad as we'd been led to believe. Accompanied mainly by local people it was pretty clear that most tourists do indeed fly, but determined to explore SE Asia overland it was absolutely the right choice for us. Adopting the travelling mindset of enjoying the journey as much as the destination has helped us overcome some of the following on our numerous lengthy trips:
The downsides of bus travel in Asia:
No toilet facilities – dehydration tactics are necessary to avoid long periods of leg crossing
Very little room to cross legs
Aircon so cold you freeze
No aircon so you roast
Smelly blankets on night buses
Completely numb appendages for hours at a time
Sore coccyges
Travel sickness
Erratic driving on dangerous roads
Sharing space with chickens, goats and other agricultural produce
Children unceremoniously dumped on your lap and left there
Luggage transported on the roof exposed to dust, rain and thieves
UNBEARABLE MUSIC BEING PLAYED IN A NEVER-ENDING LOOP FOR HOURS ON END – We actually liked the bus music of Nepal, but earplugs at the ready for Myanmar!
The upsides of bus travel in Asia:
It's cheap
You meet like minded travellers and friendly local folk (who all think you're completely mad)
You travel through beautiful countryside, pretty villages and charming towns
You see amazing sun rises and sunsets from the (relative) comfort of your seat
You form a greater overall picture of the country you're travelling through
You have stories to tell
---
We were dropped at a desolate crossroads a little after 4am. It was dark and we had little idea of where we were in relation to our guest house but there was a glimmer of daylight dawning, the tiny street stalls were already creeping into life and the sound of the ocean was ringing in our ears, it was comfortably warm and despite the hour and our lack of sleep we were buzzing. We picked a cafe that was up and running to rehydrate and wait for the sun to rise while we found our bearings on our new best 'navigational' friend – maps.me.
Steve indulged, rather bravely I thought at this hour, in the Myanmar breakfast fare of fish soup, noodles and egg – I wasn't about to join him!
I did however join him a little while later in a cup of 3 in 1 coffee, another Myanmar treat that takes some getting used to.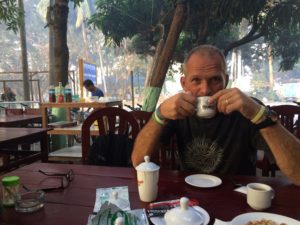 ---
Our Accommodation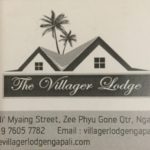 With the aid of TripAdviser and Booking.com our guesthouse choice turned out to be a gem. Ngapali Beach is a relatively expensive destination by SE Asian standards making good, budget accommodation hard to find, but after months of basic living conditions and freezing weather in Nepal we were happy to treat ourselves and compromise a bit on price. With this in mind we raised our budget a little and settled for The Villager Lodge. Set amongst ramshackle local dwellings and a mere 2-minute walk from a stunning beach it ticked all the right boxes and couldn't have been more perfect. Breakfast (included in the price) was plentiful and delicious, there was free bicycle hire available on site, unlimited wifi access and best of all there was an amazing shower with a continuous supply of hot water – needless to say we upped the once a week wash we'd become accustomed to in the village and shamelessly used copious amounts of (solar) hot water for the first few days!
Ngapali Beach, part of Rakhine State, is a series of glorious beaches stretching along the central eastern edge of Myanmar.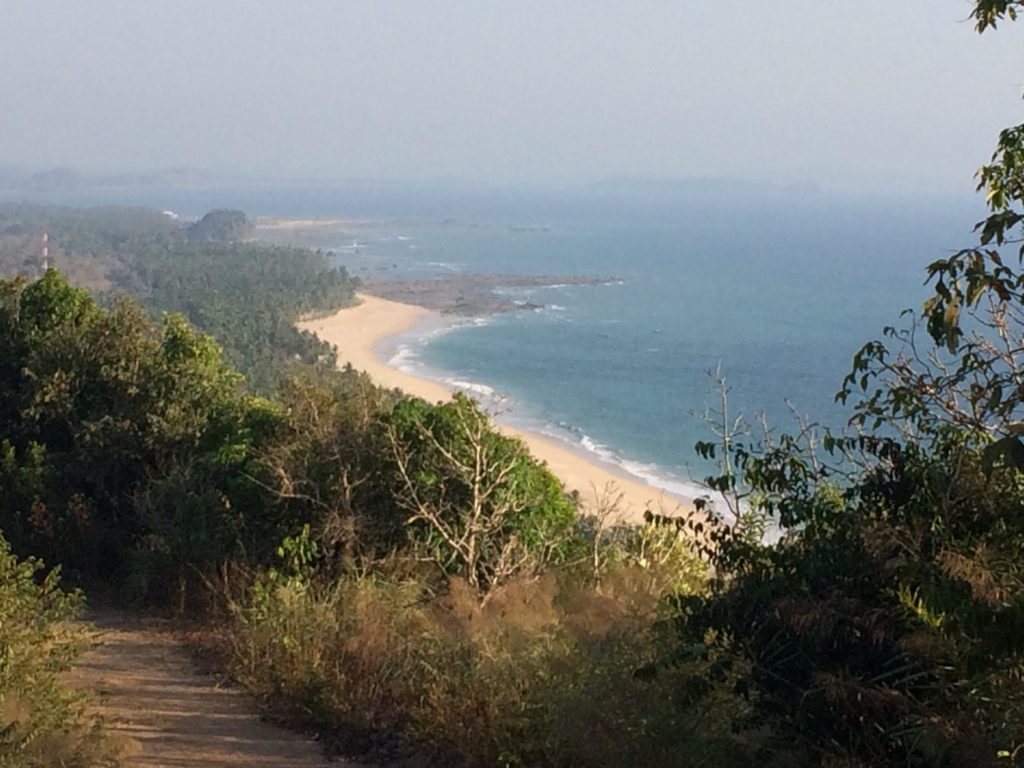 ---
Rakhine State
Our initial plan whilst travelling Myanmar was to go to Mrauk U, (pronounced mrau-oo), to visit its temples, and other archaeological and cultural delights. This would have involved two boat trips, one by sea the other by river, taking us from the southern to the northern part of Rakhine State.
Rakhine State is separated geographically from the rest of Myanmar by the Arakan  Mountains and for much of its history has also been separated by politics and culture. This has led to conflict over the years, which is still ongoing. Knowing of its troubles and not wanting to put ourselves in the firing line of any of the worlds wars whilst travelling we sought advice from the locals we'd befriended. Having heard what they had to say we decided not to make the trip opting to extend our stay at Ngapali Beach instead.
The existing troubles in Rakhine State is primarily between ethnic Rakhine Buddhists and Rohingya Muslims. The Buddhists get the backing of the state and majority of the Myanmar population, also mainly Buddhist. The Rohingya have often been described as one of the most persecuted minorities in the world. According to the United Nations, the human rights violations against Rohingyas could be termed as "crimes against humanity". The Rohingyas say they are indigenous to Rakhine State, while others claim that the group represents a mixture of precolonial and colonial immigrations from Bangladesh (Bengal). The official stance of the Myanmar Government however, has been that the Rohingyas are mainly illegal immigrants and refuse to call them Rohingya, calling them Bengali instead. The Nobel peace prize winner and de-facto prime minister of Myanmar, Aung San Suu Kyi is facing international criticism for her government's handling of the crisis, where soldiers have blocked access for aid workers and are accused of harming civilians.
Myanmar is in many ways a blossoming country, opening up to the rest of the world and in the process is trying to heal old and deep wounds with its many minority ethnic groups. Its ability to reconcile the Rohingya conflict will be the acid test of the country's ability to do this. It won't be an easy road, we encountered overt anti Muslim sentiment from some of the intelligent, friendly and educated Burmese people we spent time with.
In the words of one western lady we met who'd been working for an NGO in the country for many years, "In some respects the country needs to grow up a bit!"
---
The Beaches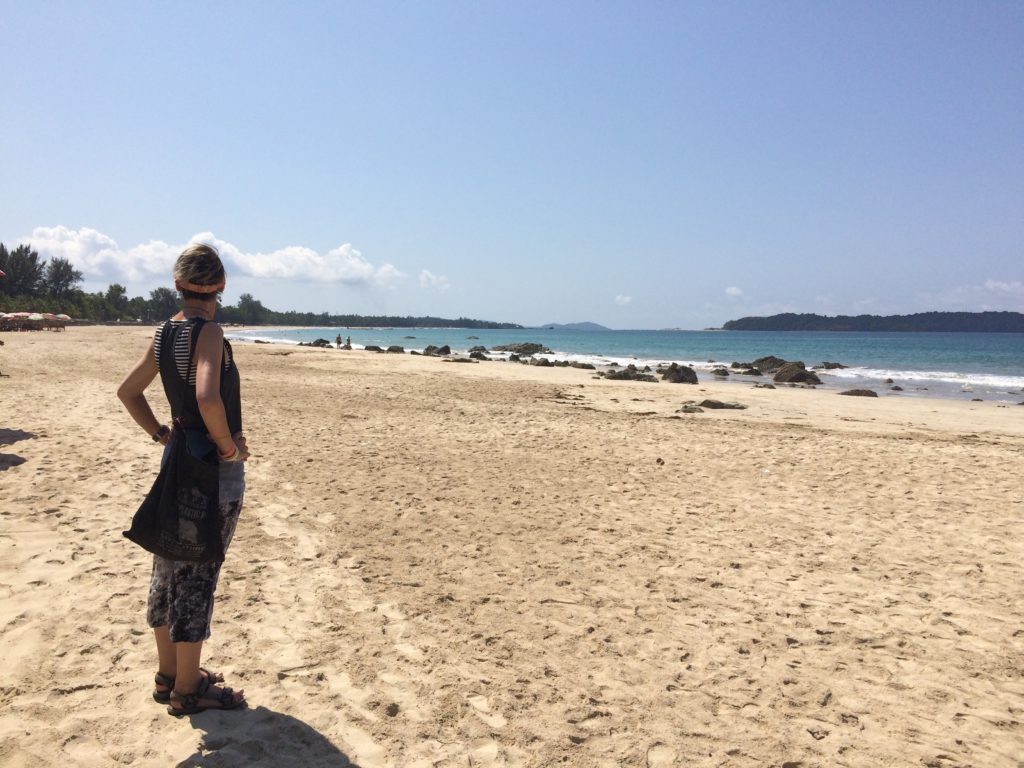 The resort of Ngapali consists of at least 4 beaches, all of them called Ngapali Beach and all with beautiful golden/white sand. The southern beach is the most developed with a plentiful supply of resorts, stalls and restaurants to choose from. A small, quiet, palm lined cove, which we called Kipling's Bay after a pretty lodge on the road leading to it, lies just south of the golf course. Here you have a choice of a single tiny beach bar (when the bartender isn't in the sea) at one end and a couple of smart lodges including Yoma Cherry Lodge at the other. The next beach, north of the golf course and south of the airport, was where we were staying and the most northerly beach was the largest, the least developed and possibly the most beautiful.  Housing only a 5-star resort – Amara Ocean Resort – and one beach cafe that we could see it was nothing short of a deserted paradise!
---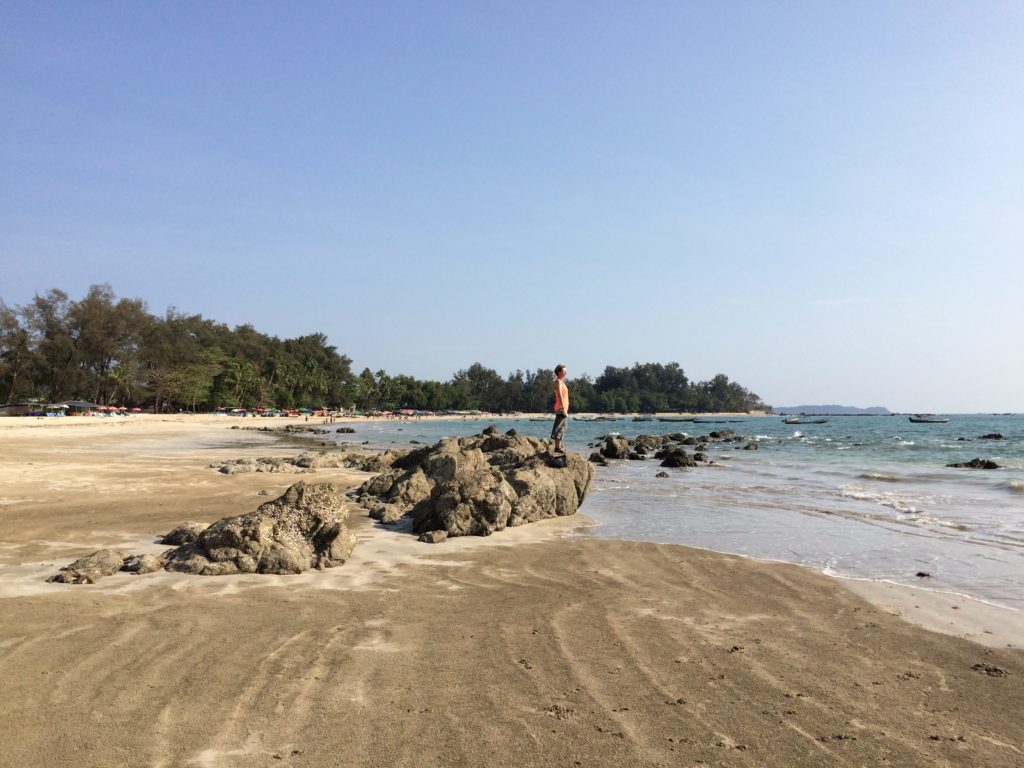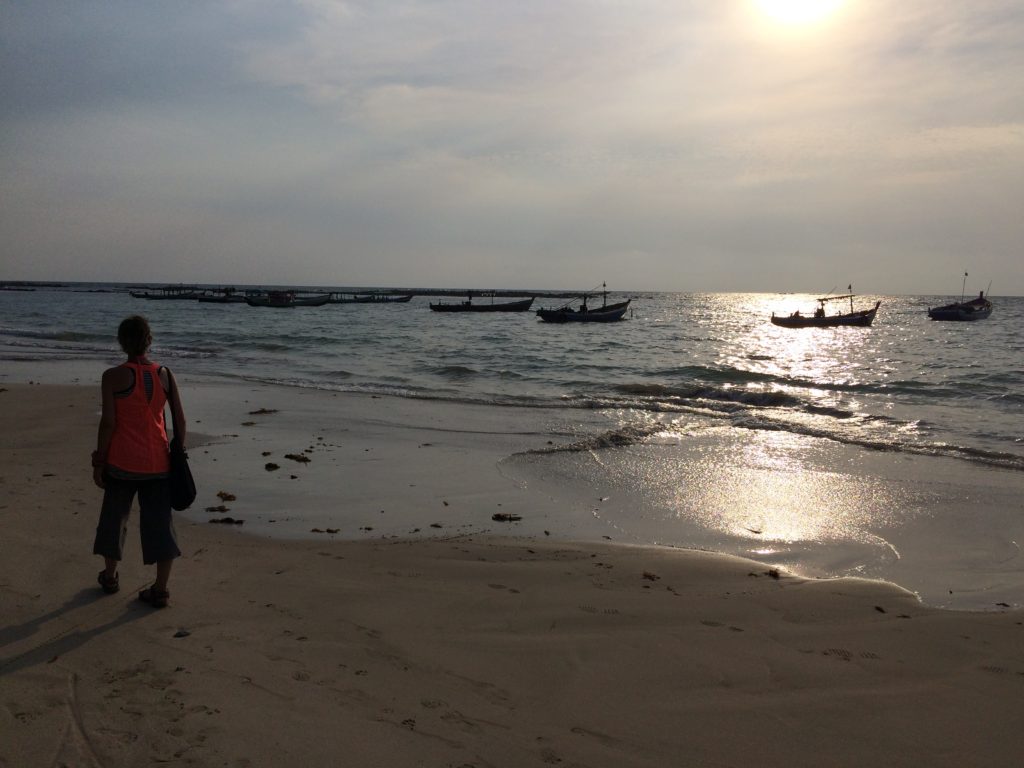 The pristine expanse of white sand, just a stone's throw from our guesthouse was enjoyed by both locals and tourists alike. Happily it was quiet whilst we were there in March and it wasn't unusual to explore large areas with only a few, if any, others in sight. Best described as a beach of two halves, the southern stretch, lined with local cafe shacks and vibrant stalls, was brimming with energy and colour. This was were the locals hung out and was the part of the beach we gravitated to. The northern stretch was equally as pretty, but being fringed by small resorts it had a more touristy feel and so lacked some of the charm of its next door neighbour. Beach-wise there was something for everyone here, all of it clean and all of it beautiful – a lovely flavour of Myanmar by the sea.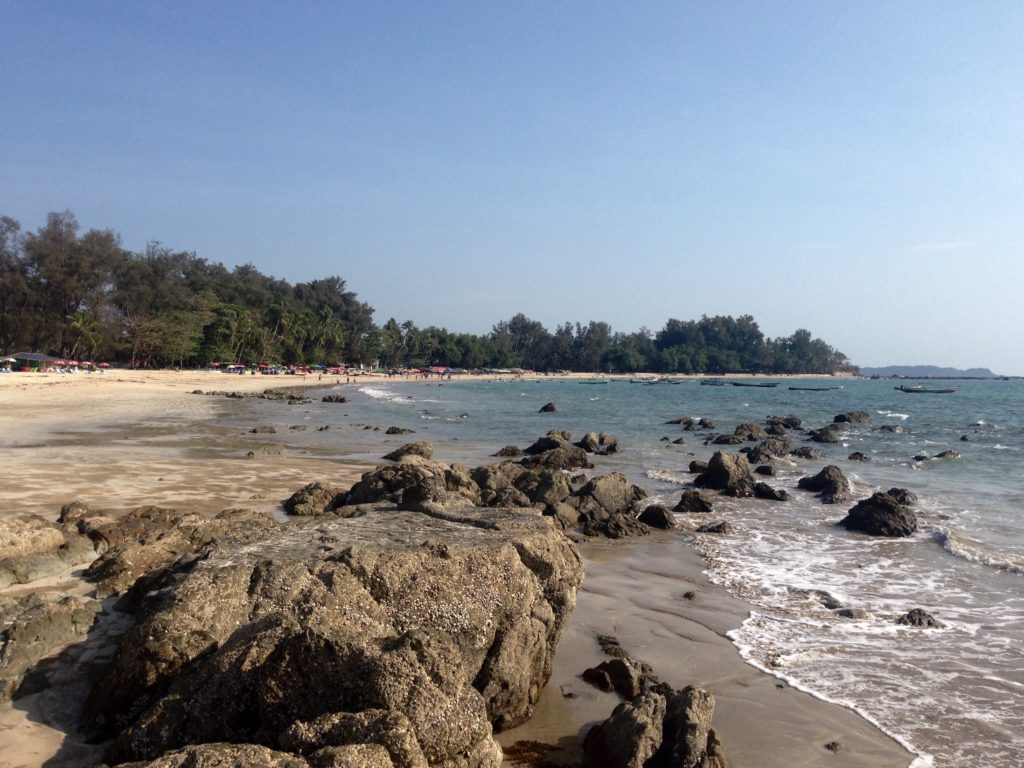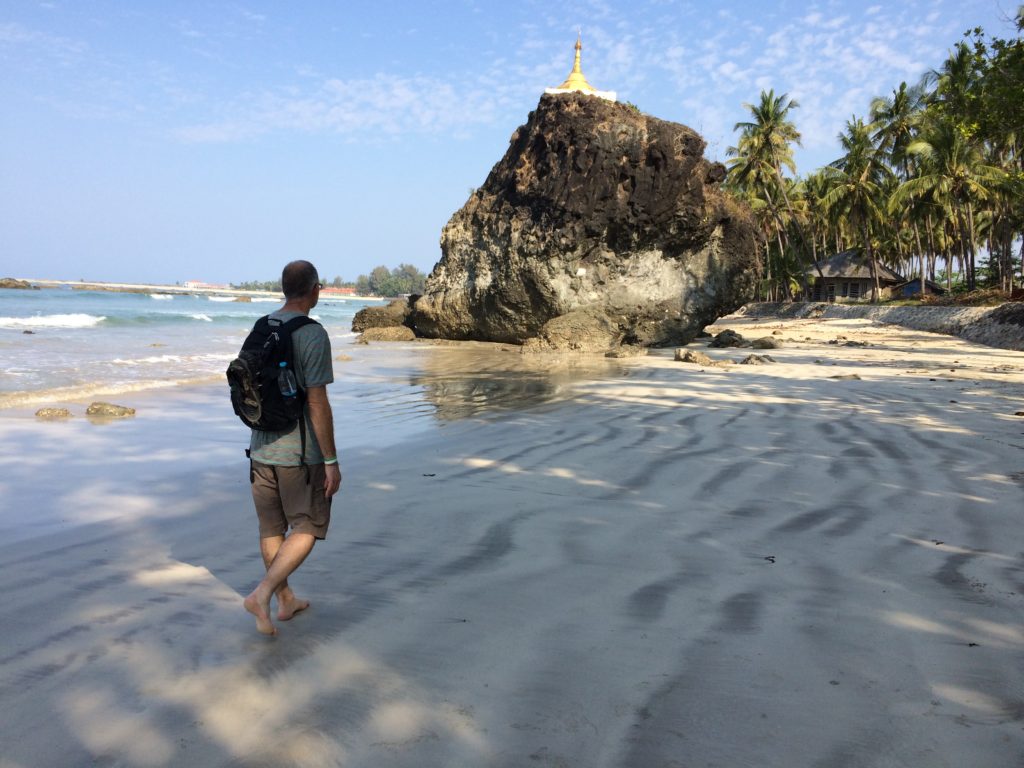 ---
---
But this idyll we think is all about to change. The country was opened to tourism in the 1990's and has seen a huge growth since various political reforms, introduced from 2010, led to the lifting of sanctions against the former military junta. Building works are evident everywhere and we fear that the coming influx of tourist dollar will dull this vibrant community and taint its warm, genuine people. It's in danger of becoming yet another generic tourist bolthole, but for now at least it's a raw, naive and beautiful country full of infectiously happy people and largely respectful travellers who want to explore Myanmar for what it is and long may that last.
We thought it impossible to match the kindness and warmth of the Nepali people, but the Burmese have not fallen short. During a stroll along the beach a group of young lads came up to us with a very large and very pretty shell wanting to give it to me. I politely refused thinking they were surely after money. I explained that I didn't want to pay for it. "No, no they said, we don't want money, we just want you to have it". With a lump in my throat I gratefully accepted the shell.
Such is life in Myanmar at the moment and just like Nepal it's refreshing and beautiful.
---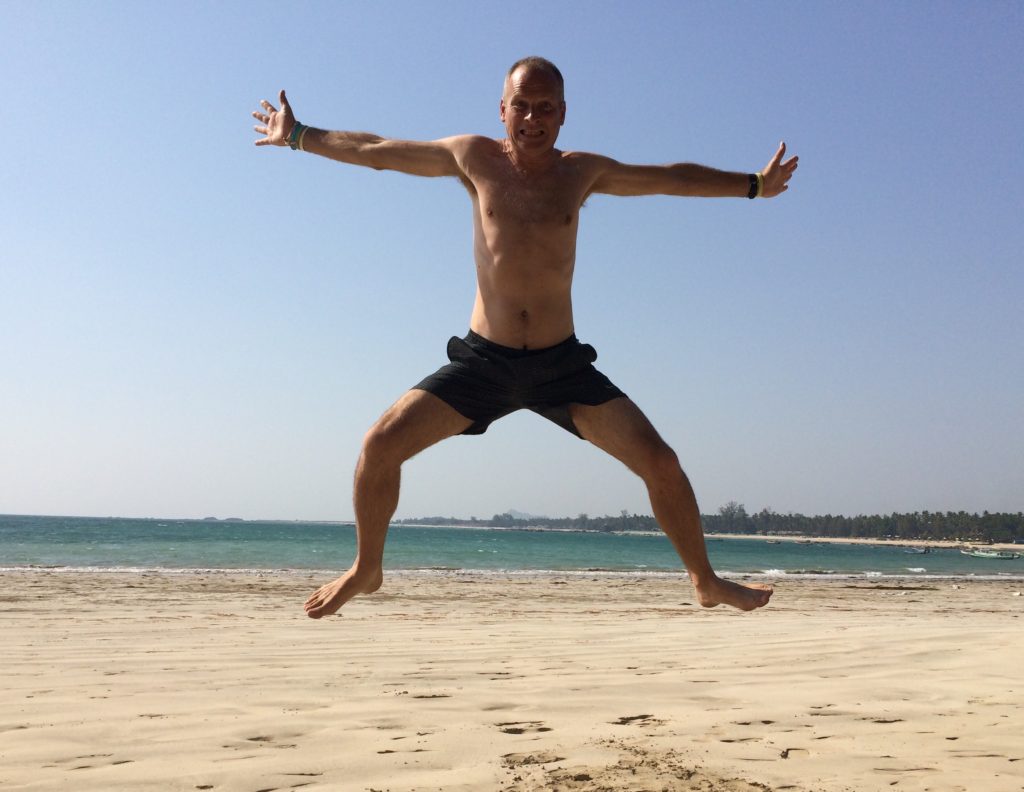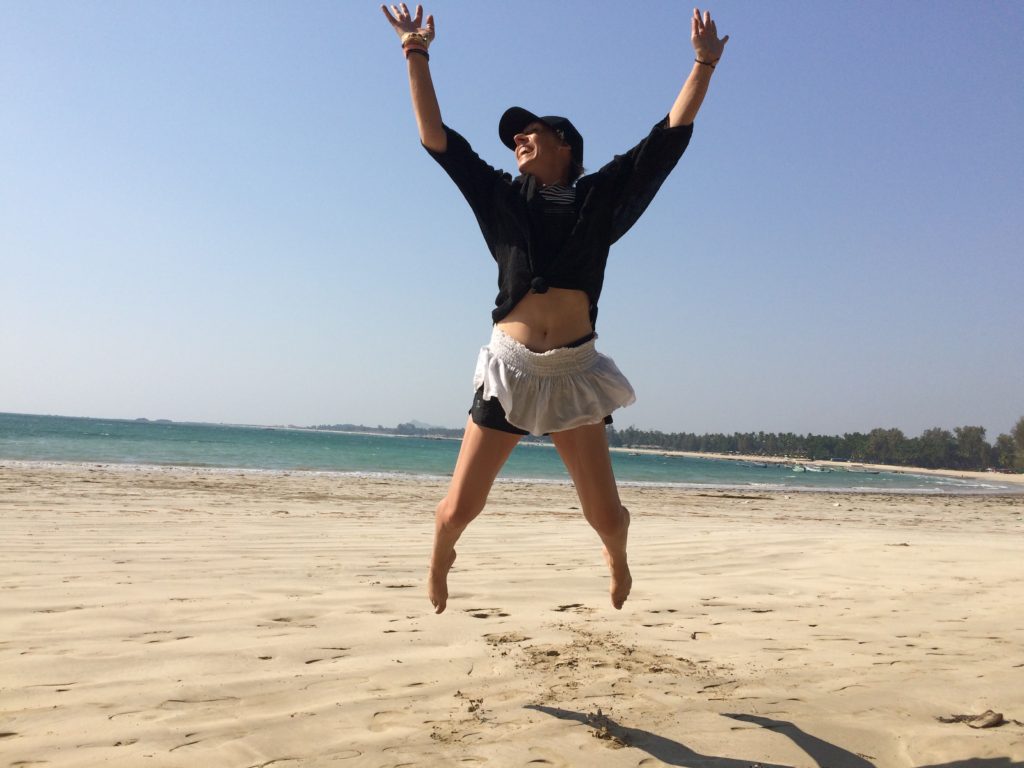 We soaked up the sun, lounged on the beach and frolicked in the sea, we exposed our lily white bodies to the elements and we did that very British thing of complaining about the how hot it was – briefly. The warm, clean sea offered a perfect escape from the heat of the day. It was bliss!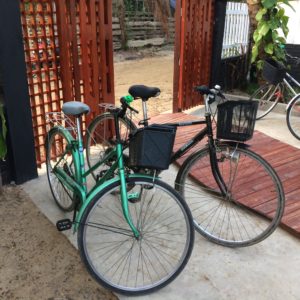 We took up the offer of the guesthouse bicycles and spent days on them exploring the area and its many beaches – all were beautiful, all were different.
With the countryside relatively flat our gearless bikes were great for getting around.
---
Our first 2 trips took us south. First off we visited the stunning main Ngapali beach. Here the large curving area of white sand is fringed with local cafes serving excellent food, craft stalls, massage beds and unassuming locals selling boat trips and the like. The (lifeguarded) swimming was calm and safe and looking inland from the sea was a beautiful backdrop of palm trees. The beach had a relaxed vibe that we loved and we visited it more than once to soak up the atmosphere.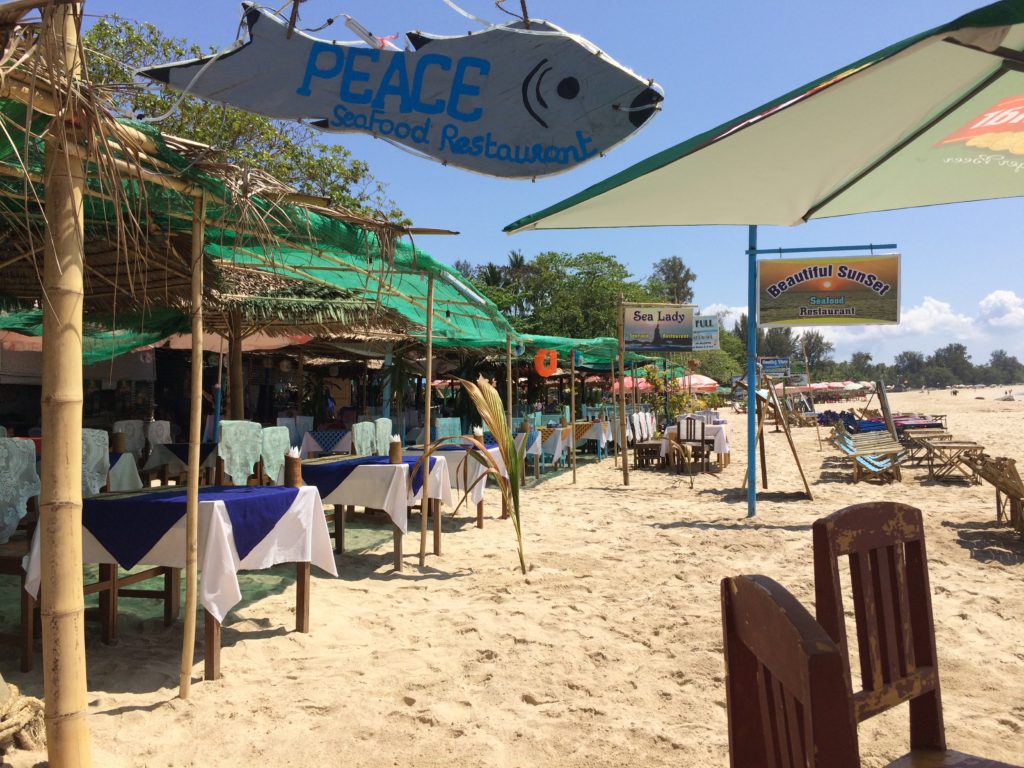 ---
We visited Kipling's Bay which is sandwiched between our beach and the main beach. Kipling's Bay is a secluded paradise, a picture perfect spot away from it all. At one end is the upmarket Yoma Cherry Lodge and at the other is a small beach shack offering drinks and snacks where you can relax in bamboo reclining chairs and look to the horizon over turquoise waters.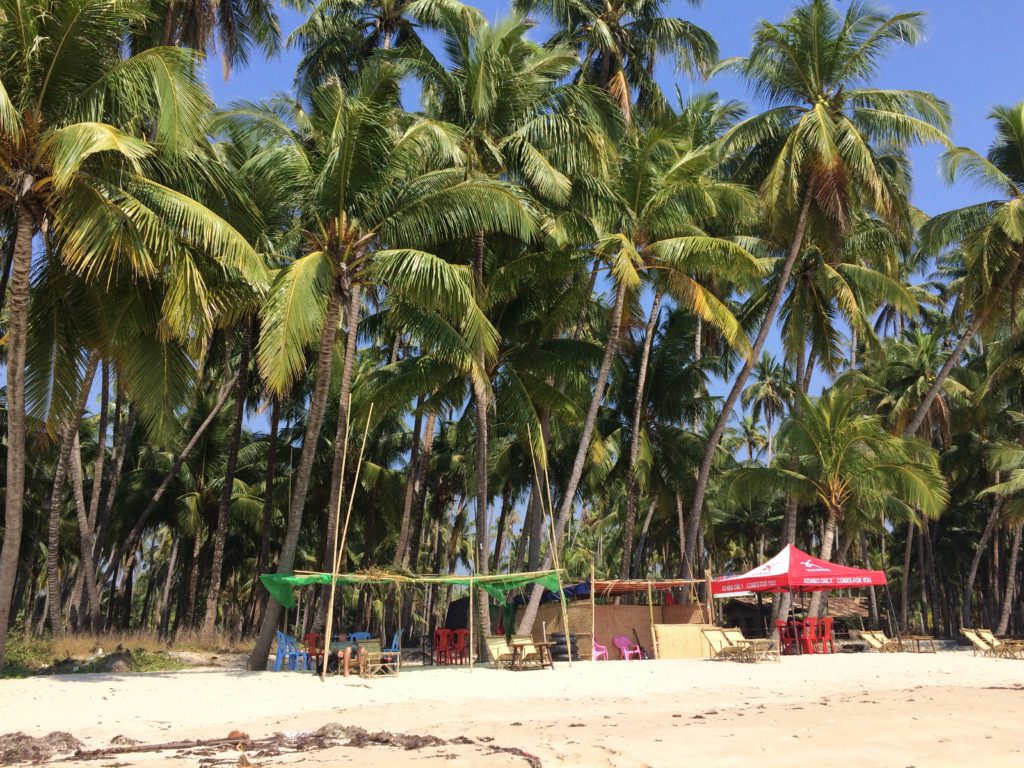 ---
We cycled to the southern most point of the area where we visited a large standing Buddha situated on a hill overlooking Fishermans Village. This was an area where locals were getting on with their daily lives, it was interesting to see the community busying themselves with traditional work.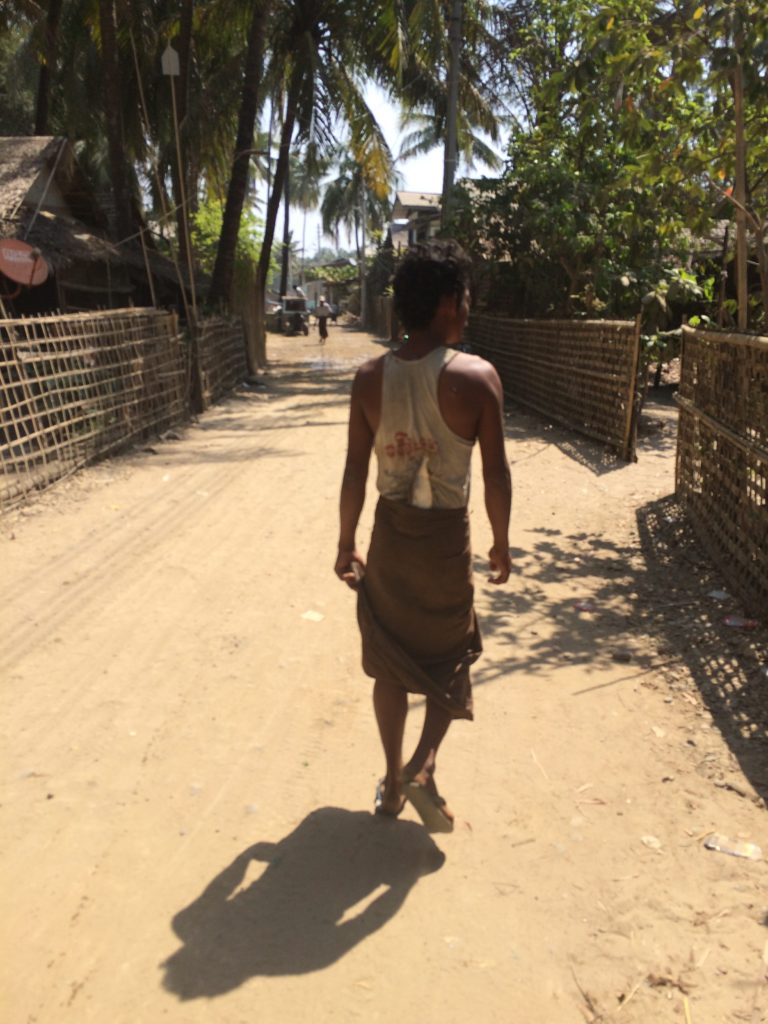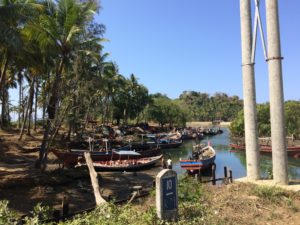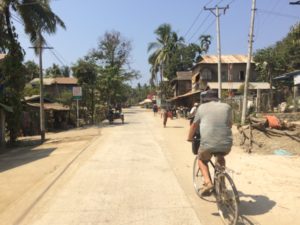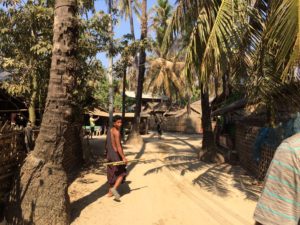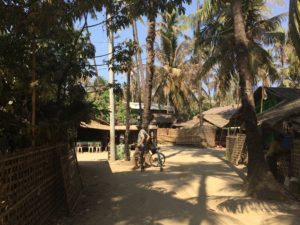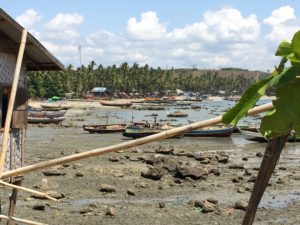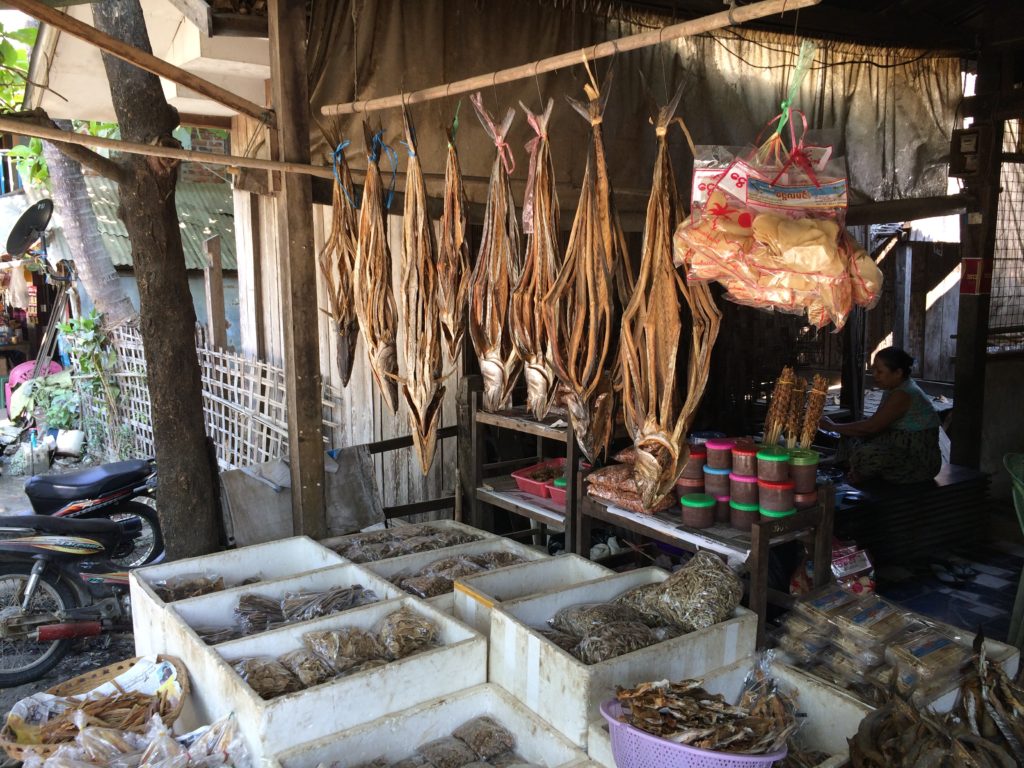 ---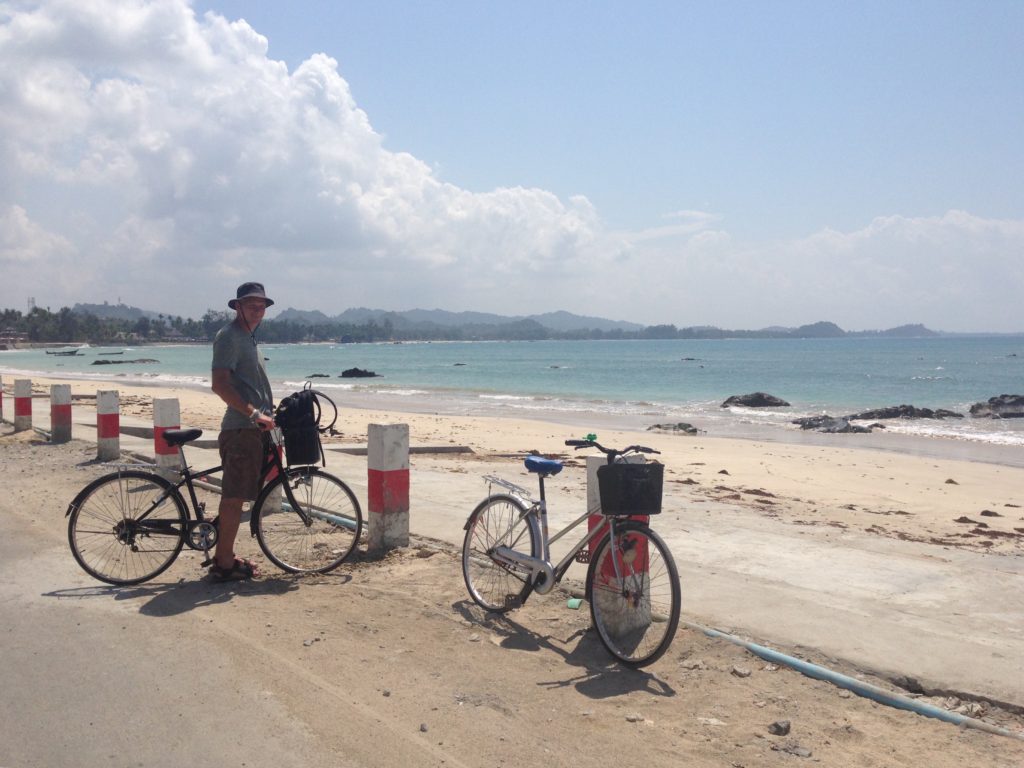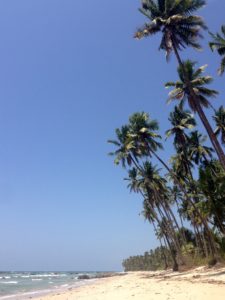 To the North we found our favourite spot and enjoyed a great day of exploring the area. We cycled past the little airport next to the coast road where planes come in to land and take off directly overhead – we stopped a while to gongoozle before heading on.  A little further we took a left down a dirt road before picking our way along a vague track headed to the beach. Hard to ride on the soft sand we dismounted and pushed our bikes along the most perfect, deserted spot imaginable. The beach stretched for miles ahead so we took the opportunity of refreshments at a posh resort for an overpriced but much appreciated drink before a quick dip and some body surfing in the lively sea. We dried in an instant whilst pushing our bikes onwards where our tenacity to continue was rewarded with the most unbelievably picturesque and secluded beach cafe we've ever come across. We were accompanied by one other couple who also enthused about the beauty and tranquility of the spot – we all promised to keep its whereabouts under our hats! We ate, we swam, I sketched, Steve read, we played cards. This utopian spot was nothing short of paradise. We could have stayed for so much longer, but with a longish ride to our guesthouse ahead of us and the day slipping away we headed back. It had been a stunning day in Myanmar.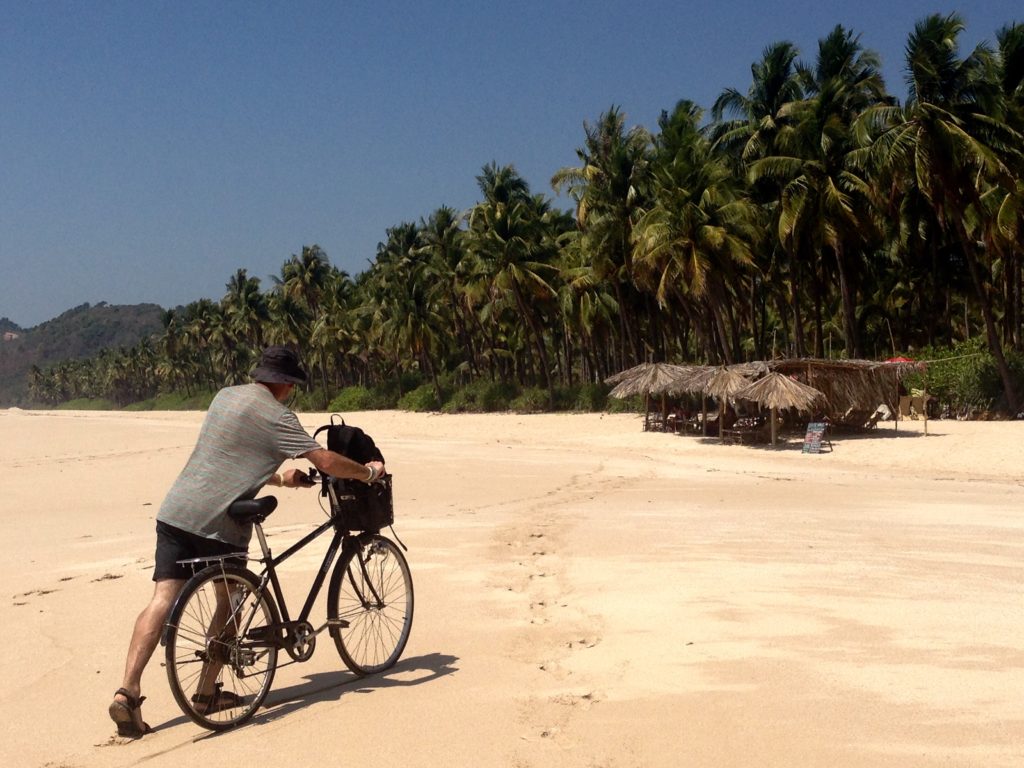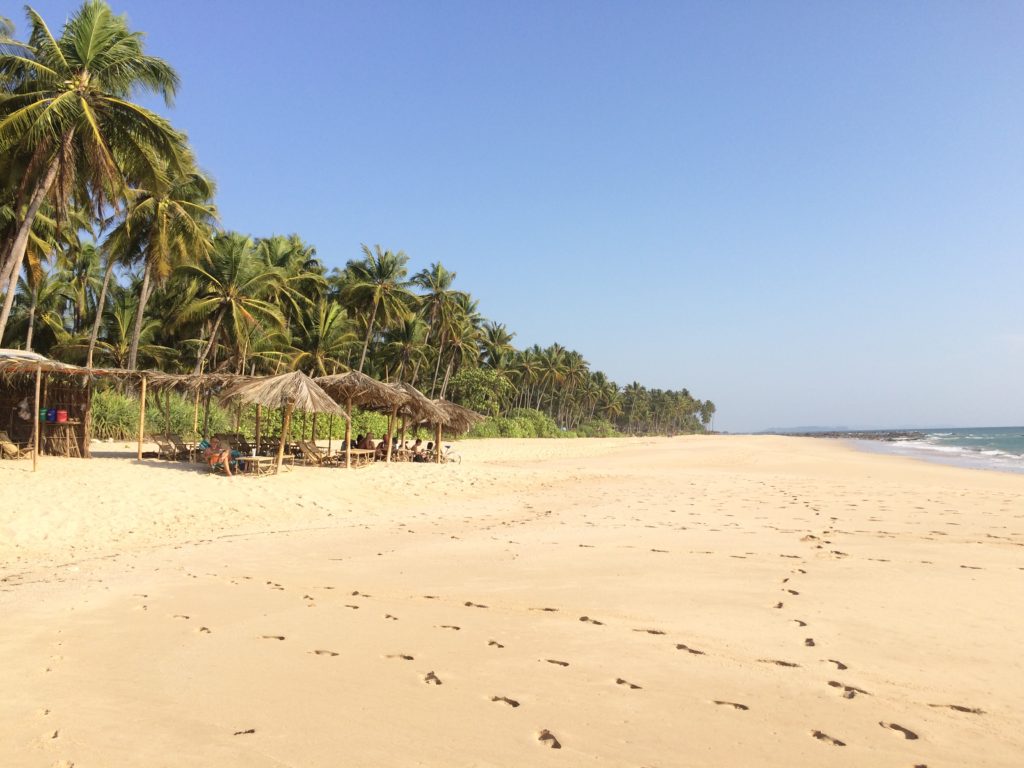 ---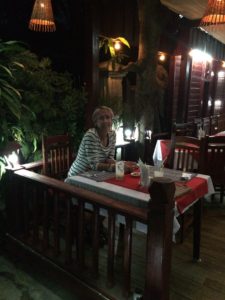 Our intended 2 or 3 days in Ngapali beach had grown into 7 days of pure joy, it had been everything we'd hoped for and so much more besides.
Our only disappointment was the food served at the many beach cafes close to where we were staying. We were excited about the seafood expecting it to be super fresh –  it wasn't. Being a little out of high season and very quiet we suspect the produce was hanging around longer than ideal in the heat and despite our best efforts at being careful with what we ate and drank we both suffered upset stomachs here – myself for the first time of our entire 5 month trip. For Steve this was to be the beginning of a long drawn out on/off illness which would later include a visit to a Mandalay Hospital. Begrudgingly we opted for restaurnts aimed more at the tourist market where the local dishes served were both tasty and, more importantly, safe. Sadly it all came with a higher price tag, our budget was starting to suffer.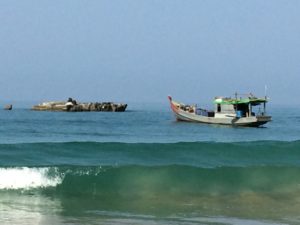 And so our beach time fun had come to an end. With Steve well enough to travel we were ready to head inland for some culture.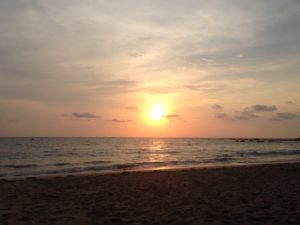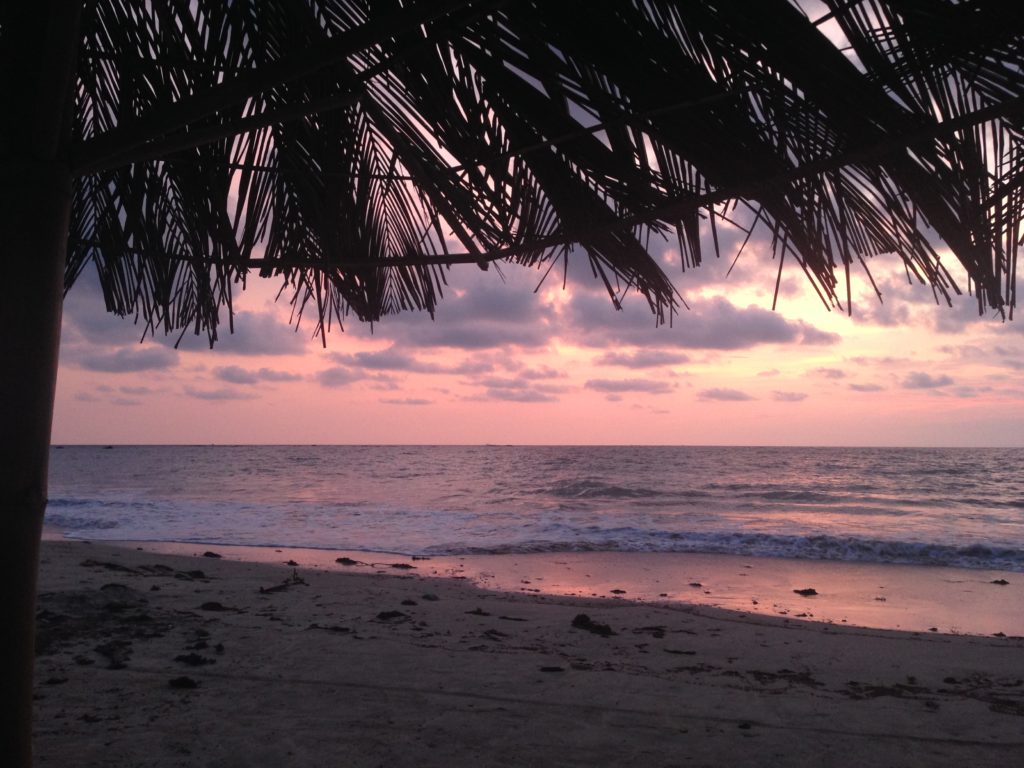 ---
Goodbye Ngapali Beach
we've had fun!
---