Year 9 Melamchi-Ghyang School Excursion
Feb 2017
---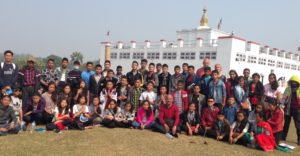 On the 2nd February 2017 we were privilaged to join the year 9 pupils of Melamchi-Ghyang School on their annual excursion.
This is our diary.
---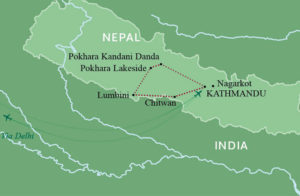 ---
Day 1 – Kathmandu to Chitwan.
After a 5:45am wake up call we excitedly set off to catch one of two buses bound for the first destination of our trip – Chitwan National Park.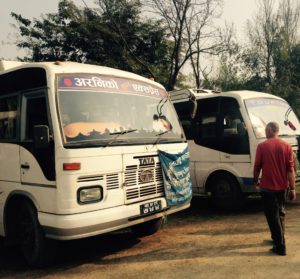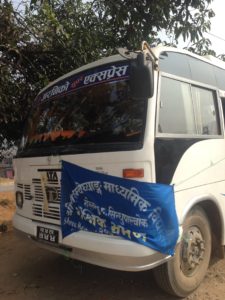 The day didn't begin well – our coach wouldn't start! Things weren't looking good but 40 minutes of tinkering and head scratching later and thankfully our comatosed bus spluttered into throaty life – we were ready for the off. Steve was thrilled, the youngsters were vocal and I was wondering why I hadn't gone to the loo when I'd had the chance.
Setting off along the main Kathmandu to Pokhara route – a road that Steve and I now knew well – we initially made good time, stopping only for the customary dahl bhat lunch and a couple of toilet breaks, a huge relief for everyone!
The atmosphere on the bus was buzzing until we hit road works. Stuck and going nowhere for over an hour the pupils seized the opportunity to stock up on roadside snacks, Steve – not able to read when travelling because it makes him ill – immersed himself in his kindle and I watched the chaotic world go by.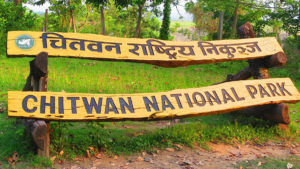 By the time the road was passable we were well behind schedule and with the day slipping away we kept everything crossed for no further delays. We arrived at Chitwan National Park a little before 6pm, almost three hours later than intended. The fading light made it impossible to trek through the Park as planned and so with options now limited everyone was hastily escorted to the museum before that too closed. Housing fascinating, strange and weirdly macabre exhibits of preserved mammals, reptiles and amphibians of all shapes and sizes it was somewhere we could easily have spent more time. But time today was not on our side and so with pretty much no light left we were whisked off to see some of the park's elephants. Chained to their posts for the night Steve and I felt uneasy to see such majestic animals in their confinement. Many of the students though were seeing these impressive beasts for the first time – they were excited.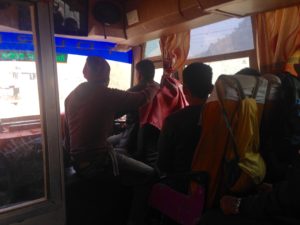 By now dark, we boarded the buses where the high spirited youngsters broke into Nepali song until we reached our hotel. We settled down to a late dinner, the girls eating first followed by the boys and finally ourselves and the teachers. Having had our fill we all headed our separate ways for the night.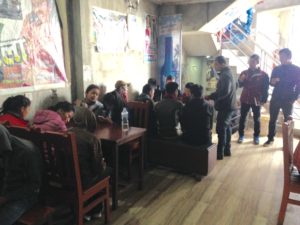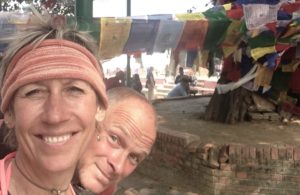 We hoped that the next day would bring less time sitting on the bus and more time sightseeing…
---
Day 2 – Chitwan to Lumbini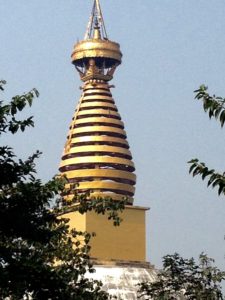 The second day started around 6am with some of the pupils reading their school trip diaries aloud. Nepal has an education system where classes are structured around ability rather than age, so pupils on the trip were of varying ages. All teachers were responsible for a small group of students and every day at least one person from each group was chosen to present work from diaries they were expected to write during the evening. Presentations rushed through, breakfasts eaten and bags packed we boarded the buses ready for the day ahead.
We were pretty much on time and things seemed to be going well until our bus driver decided to plough onto a single lane bridge which was already occupied by a vehicle coming in the opposite direction. This move created absolute gridlock and around 45 minutes of bedlam insued as we were ordered by a police officer to reverse (and reverse and reverse) past a huge queue of traffic that had formed behind us. Finally we found somewhere suitable to pull off the road to let the less than happy, and equally long, queue of traffic that had built up on the other side of the bridge pass. It was shaping up to be a day similar to yesterday…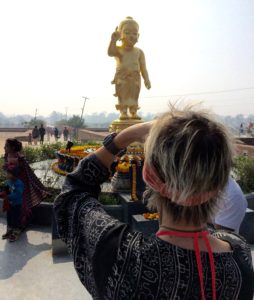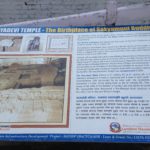 Lumbini, in the Terai – Southern Nepal, is a UNESCO World Heritage site and the birth place of Buddha. It's a very special place for Buddhists worldwide.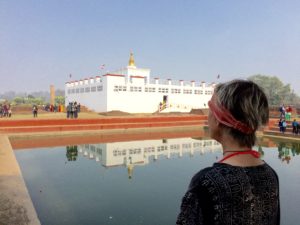 For us it was a lovely couple of hours spent exploring the temples and grounds, for the pupils of Melamchi-Ghyang School it meant so much more.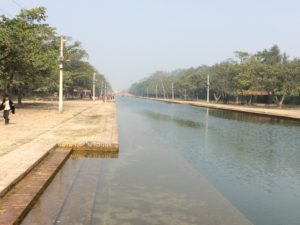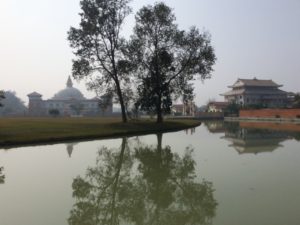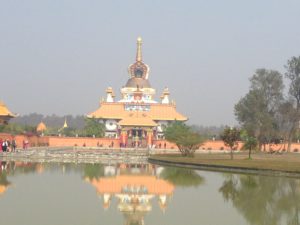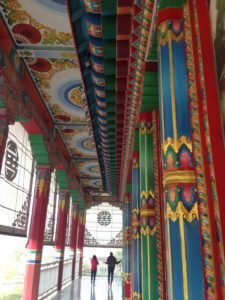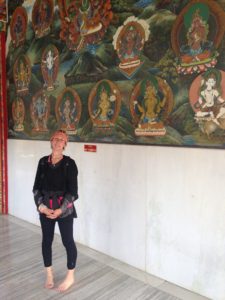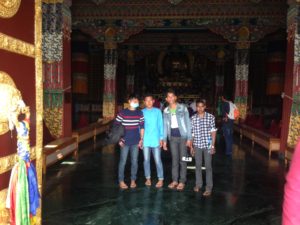 ---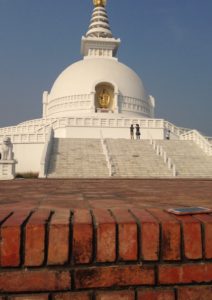 Exploring done, dahl bhat lunch eaten and souvenirs bought, we headed back to our buses. A short ride later found us at the Lumbini World Peace Pagoda. One of eighty such pagodas around the world – including the one in Pokhara we'd recently visited – these Buddhist stupas have been built to promote world peace. It's a beautiful structure, so white that our eyes hurt in the bright sunshine reflecting from its walls.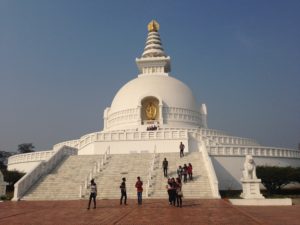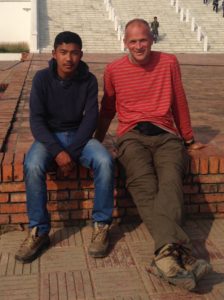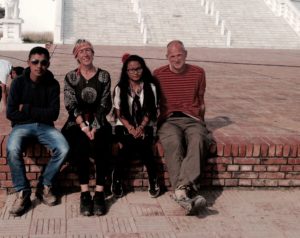 ---
Our next stop was the Indian border. Residents of Nepal don't need a visa to travel to India and so the teachers and students payed a brief visit to their neighbouring country. At a cost of $100 each for a visa Steve and I decided to watch on from the (relative) comfort of our bus.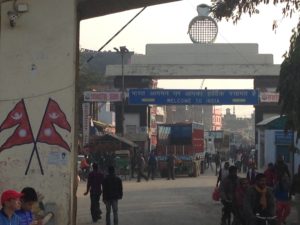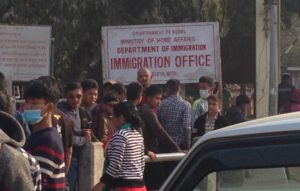 An hour or so later we were back on the road bound for hotel number 3. Tired from a long day we all dispersed to our rooms to freshen up and gather our thoughts before heading back down for dinner – boys first, then girls then teachers and us.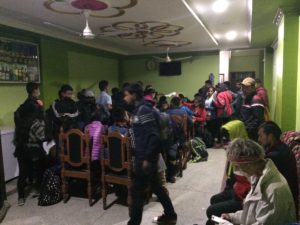 The family running the hotel said that Steve and I were 'very white' and guessed my age at 36! This was most definitely my favourite hotel of our trip so far!
---
Day 3 – Lumbini to Pokhara
The day started well because we were on the quieter bus away from "DJ Whistling Boy"! I'll explain: all buses here have an assistant on board – mostly young lads – who help their drivers avoid collisions on the chaotic city streets or dropping off cliffs on the hazardous mountain roads. On the public buses they also handle the money for fares. They use whistles as a form of communication hence we refer to them as the "whistling boys." This particular lad – who today, thankfully, was on the other bus – spent far more of his time shaking his tail feathers at the students than he did assisting the driver and, in his efforts to impress, turned the music up so loud that our brains hurt! We duly dubbed him "DJ Whistling Boy", the name stuck!
---
On route to Pokhara we stopped at the UNESCO world heritage site of Tansen, where we visited temples including Bhagwati, built in 1815 by Col Ujir Singh Thapa to commentate the victory over British troops in the battle of Butwal during the Gurkha War (1814-1816).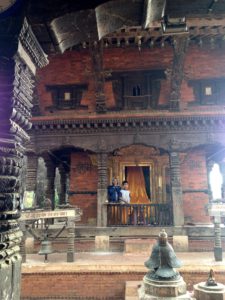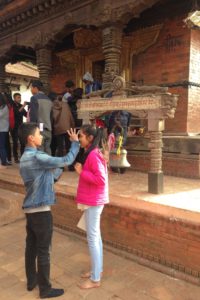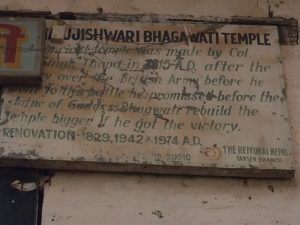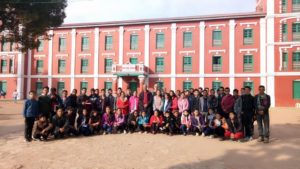 Just before our final destination of the day we stopped off at Devis Falls and Gupteswar Cave . Steve and I had recently seen both of these and so we opted to sit them out and found a cafe for our first coffee of the trip.
---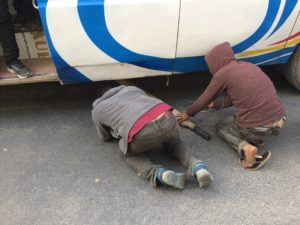 The mountainous road we'd driven along that day to reach Pokhara had been both scenic and hairy, but thankfully we and our previously poorly bus made the journey in one piece – almost! A few metres from our destination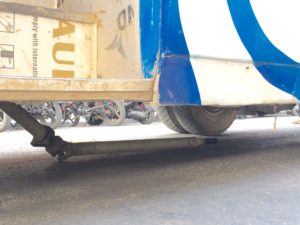 there was a distinct clunk before we ground to a halt. The driver looked concerned, our whistling boy looked confused and the gathering crowds looked amused. Unable to contain our curiosity we got off the bus to see what was happening. Bad news, the drive shaft had broken – we were going nowhere . Luckily for us our next destination of Phewa Lake – the second largest lake in Nepal – was only a few minutes walk away. Shanks's pony it was then.
Before boarding our boat at the lake we were given life jackets, one of the first signs of health and safety we'd come across during our time in Nepal. We were deftly rowed to the small island in the middle which is home to Tal Barahi Temple. A quick walk round and many photos later we all boarded our boats to be rowed back to mainland shore.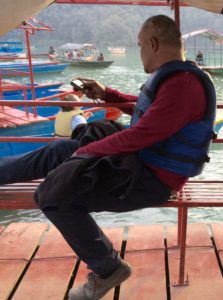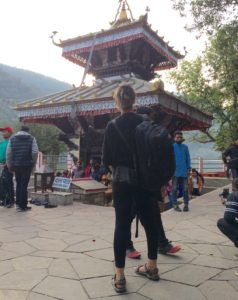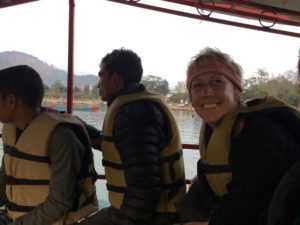 With only one healthy bus Steve and I decided to avoid the crush and walk to the hotel a short distance away. Once there we all settled into our rooms, enjoyed a little chill time and wrote our diaries. Steve and I went for a wander to a small local cafe where we'd spent lots of time with our daughter Meg during the New Year celebrations – happily they recognised us, we felt very at home.
Following our usual dinner more students were chosen to read extracts from their diaries after which Steve was asked to offer advice. Taken by surprise at the request he had to think on his feet and rose to the task effortlessly. I was very impressed and made sure to be prepared in case the same was required of me at a later date – it never was!
The following day we needed to be awake at a very unsociable 4:30am for an extremely early start to see the sunrise and so with Steve's wise words fresh in our minds we all settled down for an early night.
---
Day 4 – Pokhara to Gorkha
Good news, our old faithful bus was fixed – bad news, today we would be on the other one with "DJ Whistling Boy!"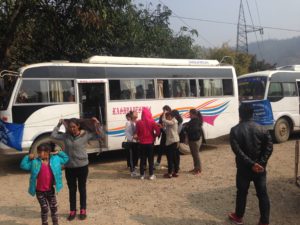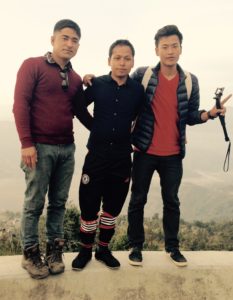 Our alarm went off at 4:30 for a 5am start to see the sunrise at Sarangkot. Steve and I were weary, the pupils however were not as their year group have a tough regime at school where early starts and late nights are the norm. Reluctantly and still half asleep Steve and I boarded "DJ Whistling Boy's" bus and headed off in the dark for the starting point of our morning's climb. It was lovely to be walking again and as the day dawned we were treated to yet another beautiful Nepali sunrise. Pupils and staff savoured the moment too – whilst taking more selfies than you can point a (selfie) stick at!!!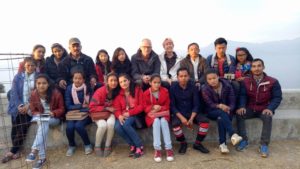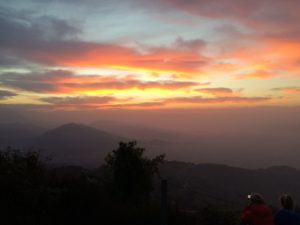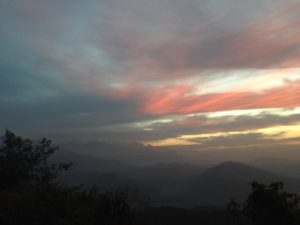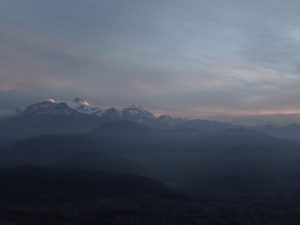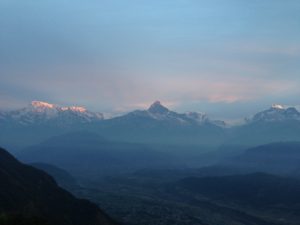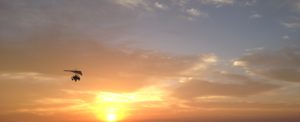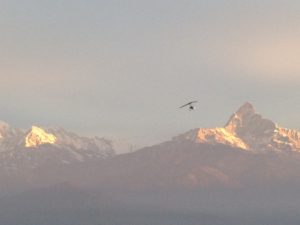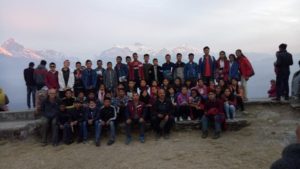 ---
From here we walked back to our buses to be ferried to the Mahendra and Bat Caves. We enjoyed Bat Cave especially where thousands of bats hang from its ceiling. Seemly undisturbed by all the activity around them, they were a sight to behold and one of the highlights of our trip. Bat excitement long behind us we had an incredibly tricky exit to negotiate and with no technical gear or health and safety in sight it was not something I was looking forward to.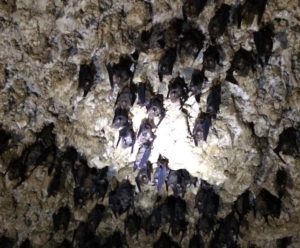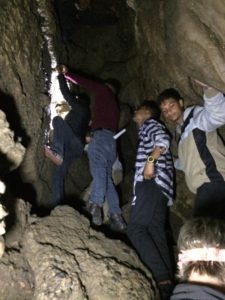 Firstly there's a short, vertical climb to scramble up, followed immediately by a tight and claustrophobic squeeze around a 90 degree bend. Both were awkward and everyone other than Purna, the teachers – all male – and Steve needed a leg up from below and a haul up from above to manage them. Because it takes time to navigate both obstacles a

queue had formed in the cave and some of us found ourselves waiting in the confined space for the best part of an hour. I for one was relieved when I finally wriggled out – Steve of course loved it. I was so impressed with how calm the youngsters remained and even more so with the school matron who managed it in her beautiful local dress – hats of to them all.
---
Out in the fresh air we headed back to the hotel for lunch, of you know what, before boarding the buses and heading the short distance to the International Mountain Museum. Steve and I had previously spent a day here so we picked our way through the exhibits we wanted to revisit before sitting in the sun. It wasn't long before we were joined by the students and teachers and following their obligatory selfies everyone returned to the buses for the journey to Gorkha. Guess which bus we were on!
"DJ Whistling Boy" didn't disappoint and the driver, today caught up in the antics, was driving at break neck speed along the winding mountain roads. At one point Steve actually said "Can I have the biscuits please, I don't want to die hungry!" I passed him the biscuits and returned to reading my book, the alternative of looking out the window was much too scary…
Music turned up loud and travelling too fast resulted in the nearest miss of our Nepali adventure so far. Steve was unable to bite his tongue any longer, the driver had frightened himself and "DJ Whistling Boy" went quiet (briefly). It all got a lot more sensible after that.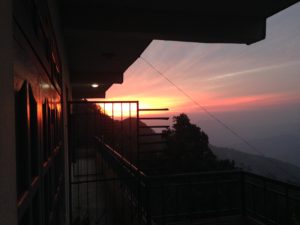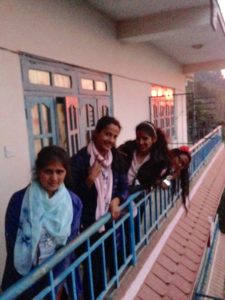 Hotel number 4 was a good one. A lovely balcony gave us incredible views of a stunning sunset over the Manaslu Himal and after an adrenaline fueled day we could now relax. This hotel had the perfect solution for feeding people in numbers – a dahl bhat buffet. Steve, able to pile his plate as high as he wanted and go back for more if needed, was a very happy man.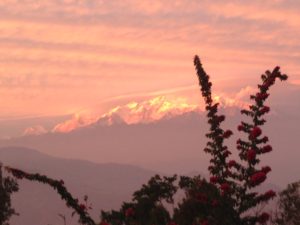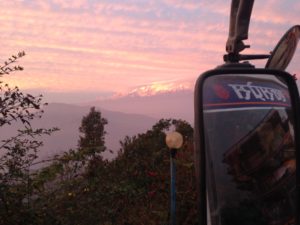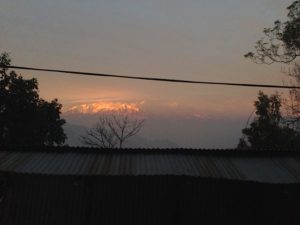 ---
Day 5 – Gorkha to Kathmandu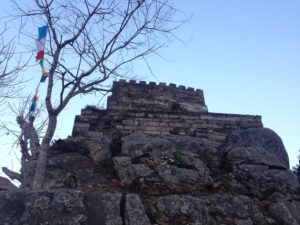 After a lie in – our alarm went off at 5:30 – we walked directly from our hotel to the Gorkha Hill Top Palace. Set high on the rocks overlooking the town and surrounding countryside the view was stunning in the early morning light. One of our favourite landmarks of the trip, it was well worth the early start. Sadly Gorkha was badly affected by the earthquake of 2015 and parts of the old palace buildings show signs of damage, happily though much of it was unaffected and remains intact.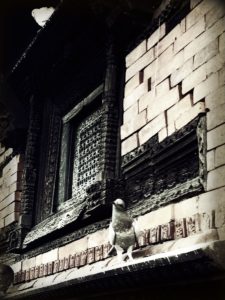 ---
A short stroll back down the hill to more super speedy diary readings and a buffet breakfast including the magic food of bread. Not a regular part of the village diet sliced white bread was a winner here – students and teachers couldn't get enough of it – Steve and I got stuck in too!
---
Back on the old faithful bus we headed to the Gorkha museum which was unfortunately shut and so following a quick scoot around the grounds we headed for the last treat of the trip – a ride in a Austrian built cable car to Manakamana Temple.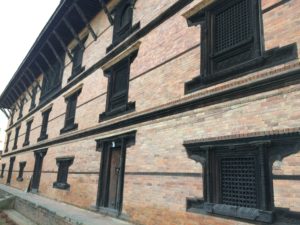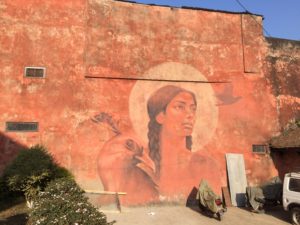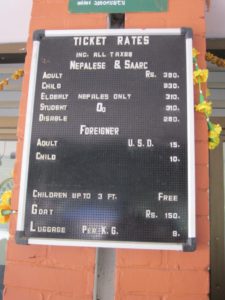 Cheap for goats and chickens, but expensive for foreigners Steve and I decided to sit this one out enjoying a reasonably priced coffee at the cafe instead. With great excitement the youngsters joined the queue – among said goats and chickens – and boarded the gondolas for their cable car ride to the top. A while later they arrived back down, buzzing with joy at their adventure.
Sadly the chickens and goats do not make the return journey!
---
With spirits high we all boarded the buses for one last time, headed for Kathmandu and the end of the excursion. It had been a wonderful few days of fun and laughter, wonder and learning. With minds full of memories and phones full of photos it was time to return to Melamchi-Ghyang, our village in the sky.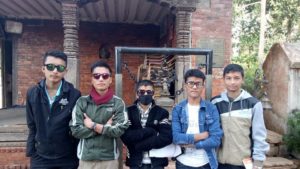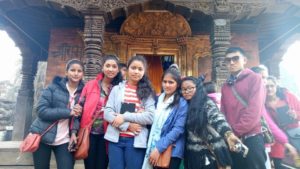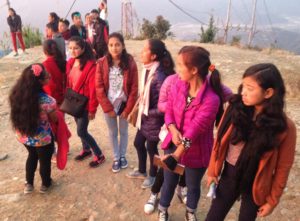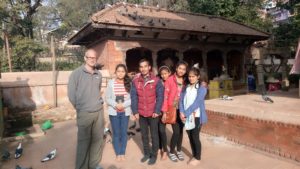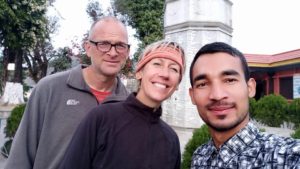 ---
For us it was a wonderful experience spent in the company of genuinely lovely people who we now considered friends. We were honoured to be included in such an important aspect of school life and felt privileged to have been a part of it.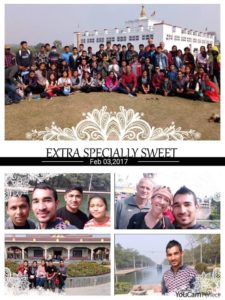 Our very special thanks go to Purna and the teachers for taking us under their wings and to the pupils who were a joy and a credit to Melamchi-Ghyang school.
---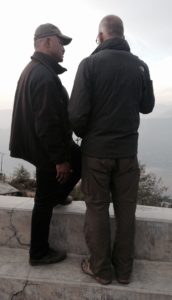 The End!