Mandalay, Pyin-Oo-Lwin, Hsipaw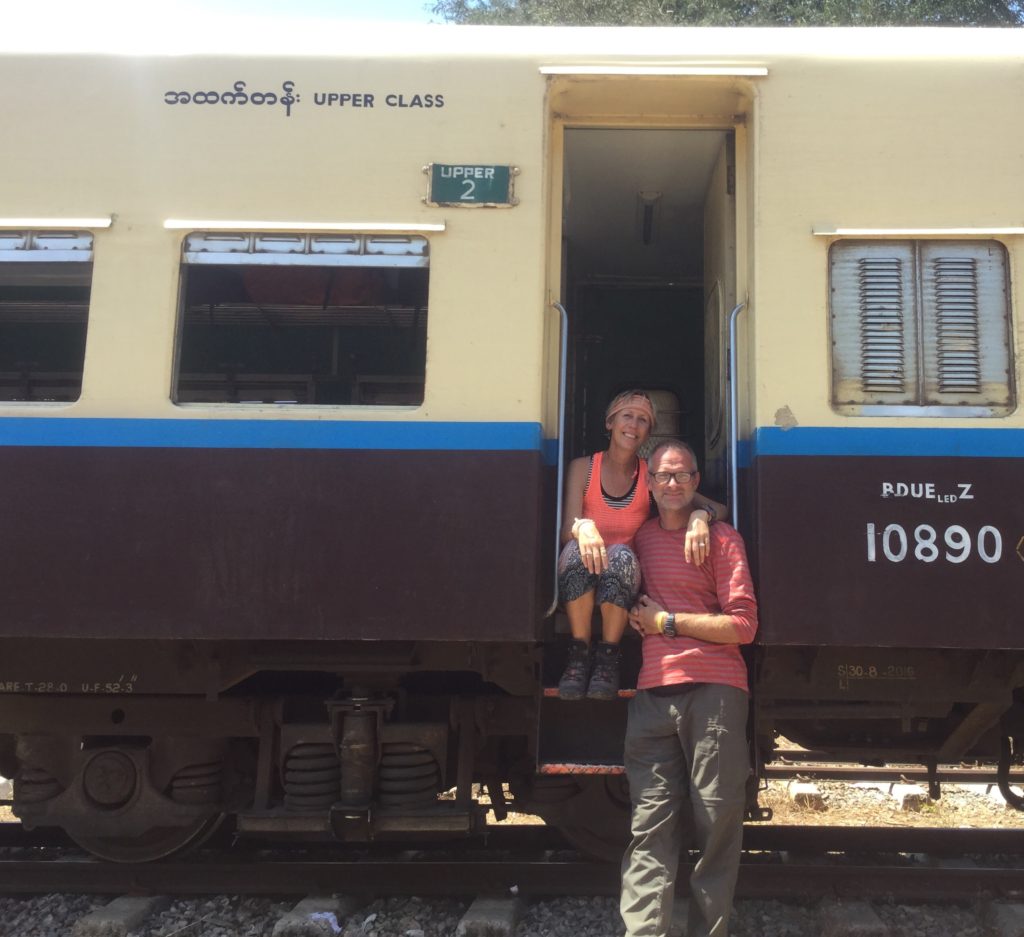 Boat-Train-Bus
---
It was a 5am pick up from our hotel to our transport for the day – a fast boat along the Irrawaddy river, destination Mandalay. It was very early and still dark but we were buzzing with excitment and looking forward to a new mode of transport and the day ahead.

At the river banks we were met by some young men offering to take our bags to the boat, less than a 2 minute walk away. We politely declined, but they insisted, practically grabbing the packs from our backs. We assumed then that they were part of the crew but just in case not, and remembering our previous experience in Pyay, we very firmly said "no money". OK they said, trundling off with our stuff. A couple of minutes later and aboard the boat they asked for cash. It was early, we were still half asleep and I was sore from our little accident on the e-bikes the day before. This morning they'd picked on the wrong people – there was absolutely no way I was about to pay them a single penny. They wouldn't leave us alone so we found a seat and sat down with them trailing on behind. Finally, totally fed up with the situation I reported them to the boat crew, with whom I discovered they had no affiliation. The crew didn't really care about the shananagins, but it was enough to get them off our backs and they disappeared to try their luck elsewhere. Not the best start to our day!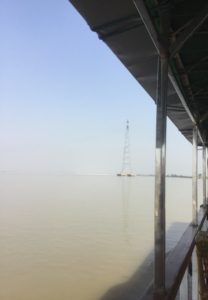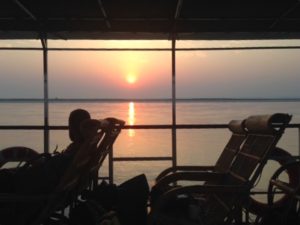 We soon knew that the boat would be one of our preferred modes of transport as we settled into wicker chairs on deck before wrapping ourselves up against the early morning chill. Shortly after setting off we were served a basic but much appreciated breakfast and soon after that we were treated to a glorious sunrise. As the sun lifted so did the temperature and the spirits of all on board.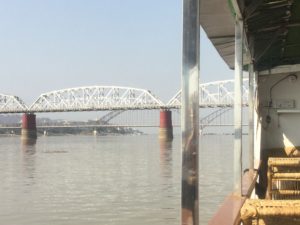 The Irrawaddy is a vast, wide river, impressive in it's scale. The countryside lining either side doesn't match its grandeur and was generally unspectacular, but even so watching the world and its boats go by was a lovely way to while away a few hours and the trip seemed to pass far more quickly than bus journeys of similar durations.

---
During Kipling's time in Burma there was no real "Road to Mandalay" The road he writes about in his poem is actually the Irrawaddy River.
All too soon it was time to disembark and head into the city of Mandalay. A short tuk tuk ride got us to our accommodation, the poshly named Hotel Diamonds. It was a generic Booking.com deal – but the staff more than made up for its lack of personality with their efficiency and warmth and we instantly liked our choice. Better still it was directly opposite the station we were intending to use the following day – that was our plan…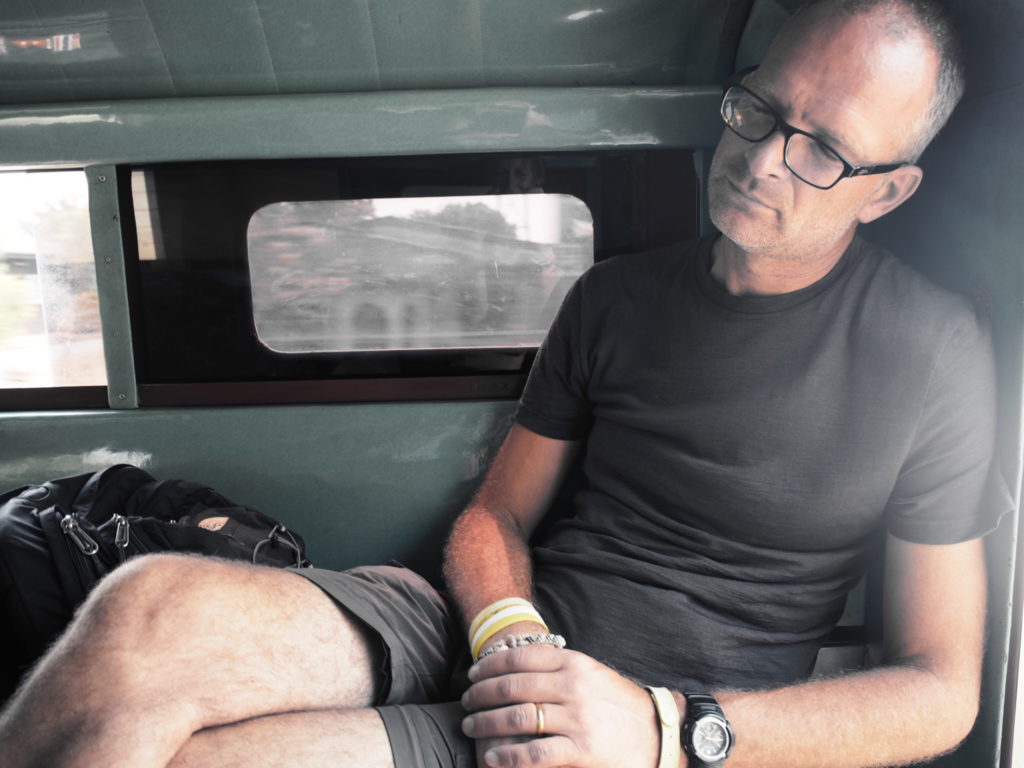 Having been mostly well for our time in Bagan, Steve suddenly became very ill. The stomach bug he'd been wrestling with over the last few weeks had come back with a vengeance so we decided to stay put in Mandalay for a couple of days longer than planned to ride it out and get him back to fighting fitness. With things not improving and his now obvious weight loss concerning me a trip to the hospital was agreed.
The care he received was out of this world. A specialist who spoke English was called in especially to see him and we waited no longer than half an hour in an immaculately clean hospital surrounded by local people eyeing us with interest. The consultant was brilliant. She did a thorough check on Steve, asking lots of questions and prescribing many drugs. This is all going to cost a pretty penny we thought – but it didn't. The consultation and the drugs combined came to little more than £12. We couldn't have been more impressed with the care we'd received in this swiftly developing country.
We stayed put for Steve to recuperate while the drugs kicked in, getting used to the confines of our room and it's quirky clear glass divide between bedroom and toilet – not ideal for our present situation!
---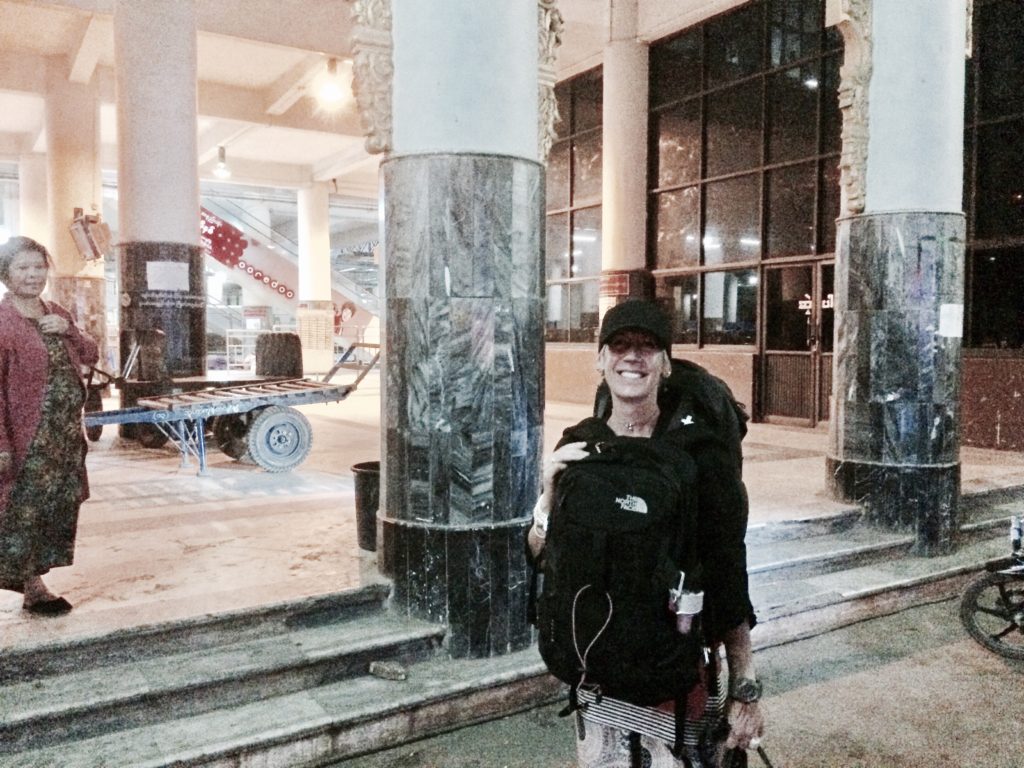 With Steve finally on the road to recovery we boarded our train to Pyin-Oo-Lwin for the next leg of our journey. Travelling by train is an absolute and we enjoyed a comfortable, relaxed and picturesque trip. The seats were comfortable, there was a trolley service of sorts and you could travel with the windows open to get the best views of the surrounding countryside.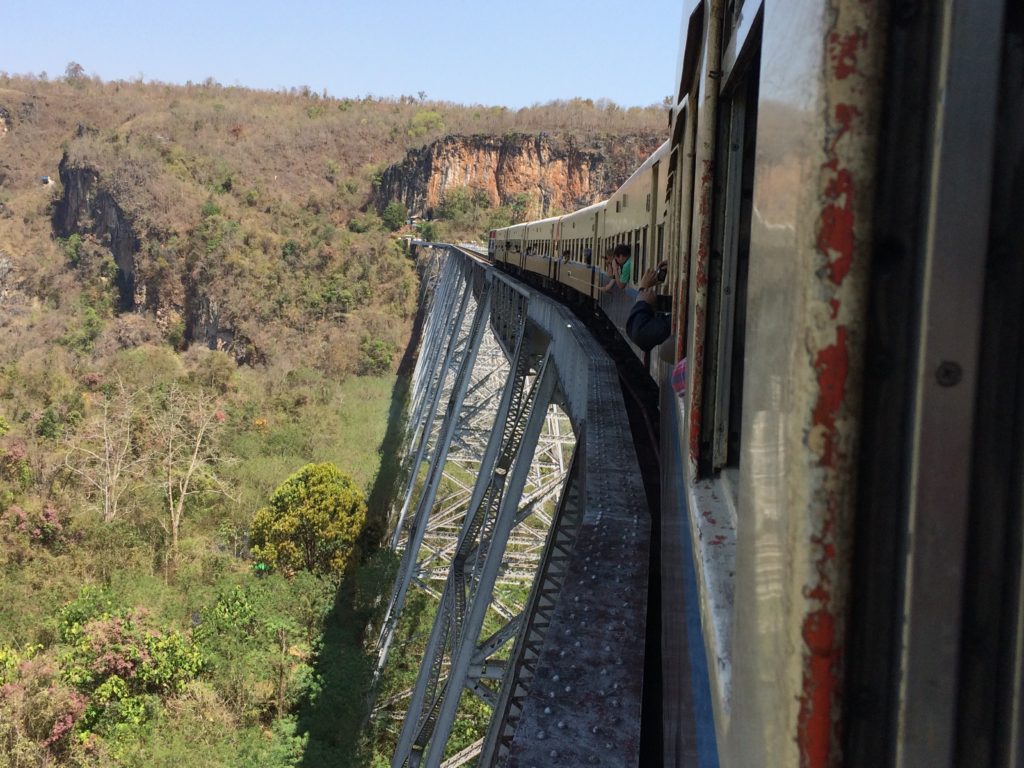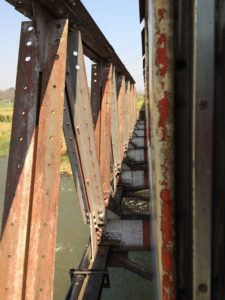 We crossed the much talked about Goteik Viaduct, a thrilling highlight of the trip. Very soon after which we came to a halt at a remote station where we all alighted to sit in the sun and snack on corn on the cob freshly cooked by the track side and some of the sweetest watermelon we've ever tasted. We soon discovered that many people take the trip from Mandalay just to cross the viaduct, returning back on the next train travelling in the opposite direction.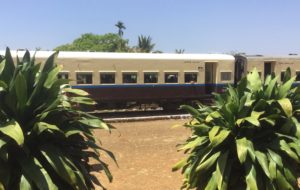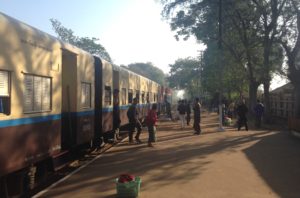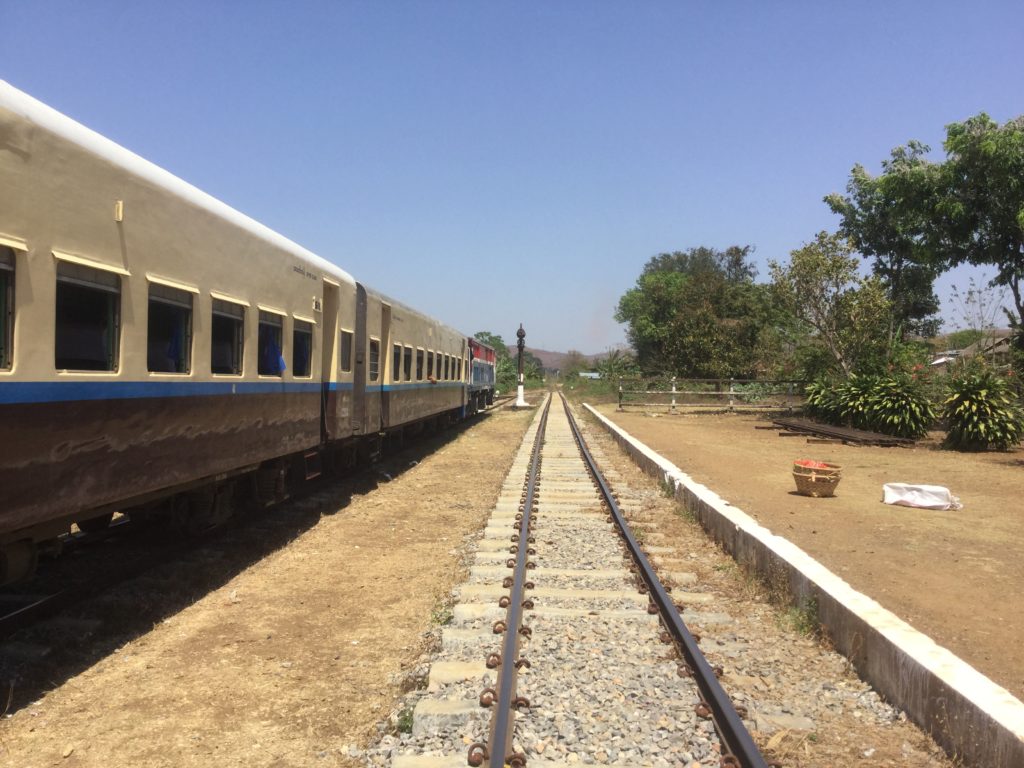 ---
Having passed through more glorious countryside and beautifully cultivated farmland we finally arrived at our destination of Pyin-Oo-Lyn. A short tuk tuk ride later and we found ourselves at Royal Flower Guest House, one of our favourite little guest houses so far. I couldn't tell you why we liked it so much, maybe it was the affable manager who spoke a little understandable English and gave us a map of the area as soon as we arrived with suggestions of where to go and what to do, maybe it was our large room streaming with sunlight, maybe we were just in a great mood because it hadn't taken a white knuckle road trip to get there! For whatever reason it was great to drop our bags and settle in to our new surroundings.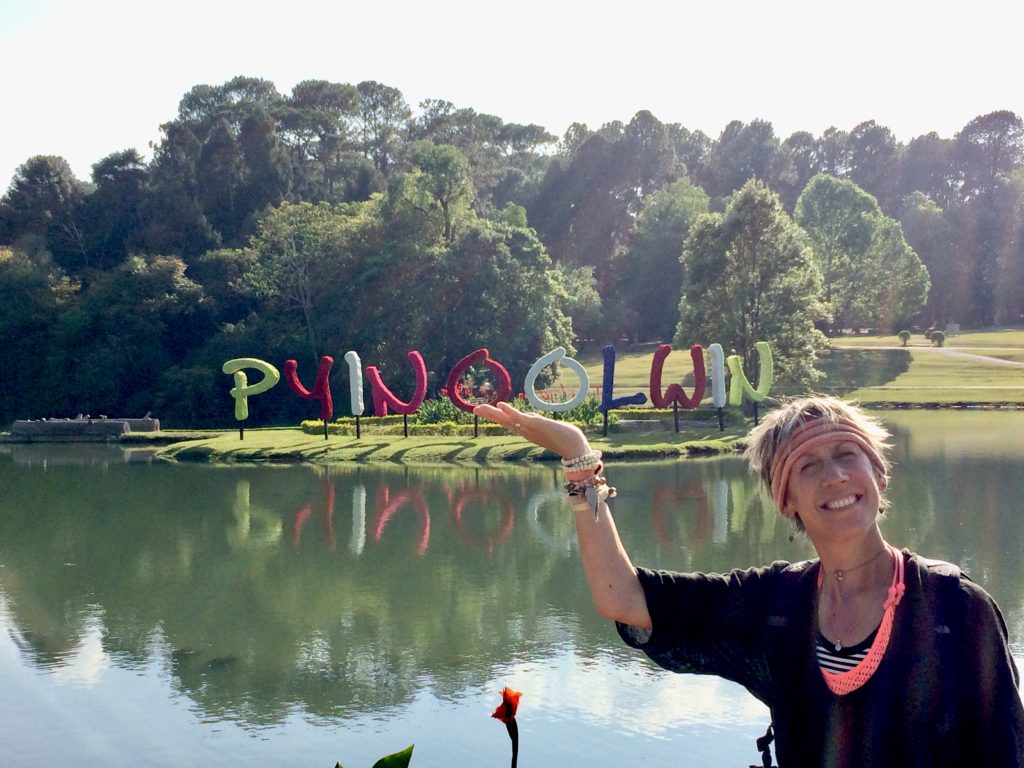 We decided that the one thing on our Pyn-Oo-Lwin to do list would be the botanical gardens we'd heard so much about and we decided our mode of transport for the day would be push bikes (so much safer for us than scooters!). The gardens were stunning and we spent many hours in glorious sunshine exploring them.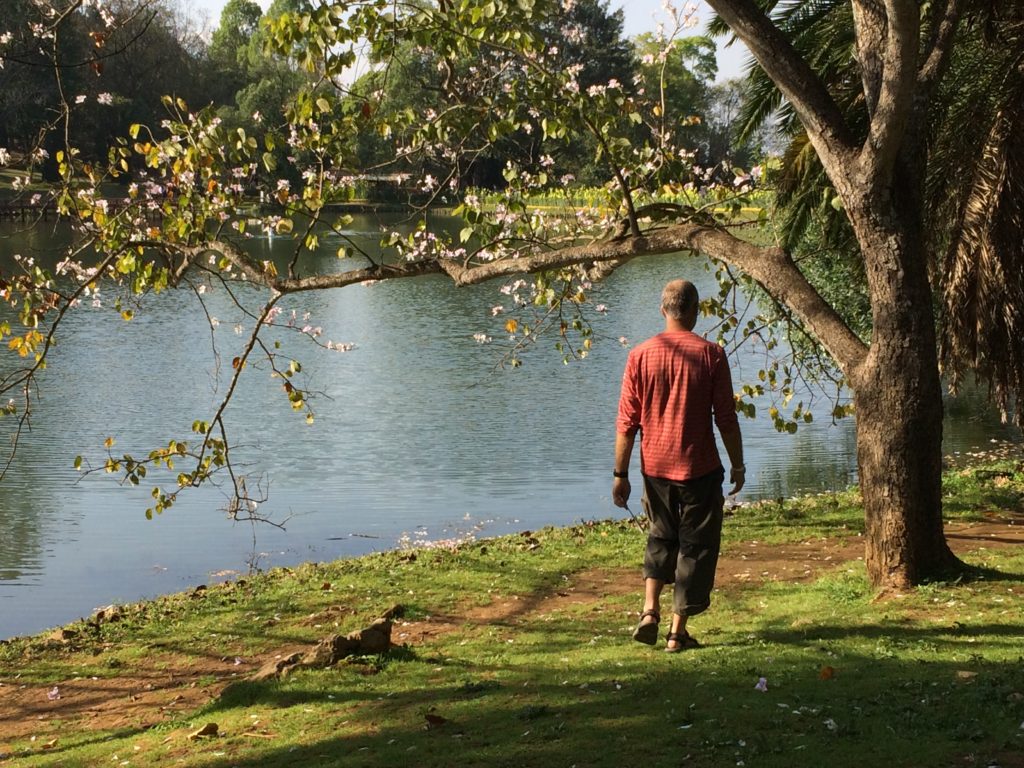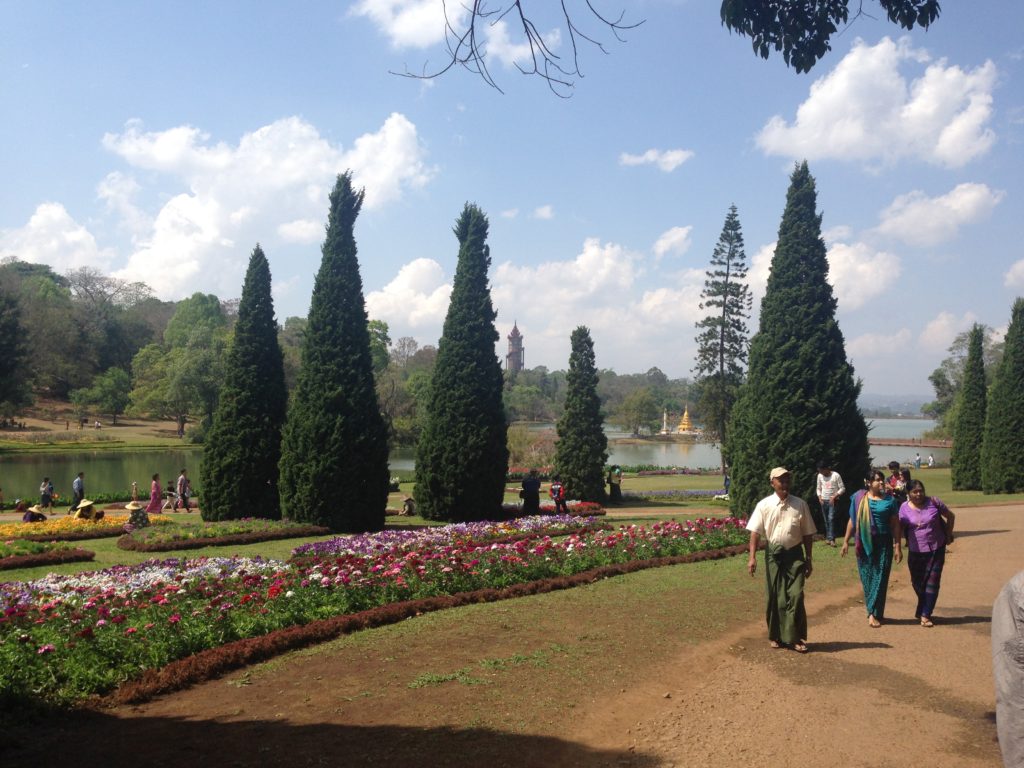 ---
 Pyn-Oo-Lwin is full of English colonial buildings, and what was left of our afternoon was spent cycling around the town to glimpse a few of them. It was spooky to be so far from home yet surrounded by such familiar architecture.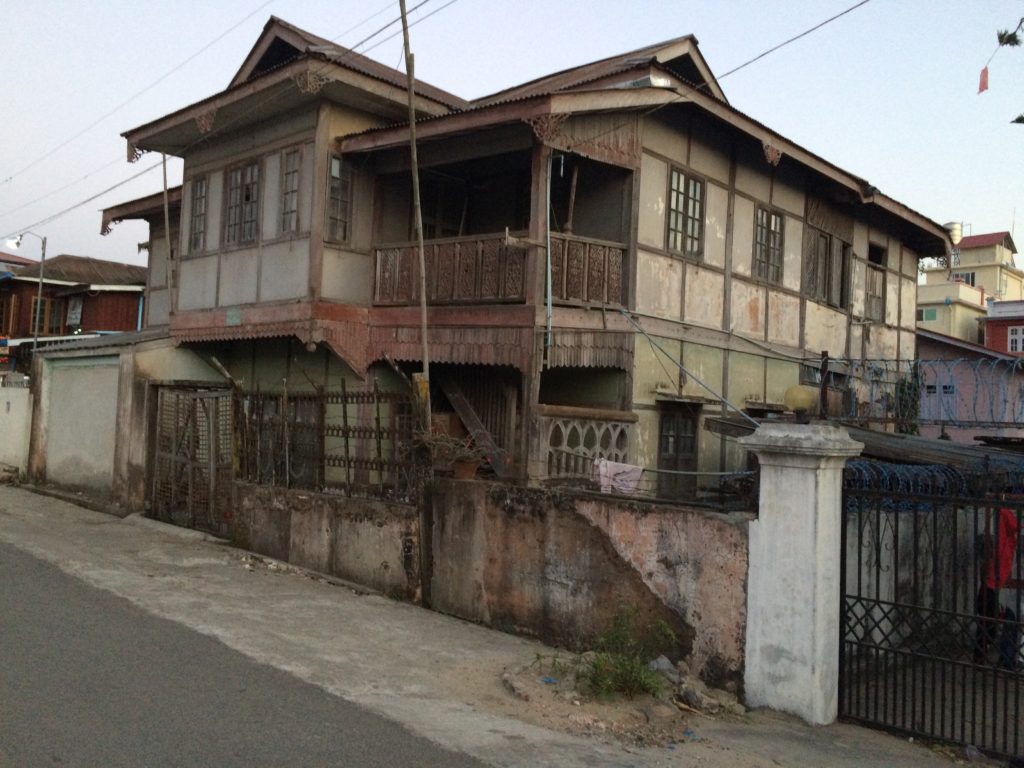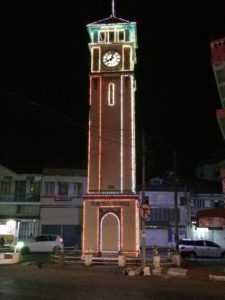 Day done we headed to town for dinner after which we found ourselves possibly the coolest lift of our trip so far. Horse and carriage here is the rather regal equivalent of the tuk tuk's found elsewhere in Asia – it just had to be done. Our driver was super cool as were his horsemanship skills. His little pony obeyed his every vocal command, there was no need for anything more – the relationship between man and horse was impressive.
Little more than 10-minutes later and we were back in our room where we very soon crashed for the night. Tomorrow was destination Hsipaw – one we were both very much looking forward to.
---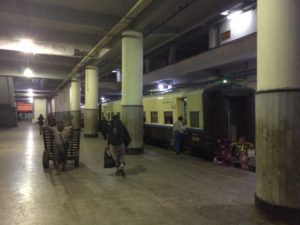 It was yet another early start to catch the train to Hsipaw and another stunning railway journey found us at Hsipaw station from where we walked to our guest house. Hsipaw, a town in Shan State is an old colonial "Hill Station" not much larger than our home town of St Agnes in Cornwall and has a kind of untamed feel about it. Nestled in an upland plain, surrounded by hills, it fringes a river and the railway line from Mandalay to the Chinese border runs through it. This railway was constructed by the British to extract the Teak they used to build their Royal Naval ships in the 19th century. Teak was the primary reason Burma was so important to us at that time.
Hsipaw is a small backwater with just a couple of things going for it. The main reasons for visiting here are the trekking, to visit the Shan Prince's Palace (which sadly doesn't look much like a palace) and to spend time at a waterfall. The last option wasn't for us as we were by now very much in the dry season.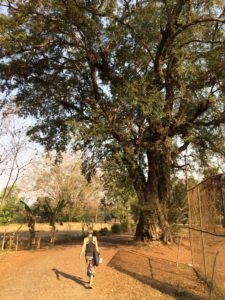 We arrived early enough to walk to the palace where we were treated to an informative talk from the Prince's sister-in-law who spoke eloquently about the troubles past and present. There sadly wasn't a tour of the palace itself, but it had been an interesting visit nonetheless. We walked back to the guesthouse via a very cool juice cafe called Mr Shake where we both indulged in the best shake of our travels so far.
Back at the Guesthouse we booked our trek for the following day, handed over some long overdue laundry for washing and contemplated our mini adventure ahead. We knew we were now close to the on going tensions in the country and it felt a little unsettling.
---
 A little background info on Hsipaw and it's surrounding villages:
The Shan are the predominant people in Shan State (which is huge – larger than either Nepal or Greece), they are ethnic Thai and live on the plains in and around Hsipaw.
The Palaung are also quite common in Shan State, they are closer to being ethnic Chinese and live in the hills around Hsipaw.
The Bamar (Burmese) are the largest ethnic group in Myanmar, historically they don't live in Shan State, although there's an army camp in the town that's full of them!
The three groups all have their own languages and armies, and they don't always see eye to eye!
---
We arrived at Hsipaw, aware of the situation, but not quite the detail explained above. Not wanting to be a part of any troubles on our travels we had already checked that the area was considered safe on the UK Gov website, it was, the locals seemed happy too – we were good to go.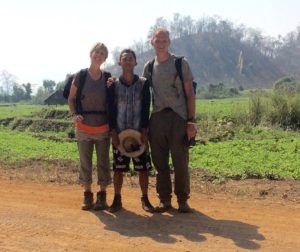 We warmed to Tun Tun our Burmese guide quickly (it's strongly advised to go on guided treks only here). The advantage with Tun Tun was that being neither Shan nor Palaung made it easier for him to talk about the local situation.
About an hour into the walk we came across the first village (a Shan village) and our first shock of the trip – it was guarded with men carrying guns! As we entered there was a young man about 20yrs old in jeans and a tee shirt, sitting under an umbrella with a rifle. Tun Tun tells us that he's with the Shan army!
"Is the gun real?" "Yes" – "is it loaded?" "Yes!"
---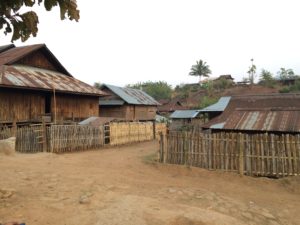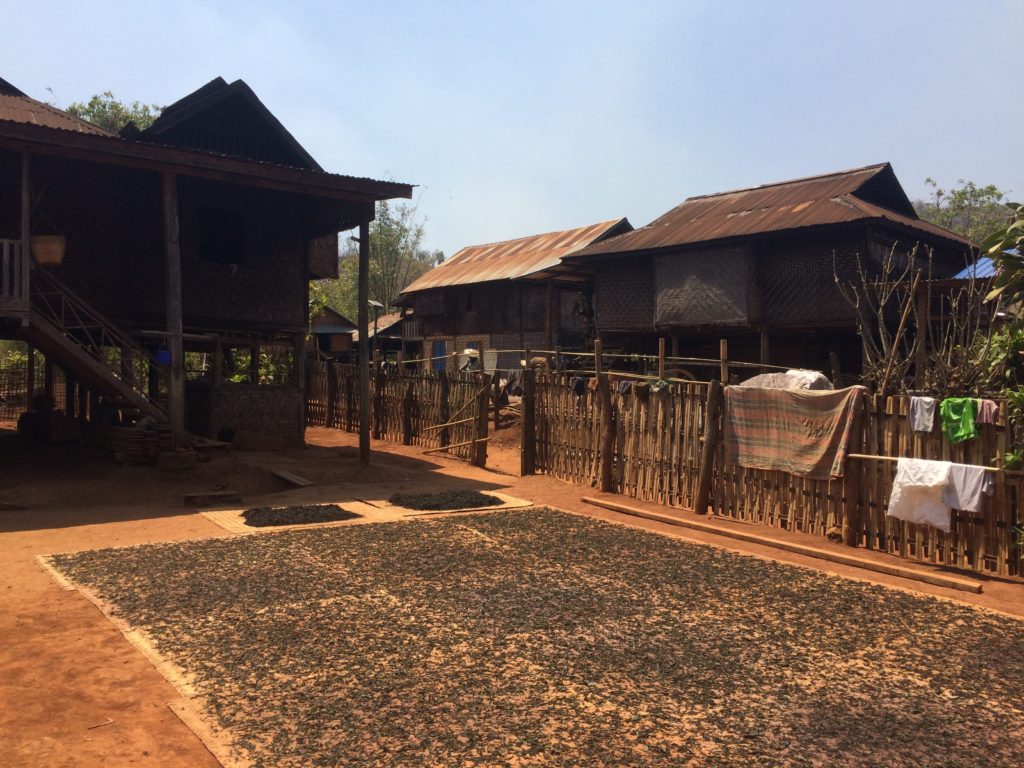 We climbed into the hills and enjoyed a delicious lunch of local fare at a homestead in a Palaung village before walking a few miles more to the village that would be our home for the night. Here there were yet more Shan army, about a dozen of them, all with Kalashnikovs and some looking no older than 13 or 14.
(Would love to insert pics, but strictly no photographs were allowed!)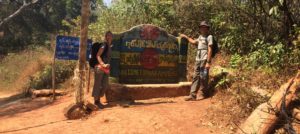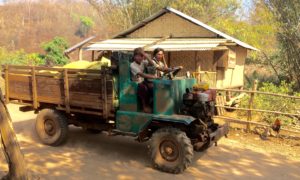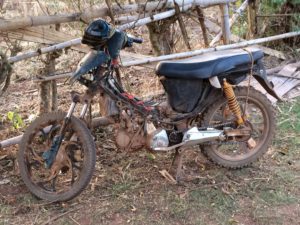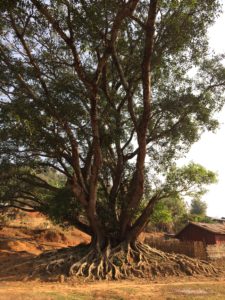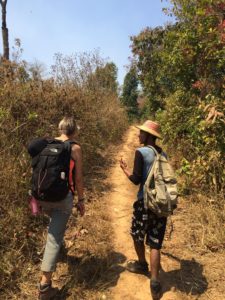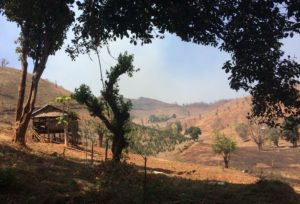 Curious we asked Tun Tun to explain further the presence of all the armed men in the village. He told us that there was nothing to worry about as the area had been quiet for a couple of months! The Government (Burmese) army weren't fighting the Shan any more and most of the conflict was now between the Palaung and Shan armies. We learnt that the Palaung army was about 10 miles away and that the village we were staying in pay protection money to the Shan army. The Palaung army used to be in the village but they signed a peace treaty with the government a few years ago and laid down their arms, this allowed the Shan army to take over the village. The Palaung army then took up arms again, reclaiming some villages, but not the one we were staying in. The Palaung villagers, whilst not completely happy that the Shan army are in town, had to accept their presence and get on with life as best they can.
We both slept soundly.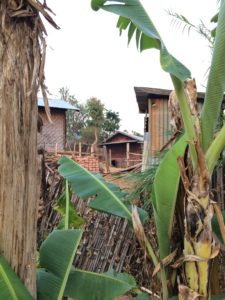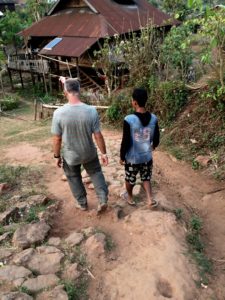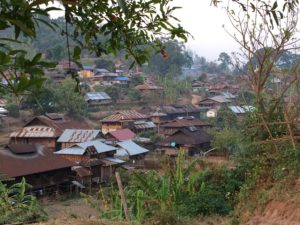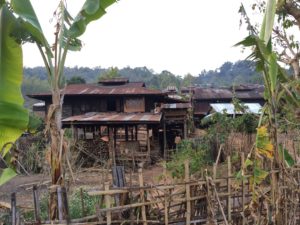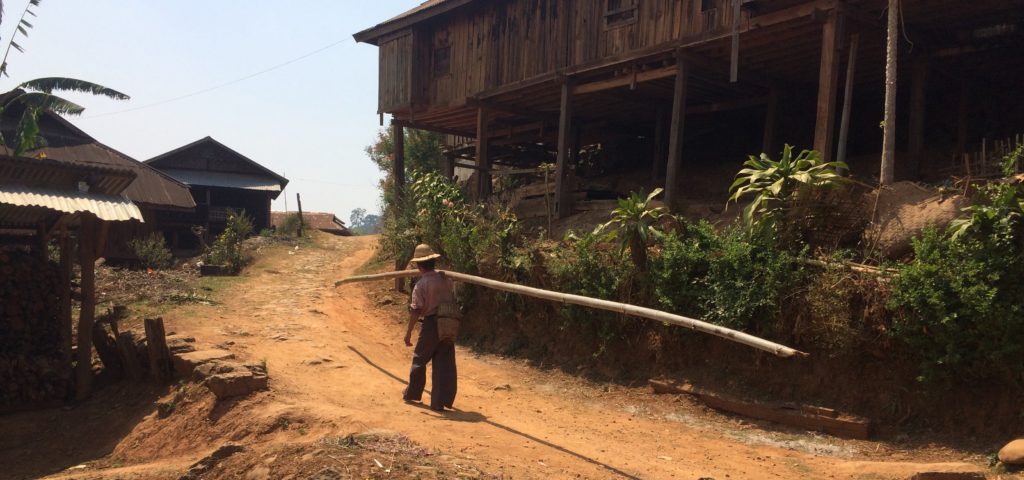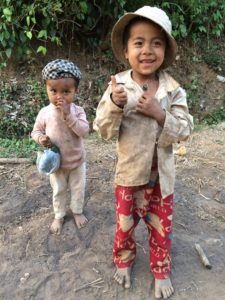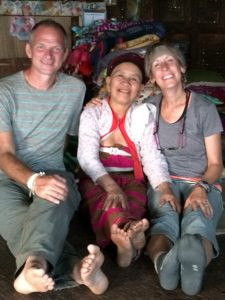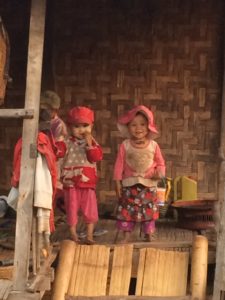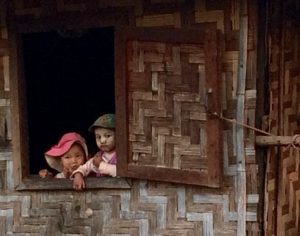 Our return trip was littered with many more army men carrying guns, but was thankfully uneventful. The only brief scare was when a field that had been set ablaze (a traditional method of land management here) started loudly popping. For a brief moment Steve and I imagined a firefight had broken out – Tun Tuns face was a picture at our panic! The unsettling noise soon passed as did our shock at seeing the weapons around us. It's scary how soon you get used to things – all in all it was quite an eye opener.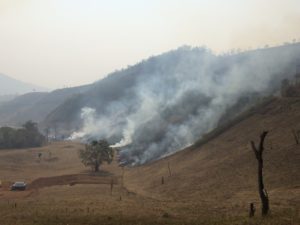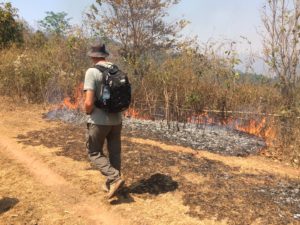 Steve made lots of new friends – the children in the village loved him!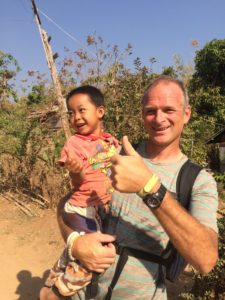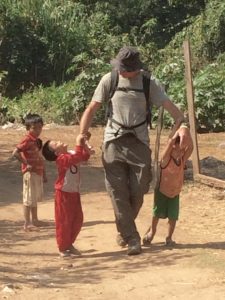 It had been a great couple of days – tomorrow we would be setting off to Kalaw for more trekking in the hills, hopefully this time without men carrying weapons…
---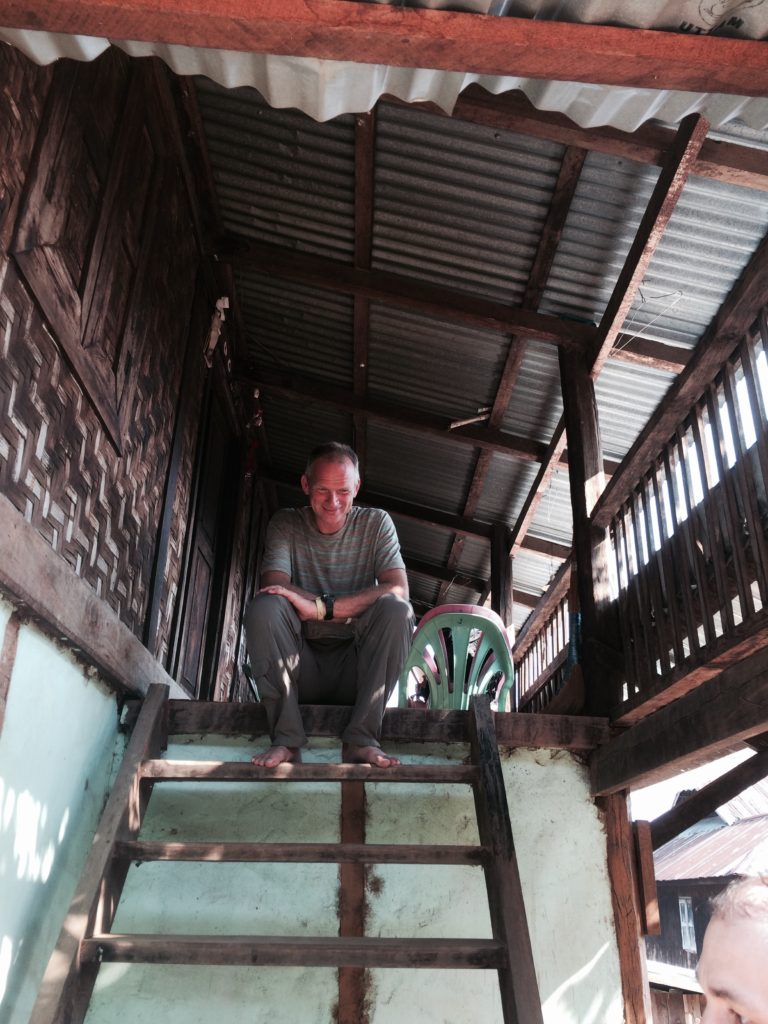 Tar Tar
(Burmese  Goodbye)
---