Day 4 – Namche Bazaar (3,440m) to Khyangjuma (3,550m)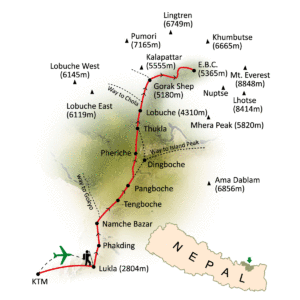 ---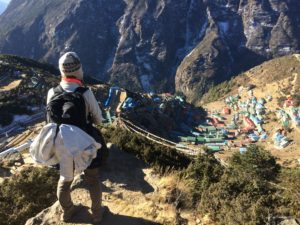 We left Namche Bazaar on the clearest of clear days. The sun was shining and the sky was as blue as we've ever seen – our luck continued.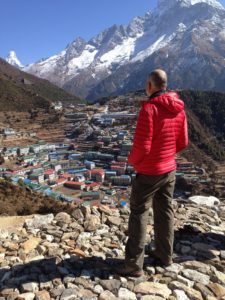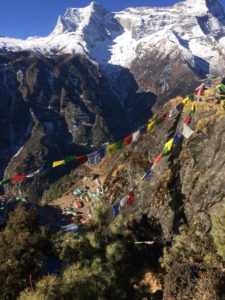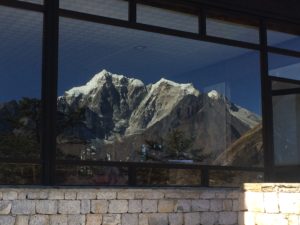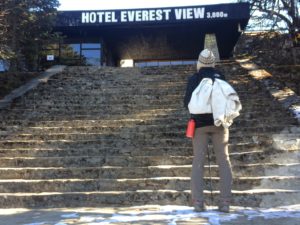 ---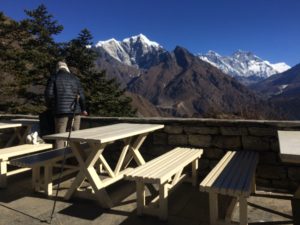 Our first climb of the morning led us to the world famous Hotel Everest View which does exactly what it says on the tin. At one time it offered pressurised rooms, in an attempt to prevent altitude sickness for the rich and famous flying directly from Kathmandu – a practise that has now thankfully stopped.
It was here, whilst drinking tea, that we first met an affiable Singaporean called Charles. Charles was to become a friend and was sadly evacuated from Gorak Shep, the last point of civilisation before reaching Base Camp.
---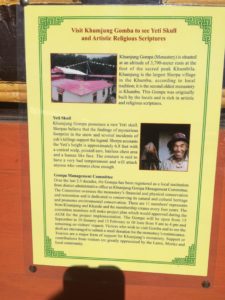 The route from Namche Bazaar to Khyangjuma was a short and relatively easy one so Rabin took us on a detour to see the Yeti skull we'd heard so much about at a monastery in the village of Khumjung. Khumjung is also home to the Hillary School established by Sir Edmund in 1961. Unfortunately the monastery was closed so we set off to explore the neighbouring village of Khunde instead.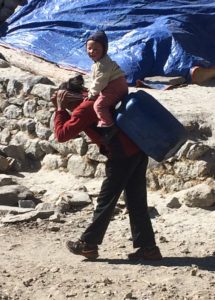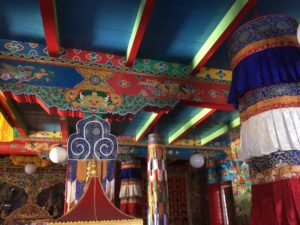 A short while later we passed Kunde Hospital . Built in 1966 the hospital continues to play a major role in the area's all too frequent disasters. 10 minutes and a small climb further along the path we arrived at Khunde monastery. Home to around 10 resident monks and beautifully decorated with brightly coloured murals and pictures of the Dali Lama it was well worth the detour.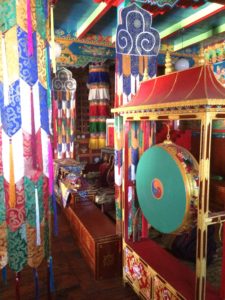 We made a small donation before setting off on our way back through Khumjung – the Yeti Skull monastery was still closed!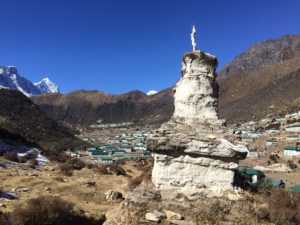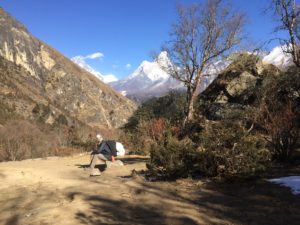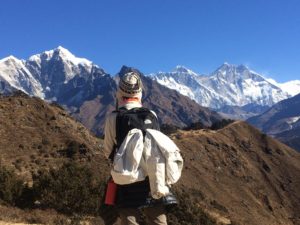 ---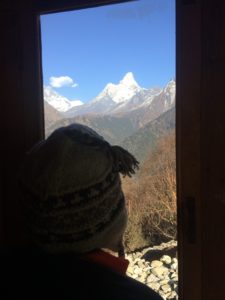 The third tea house of our trek was the best so far. A draught proof room with stunning panoramic mountain views and en-suite toilet made us very happy – it didn't take much at this point! We ate our evening meal in the company of the friendly family running the lodge who then treated us to popcorn and "Into Thin Air'' (unbelievably they had a TV), a film adaptation of the David Krakauer book about the tragic 1996 Everest disaster . The book is good – the film is not!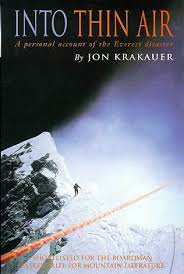 Interestingly one of the family guests eating with us was at Everest Base camp working as a chef when the disaster struck. Unfortunately his English wasn't good enough for an in depth chat about his experiences.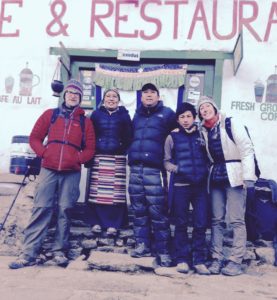 Sunset brought the most spectacular view of the day and joined by the tea house couple we watched a picture perfect display of pinks, oranges and reds grazing the snow capped peaks of Lhotse, Ama Dablam and other Himalayan mountains.
---
It was a magical end to a brilliant day.
Fingers crossed for more of the same tomorrow
---
Day 4 GALLERY