Work Starts…
On 3rd November 2016 we started our trek to Melamchighyang, the village that will be our home for the next few weeks. It was an early start to catch our jeep booked for 6am, but we were so excited and eager to start the volunteering work we had come to Nepal to do that we were both awake long before the alarm went off.
The 6 hour jeep ride was not what we thought it would be! Only 20 minutes of it was on tarmac, the rest was tricky off roading on dirt tracks through the mountains. Parts of the journey were really pretty hairy with sheer drops falling away from the narrow, monsoon battered roads.
The scenery became more and more stunning the further into the Himalaya we travelled and the roads became evermore steep and precarious!
Four hours or so into our journey the driver stopped for a break, mostly to top up his leaking radiator (again) and whilst admiring the views we were offered a cup of tea by a Tibetan lady, which we duly accepted believing it rude to refuse. Big mistake! Tibetan tea is made with Yak butter and salt amongst other things – it's an acquired taste which doesn't sit happily on a western palate!
Two hours or so later we were dropped off at a point where the jeep could go no further and started the 3 hour uphill trek to get to the village. (There is a road that goes all the way to the Melamchighyang but the seasonal monsoon has swept parts away leaving it impassible for the time being).
This final stretch of our journey was tough going but seeing the village for the first time was worth every upwards step. Melamchighyang truely is a village in the sky, a fertile plateau nestled over 2500m in the mountains and it has to be seen to be believed.
We were greeted by our hosts Purna, who also happens to be the headmaster of the village school and his wife, Jangmo (pronounced something like Zangmo!). First impressions were that they were lovely, second impressions were that living conditions were about to become very basic!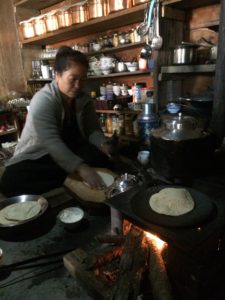 Our accommodation consists of little more than a tin shack, a shared long drop compost toilet, a 'bucket' shower room (a room with a bucket in it) and a communal cooking/living/eating area. The communal area is a cosy place which offers welcome relief from the cold once the sun goes down. The only source of heating is a small wood fired stove which is also used for cooking and heating water. This is where we spend our nights playing games and chatting.
The first evening was spent getting to know our new housemates, including Alex from Germany, also a volunteer at the school until December. We were introduced to Raki the local home brew, another aquited taste, but one we might work on! We slept soundly…
The following morning we explored the village and were shocked by how much devastation had been caused by the earthquakes. Every building was destroyed and now every villager is living in temporary accommodation like ours, built using only materials salvaged from the wreckage of their homes. Evidence is all around us of the village that once was and where on 25th April 2015 at 11:56 am everything changed forever. Seeing it all first hand is heartbreaking.
---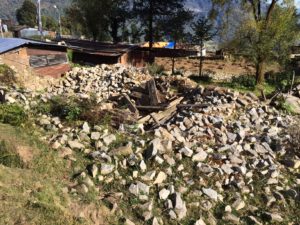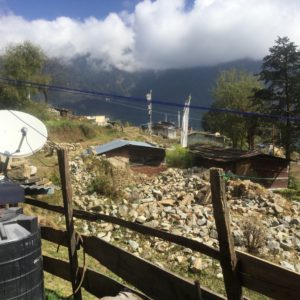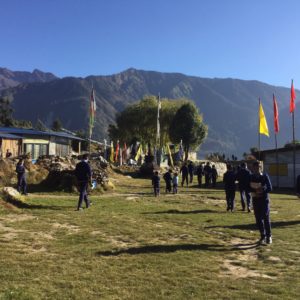 ---
Purna showed us around the school where once again the destruction was plain to see. The school is both a day and a boarding school and the classrooms, boarding houses, washrooms, toilet facilities and canteen are now all temporary structures. Following the earthquake it took just 1 month to get the school back up and running, a credit to the community who were all living under canvas at the time.
Being here and living among the community is helping us really appreciate just what these people have lost and how they have suffered. Sadly 3 people lost their lives here on that day, thankfully though, no children in the school suffered anything more than a few minor cuts and grazes.
---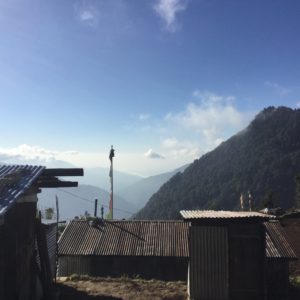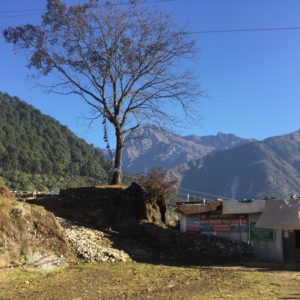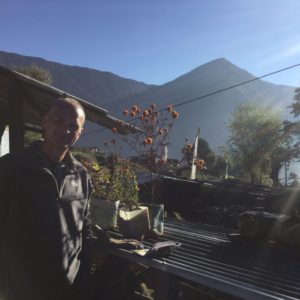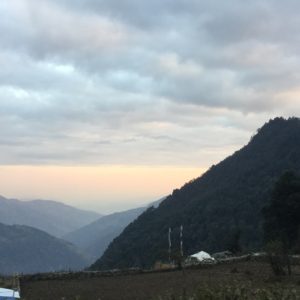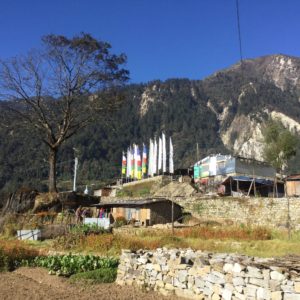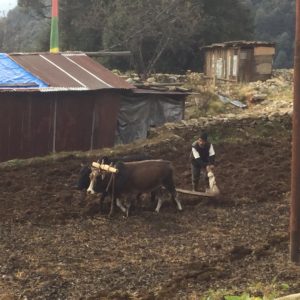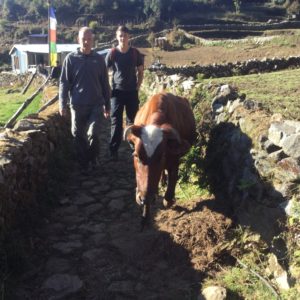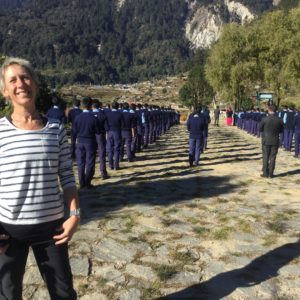 ---
The days when we first arrived were warm with clear, blue skies and sunshine but the weather is already changing – there are clouds during the day and without the sunshine it soon gets chilly, the nights are getting colder! The stars here are like I've never seen and the views, day and night are breathtaking.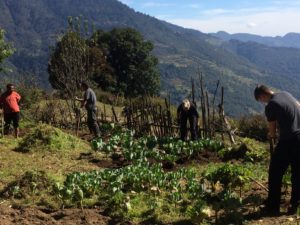 On the 4th we helped clear Kami's small field ready for planting a vegetable crop – it also happened to be Steve's 51st birthday, one I'm sure he'll never forget and one celebrated Nepali style with a small mug of Raksi!
Time then for work to begin. It's been festival season in Nepal and so the schools have been on holiday for a month. The evening before the first day of the new term I'm informed by Purna that the nursery school teacher is not back until the Wednesday and so I'm to take the class until she returns – yikes! With no time to lesson plan I had no choice but to wing it! The nursery class consists of seventeen 4,5,6,7 and 8 year olds, all with very little English and all with boundless energy! It soon became very clear that winging it with such small people, not understanding a word I was saying was not an option and so an SOS was sent to Jack and Amy, my son and daughter in law, both teachers, for some tips and the afternoon and evening were spent lesson planning in preparation for the next couple of days.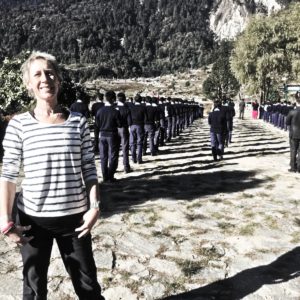 Our introduction to school started with the daily outside morning assembly. Alex, Steve and I were invited on stage, before being given an orange scarf and a microphone with which to introduce ourselves to the whole school – terrifying!
Children between 4 and 17 attend the local school. The day starts with one of two outside assemblies at 8:30. At 9:00 lessons start, there is a short break in the morning and afternoon and an hour for lunch. Lessons finish at 4:00 when all children have to attend the second outside assembly of the day before being allowed home at around 4:20. Saturday is the only day pupils have off, so it's a six day week for all of us!
Soon though the school day will be shortened by half an hour because of the cold winter weather.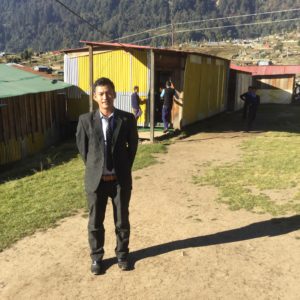 There is no heating in the school and so from next week pupils will be asked to bring their coats to wear during assemblies and lessons if they get cold. The school uniform is navy and the parents are asked to measure their children twice yearly so that uniform can be brought to them from Kathmandu. There are 4 School Houses: Red, Yellow, Blue and Green.
The girls wear ribbons in their hair to match the colour of the house they're in, very cute. The male teachers wear dark pinstriped suits, blue and white shirts and ties of their choice and the female staff bright pink local dress. They all look very smart.
There are around 180 boarders in the school, the remaining 60 or so pupils are from the village. All cooking for the boarders is done over two fires and all the children from the village walk home at lunchtime, 4 year olds included!
Day 2 and 3 in the classroom went well thanks to the tips I'd received and with help from Alex, I and the children survived in one piece with ALL of us having learnt something…
I'm now classroom assisting and very happy and relieved to be doing so!
There is lots to get used to here, the lack of health and safety being one of them. This picture is of a fire made to burn rubbish collected from around the village by the students. Petrol was regularly poured on it by pupils while being poked by staff with a stick!
Steve is on a plumbing mission in the village and is starting work soon to make things better for the villagers – he's just waiting for the parts he needs to be picked up from Kathmandu. He has his work cut out (there are 140 houses here), but is looking forward to the challenge. Today he's fixed the five school microscopes and this week he's helping with some science classes and possibly taking a couple of after school sports lesons, weather permitting…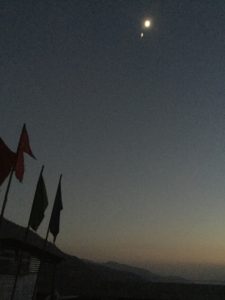 This really is the most incredible experience, we feel so privileged to have the opportunity to be able to share our lives with the people here.