Melamchi-Ghyang Village Christmas 2016
A family affair!
At last we've found some internet and so here's our 'better late than never' festive blog…
Christmas in Melamchi-Ghyang village was absolutely incredible and one that will stay in our hearts forever. On the 21st of December we were joined by Jack, Amy and James (our son, daughter-in-law 'licensed' and son-in-law 'unlicensed' – as described during their time in Nepal!). Three days later on Christmas Eve Meg, our daughter joined us – our nest was full and we were happy.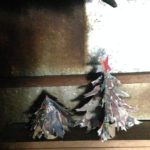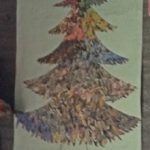 ---
Christmas Day here was like no other. We were all woken by an earthquake a little after 5am and we fell asleep that night to gales howling and snow falling. Throw in the sunshine, hail, thunder and lightening and it was pretty much a full house. We kicked the day off with pancakes – a Christmas breakfast we intend to make an Opie tradition, before heading to school for a few hours of teaching . Our morning there started with the six of us being invited onto the outside school assembly stage by Purna, the headmaster. The dreaded microphone was passed to us in turn to address the perplexed (how many Opies?!) crowd in front of us… Having been adorned with orange Khatas and garlands of marigolds we all said a few words.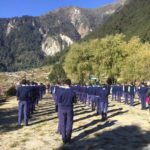 What an emotional (and surreal) few minutes it was. Our family all together in the Himalaya mountains, on Christmas Day, on a stage, in the village that is, for now at least our home. Known as the 'village of dreams' Melamchi-Ghyang more than lived up to it's name for us on this special day. Unfortunately we have no photos of this momentous occasion to post on this blog…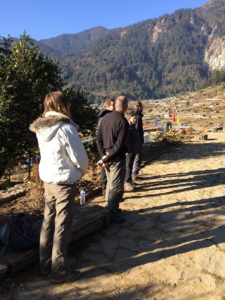 Jack spoke first, he was great, Amy next, she too was great, followed by Meg, yep great and then James, superb! Then my turn… Everyone who knows me well will not be the least bit surprised to hear that my effort was not much more than a tearful blab of words – not so great. Steve trumped us all with the J.F Kennedy quote –
'Ask not what your country can do for you, ask what you can do for your country'
A round of applause ensued!
---
And so to lesson time…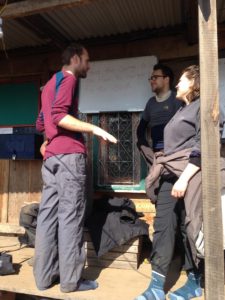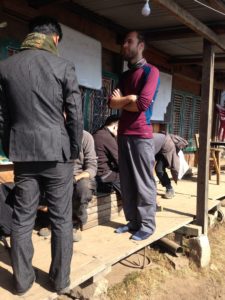 James (along with Jack and Amy) had, without knowing it, agreed to a busman's holiday. Accompanied by Rudra, a teacher at the school, he took on the challenge of assisting with the older year groups and impressed with his talks on student motivation and best study practises.
---
Jack worked with years 5 and 6 where pupils replied to Christmas cards sent from Huish Primary School in Yeovil (England) where he works. They loved using the crafting materials chosen and bought by his pupils just before the end of term.
Jack was so excited about the goodies that it was the first thing he showed us when arriving in the village!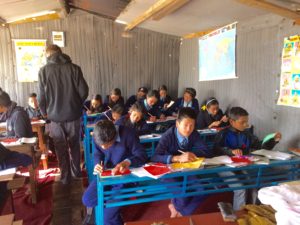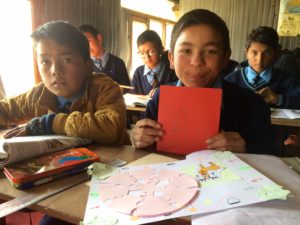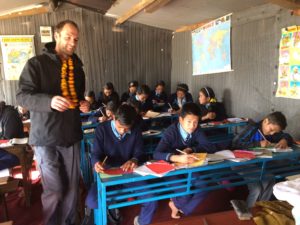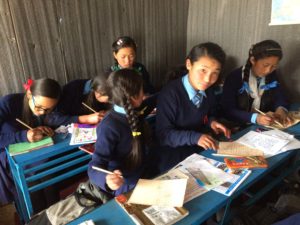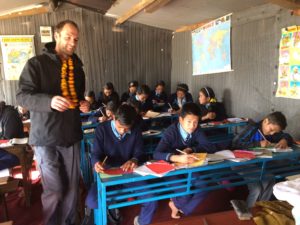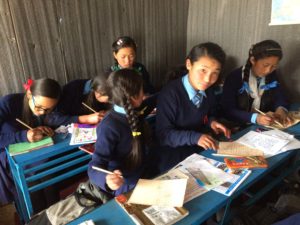 ---
Meg, having only just arrived the afternoon before was thrown in at the deep end and brilliantly stepped in to help with some art and craft activities.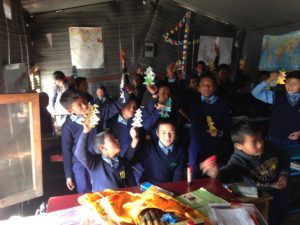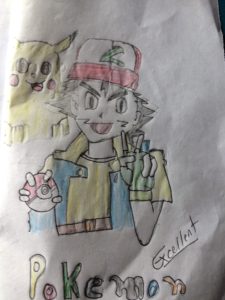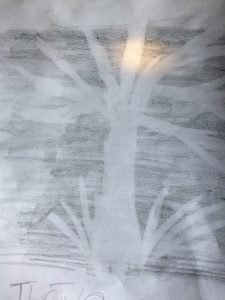 ---
Amy worked her magic with the youngest classes, her forte, as she too is a primary school teacher.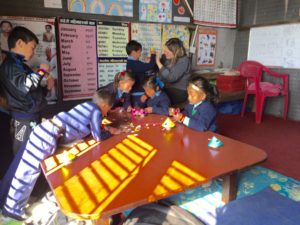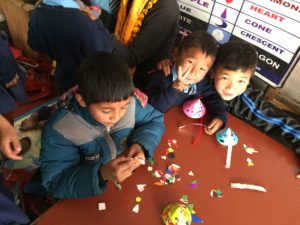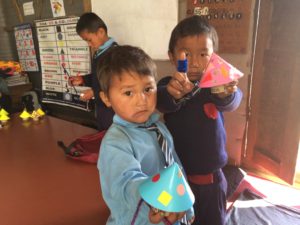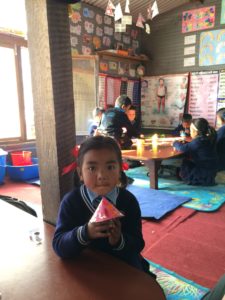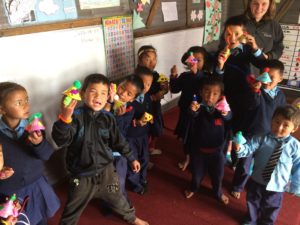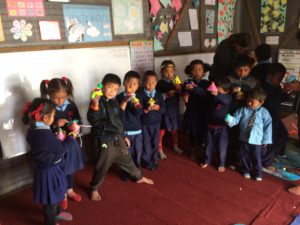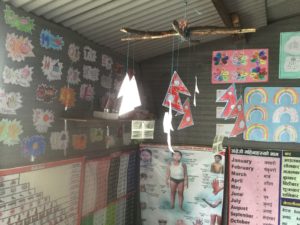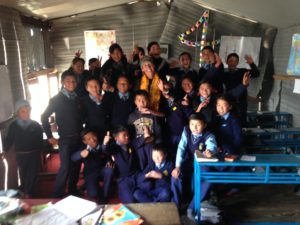 ---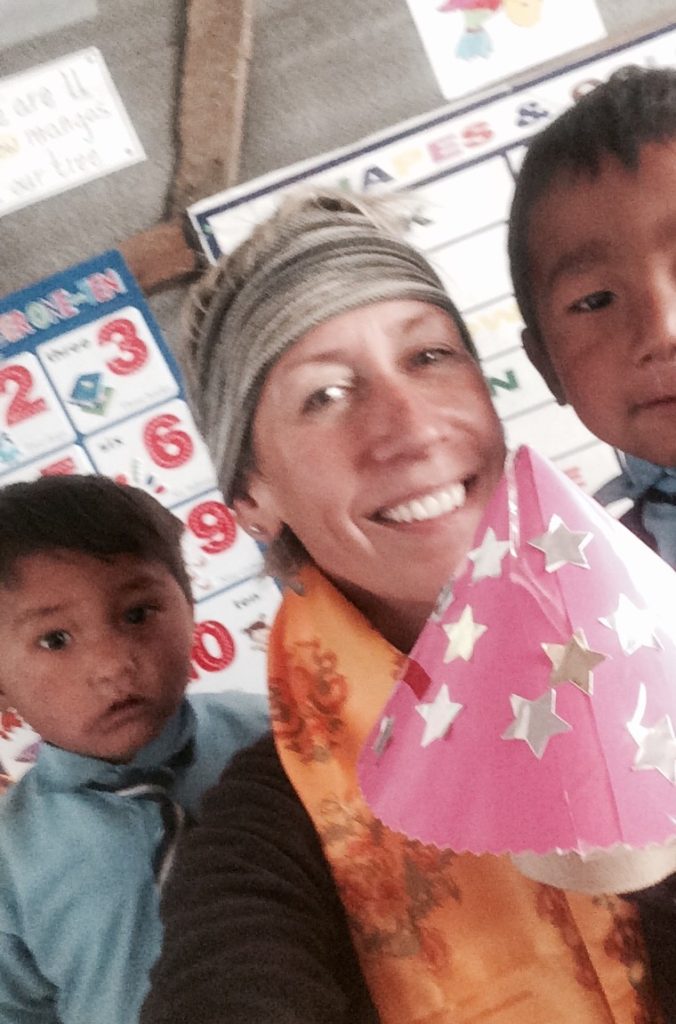 On behalf of Melamchi-Ghyang school we would like to thank Huish Primary school for all their hard work and overwhelming generosity. The pupils there have raised money through such things as cake and bookmark sales and copper coin collections. In the space of just one term they have raised an incredible £690.33. Along with the huge bag of goodies, Jack bought with him Christmas cards made by his pupils. We had the pleasure of reading them before handing them out and were blown away with the effort, thought and talents that had gone into creating them. They were just brilliant and the children here absolutely loved receiving them.
Thank you to everyone at Huish – staff, pupils and parents – we're so touched by your continued support for our work here and we can't wait to come back and tell you all about life in 'our' Nepali village and school.
We would also like to say a huge thank you to the pupils, staff and parents of Rode Primary School who very generously sent out goodies with Amy when they found out where she was going and what she was doing this Christmas. Much fun has been had with everything the children here have received – it's been a creative and exciting Christmas for us all!
---
Lessons over and we could all relax a little…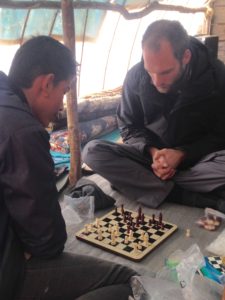 For Jack that meant an eagerly awaited game of chess with the school chess champion. Mrs Carrie Newman a TA at Huish school had very kindly donated 3 chess sets. Jack, who runs a chess club at school was looking forward to a game or two whilst in the village. Steve and James were also challenged to matches and so all 3 boards were being used simultaneously – with varying outcomes. Jacks match ended in a one all tie -with lunch beckoning they decided to shake on the draw. Steve and James were less successful…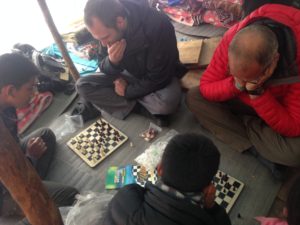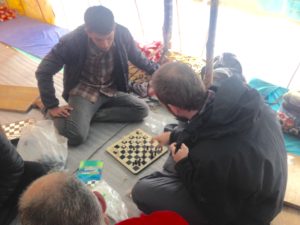 ---
Chess packed away and Opie clan buzzing we all headed back for dinner. Now we weren't expecting a roast dinner, or anything the least bit special – the usual Dahl Baht would have sufficed, but when we got 'home' Jhangmu had cooked us momos which are just the most delicious thing ever. Time consuming to make they've been a rare treat for us in the village and Jhangmu, knowing that we're more than partial to the occasional vege momo, had surprised us with a Christmas feast of them!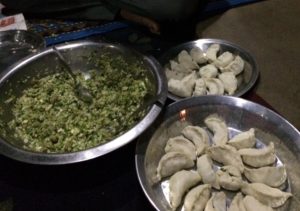 Thank you Jhangmu, it really was the best Christmas dinner we could have wished for.
---
After dinner we handed out gifts to our hosts – small tokens of our appreciation to a family who've made us feel so at home.
The sun was shining and so we went outside to give and receive our family gifts. We were very grateful for wooly hats and gloves (thank you Mum and Dad) and learnt new card tricks, or at least tried to (thank you Rob and Rosie) It turns out that some of us have better slight of hand than others!
---
Gifts exchanged and decked out in our new wooly gear we excitedly set off to Phurpar's house where we'd been invited for afternoon snacks. I say excitedly because I'd sampled her milk tea and her cooking before and I knew we were in for a treat. Phurpar is on maternity cover for the Kindergarton and Nursery class teacher and the lovely lady I've been working with for the last few weeks. She's welcomed me with open arms, let me use my mad creativity in the classroom and accepted me unconditionally as part of her class. At only 19 she has a very bright future ahead and I'm sure we'll remain friends and keep in touch when we finally say goodbye to the village.
We drank the most delicious milk tea, ate fried potatoes, drank raksi, cornflour and butter tea, all acquired tastes and sang Christmas songs, very badly… It was a great couple of hours spent with a lovely person and a moment in time we'll cherish.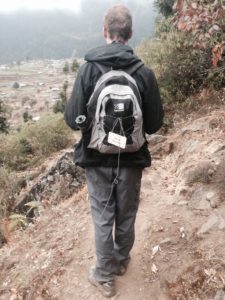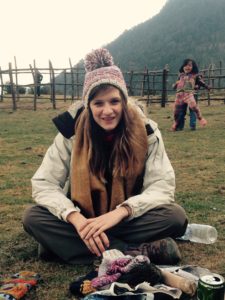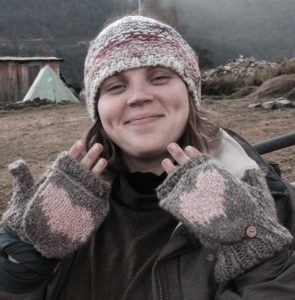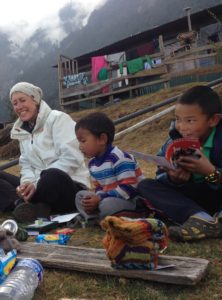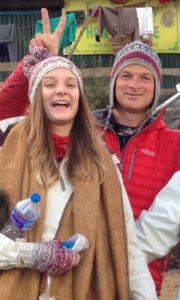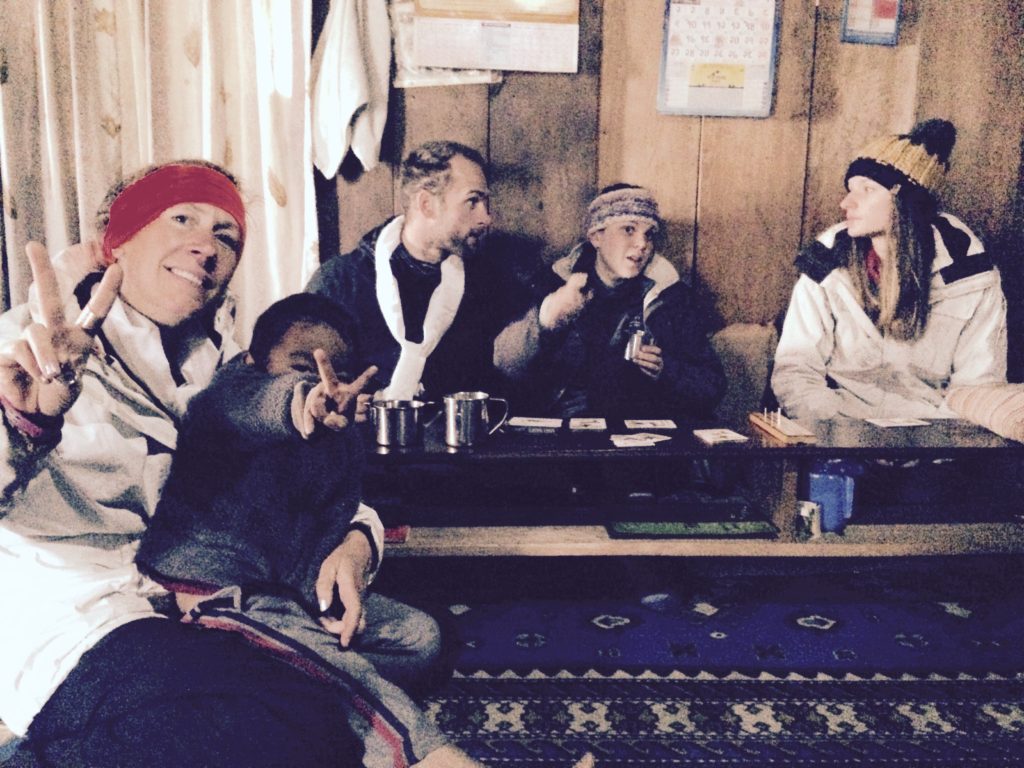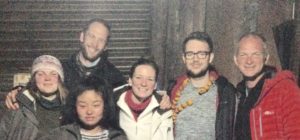 We returned 'home' for the evening, filled our bellies some more, played games, drank the first wine in weeks and savoured our time together. We tucked into our sleeping bags in freezing cold rooms with the storm howling around us. What an amazing day it had been!
---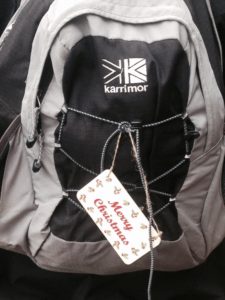 Cheers ?
We wish everyone a wonderful 2017
Xx
---