Day 9 – Everest Base Camp (5,356m)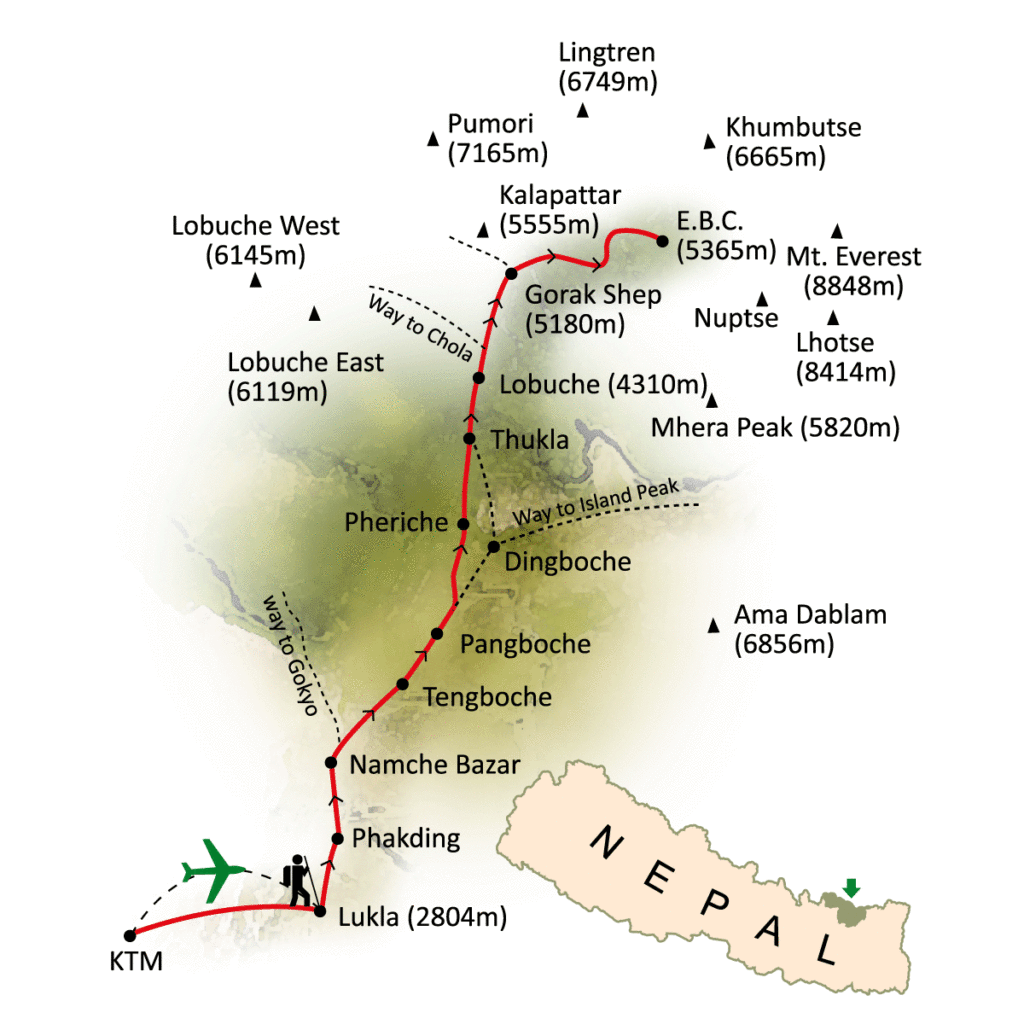 ---
---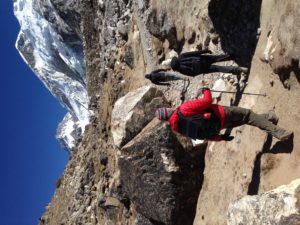 Our day started with great news – Charles was feeling better! Unfortunately though he still wasn't quite fit enough to come with us to Base Camp. With the altitude playing havoc on his body he would rest a while longer before heading out later in the day. And so it was that on the 19th Jan 2017 Steve, Fleur, Dirk, Rabin and I set off to achieve our dream of reaching at EBC via Gorak Shep (5,140m) the highest village on the trail.
The weather could not have been more perfect and with the sun on our faces and the wind on our backs we enjoyed an otherwordly trek over rough and barren terrain all the way to our goal of Everest Base Camp.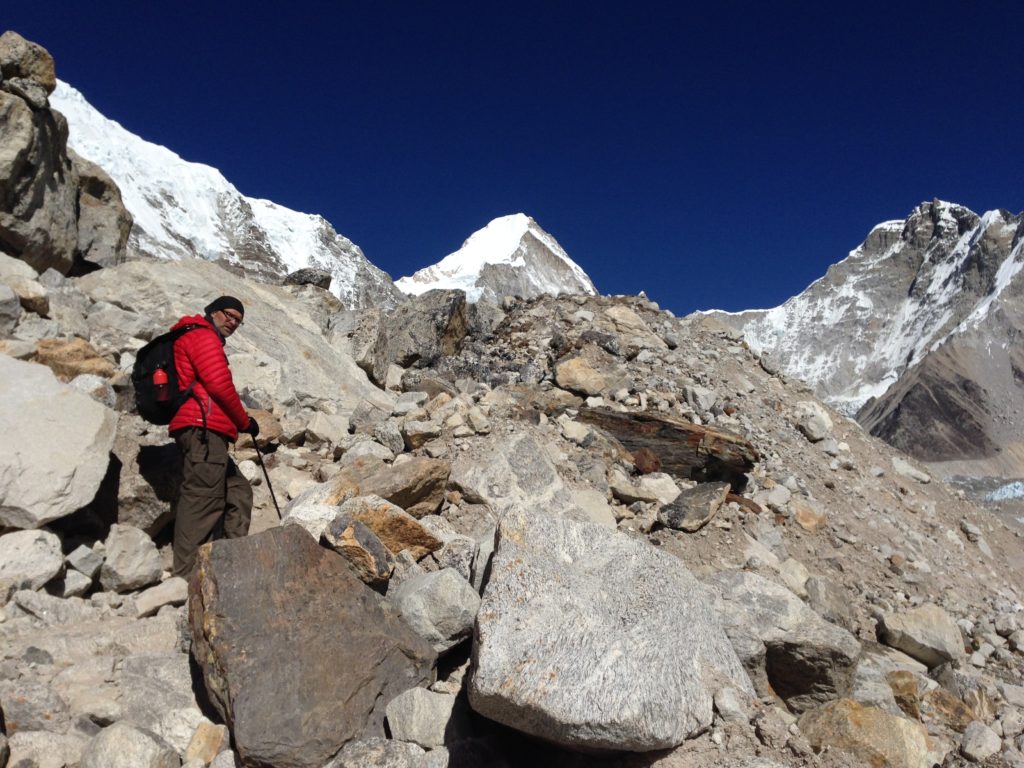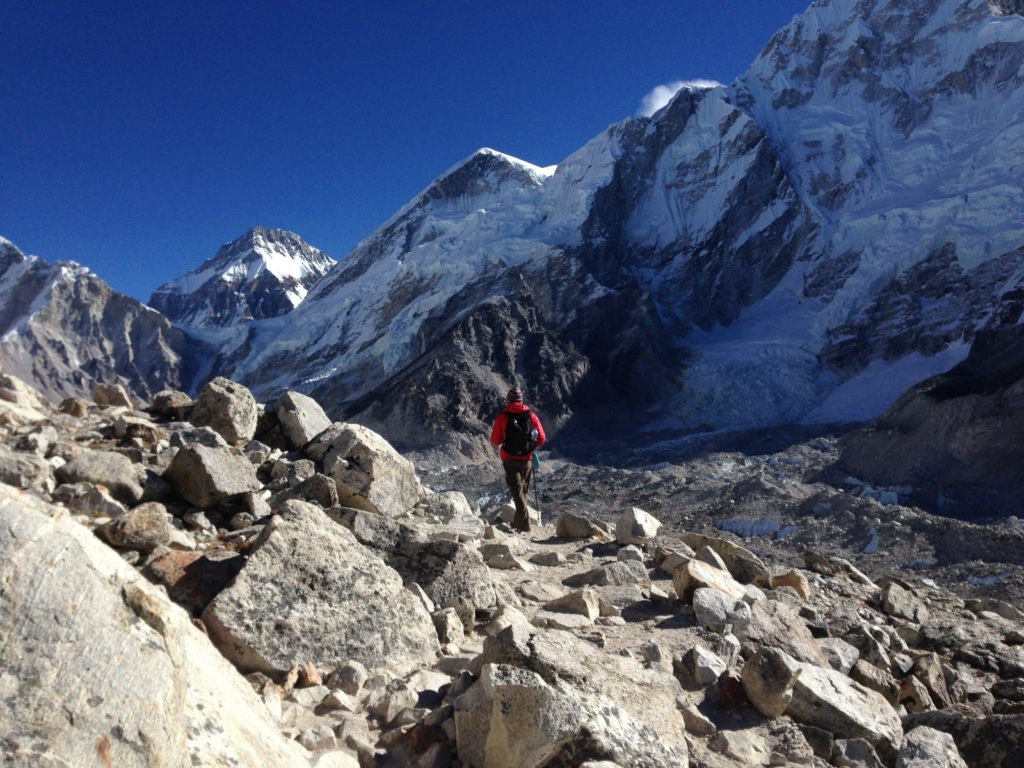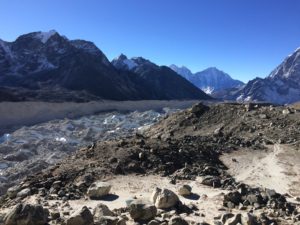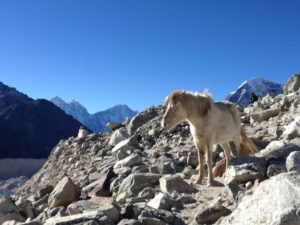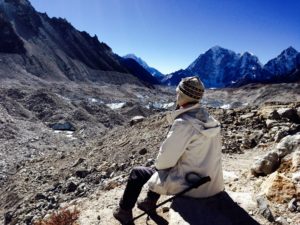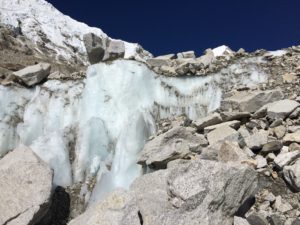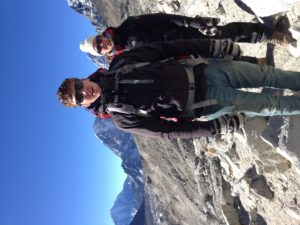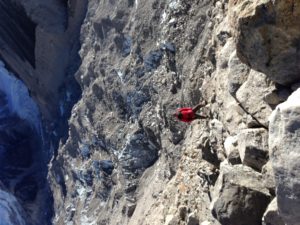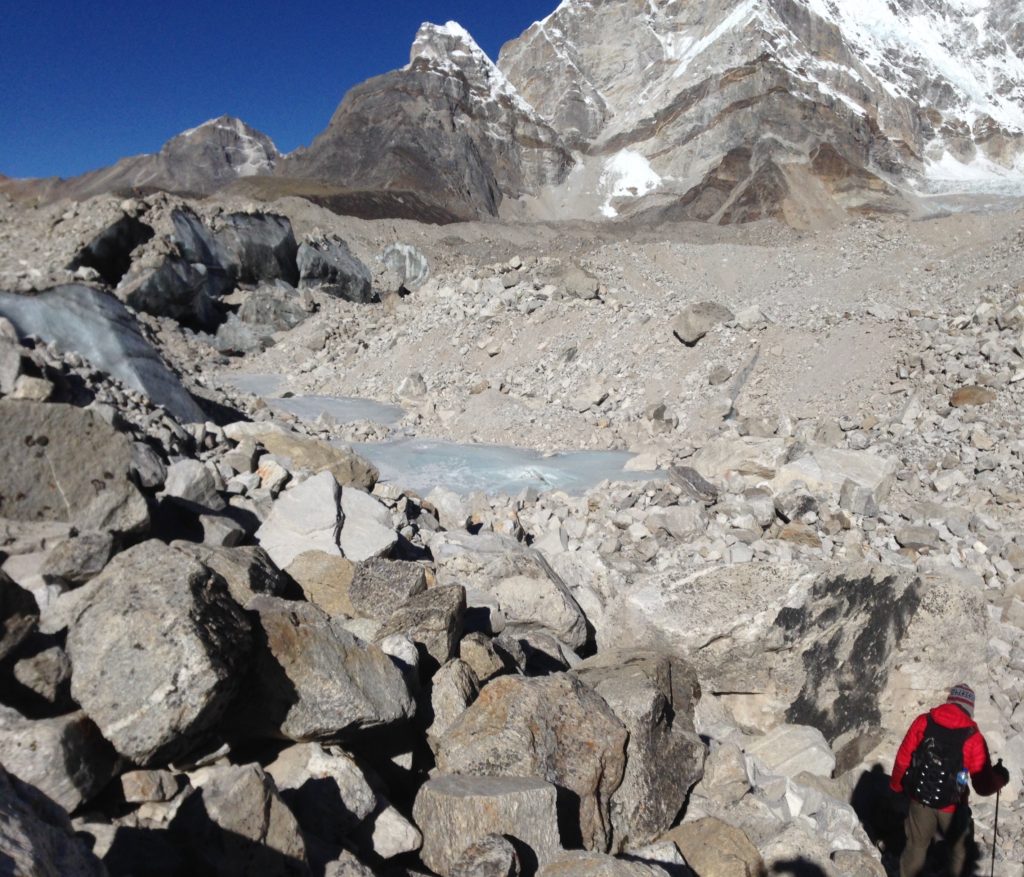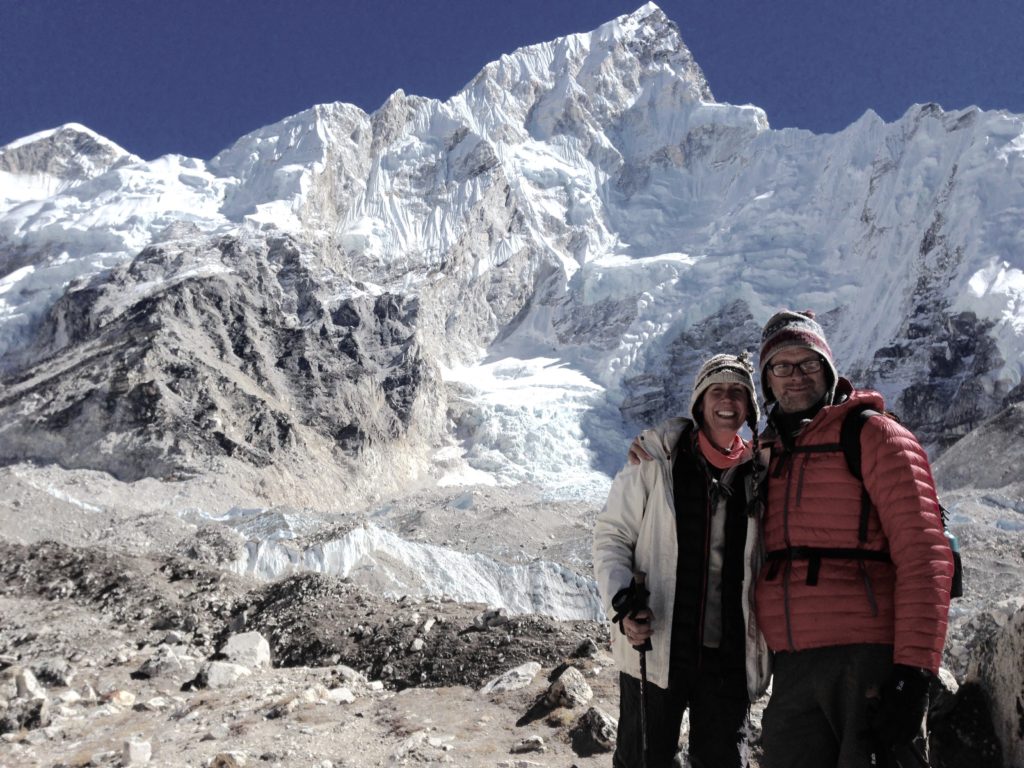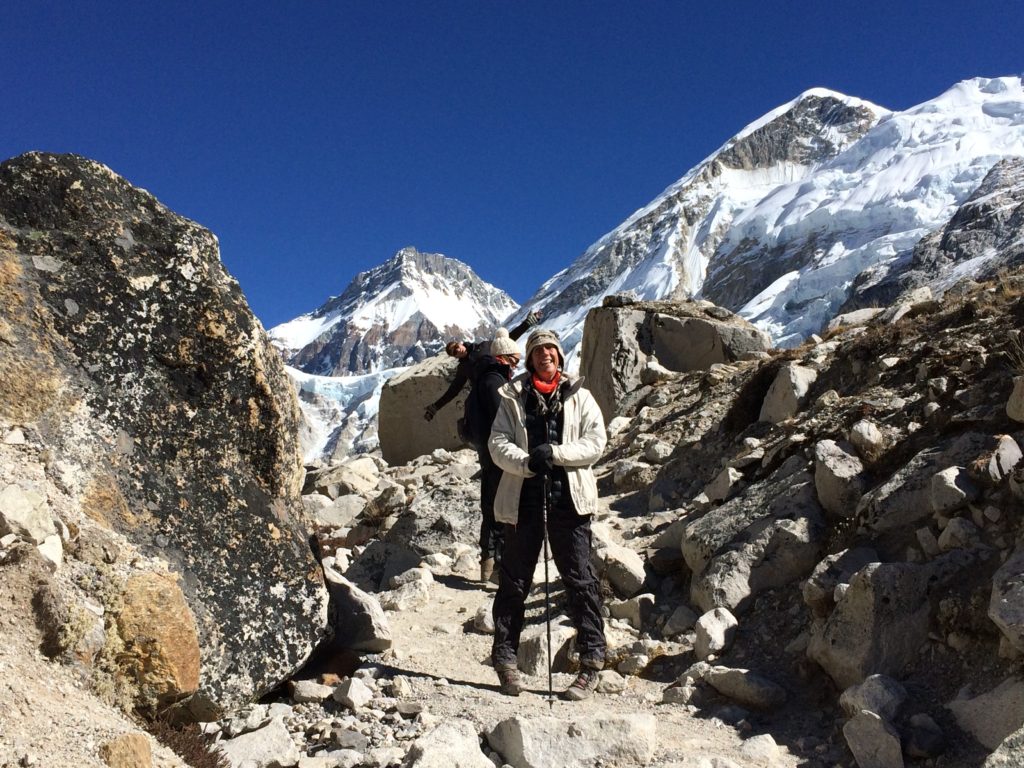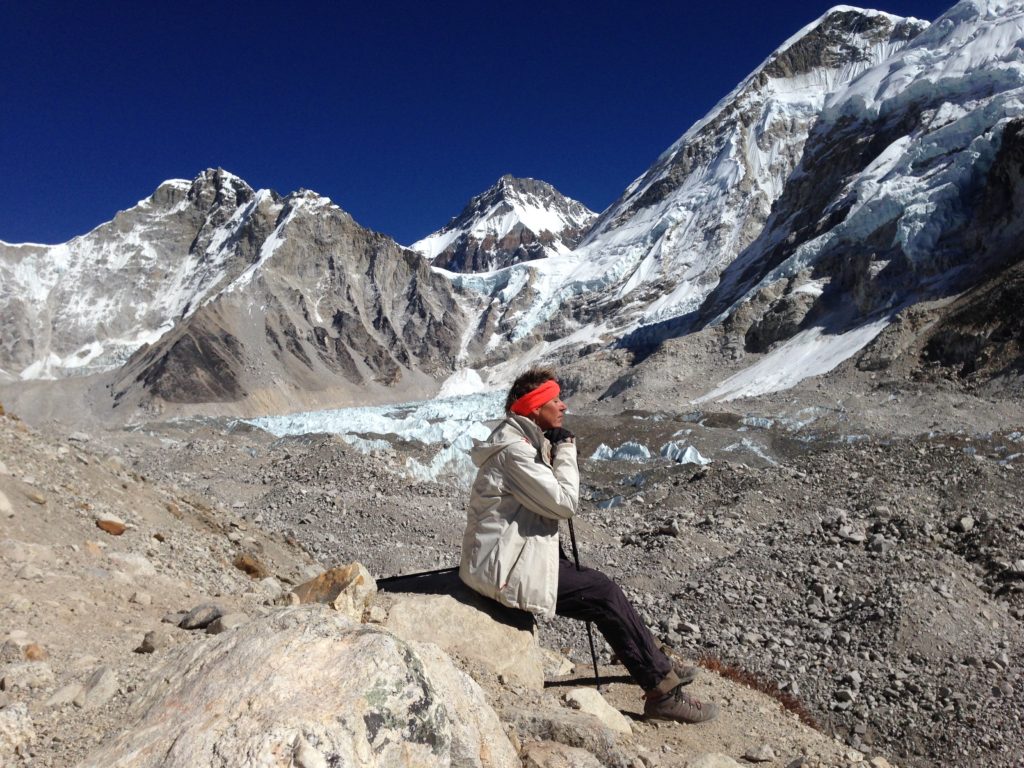 ---
On route we passed the two Australian girls we'd met previously. They'd made it to Base Camp the previous day.
---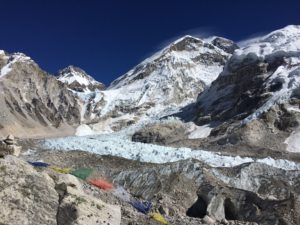 Base Camp is a large area, situated on and alongside the Khumbu Glacier where expedition teams make camp for their summit bids. If the weather is poor the end of the line for us mere trekkers is on a track above the glacier, but for us the weather couldn't have been better.In these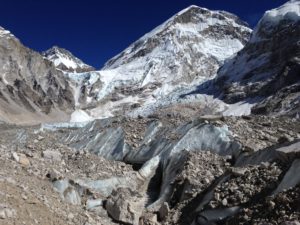 perfect conditions we picked our way over the tricky moraine and across deep crevasses to arrive at a couple of prayer-flag covered mounds. Surrounded by the most incredible landscape and in sight of a Spanish expedition's orange tents we paused to soak up our surroundings.
We'd done it, we'd achieved a dream, we'd made it to Everest Base Camp!
---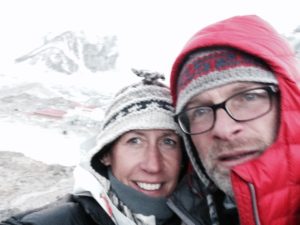 In bright sunshine and with hardly anyone else in sight – the joy of trekking at this time of year – we posed for our Base Camp photos. Excited and emotional we celebrated with friends made along the way and remembered those who hadn't quite made it. It was a special moment for us all.
In the midst of all the excitement Dirk produced a small bottle of rum to toast our achievements and Steve and I were told we looked like film stars by an English guy who was clearly suffering from the altitude!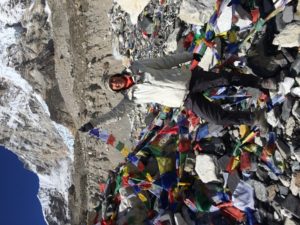 Having put up prayer flags we scrambled back to the track, found a sheltered spot and munched on a picnic of chocolate and biscuits. Dirk then produced a 7-year old Cuban cigar he'd been saving for a special occasion – this he decided was the special occasion he'd been waiting for.
We will none of us forget this day.
---
---
With the bitter wind now in our faces we headed back to Gorak Shep arriving both tired and elated – so far we'd survived our Everest Base Camp trek.
Now to make it back down…
---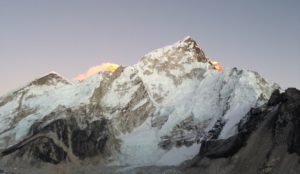 Sunset on Everest – 19th Jan 2017
---
DAY 9 GALLERY