Day 4 – Tadepani to Sinua (via Chhomrong)
Tosma Dodua Adelma!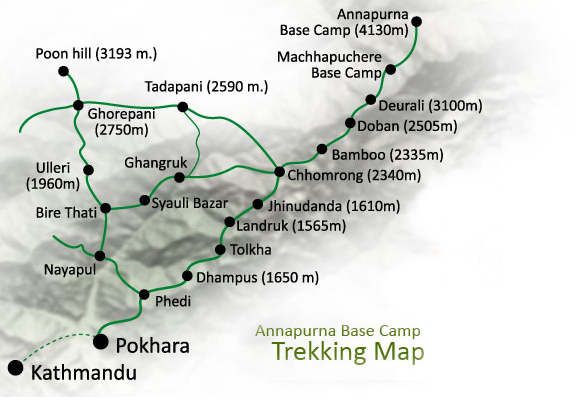 This was our longest day of the trek so far. After about twenty minutes walking Kate realised she'd left her sun glasses at the Tea House (an anniversary present, she knew there'd be trouble if she left them behind!). Whilst Kate and Yuba went back to collect them Rudra taught me the Nepali for "Glasses left at the tea house" and "Tosma dodua adelma" became the saying of the day. I have no idea of the spelling!
During the morning we passed a local primary school which had had a "rotating swing" built for Dashain. For a small donation trekkers were invited to use it and we jumped at the chance. With no health and safety considerations we boarded the swing and were propelled in a direction fun for us both. However, after a few minutes of enjoyment the direction was reversed and it quickly became a lot less fun and somewhat nauseating for one of us, much to the amusement of the locals!
Fun and games over we headed onwards and upwards towards Chhomrong for our lunchtime favourite, Dal Bhat. On the way we stopped to chat to a group of people taking a break from the midday sun and were asked the usual question of "where's home for you guys?" Cornwall we tell them, to which they say, no way, we're travelling with a Cornish guy called Sunny. Spookily just before setting off on our trip we were given the name of Sunny from the Yak and Yeti in Truro as a possible contact for some Nepali language lessons. Time ran away with us and we didn't have a chance to meet in Cornwall – unbelievably we've now met on a mountain, miles from anywhere in Nepal!
After stocking up on chocolate (a favourite for our porter Rudra) at the trekkers' shop in Chhomrong, we trudged up the last climb of the day to our Tea House in Sinua. Here we met people on their way back down from Base Camp and had one of our most enjoyable evenings in the mountains.
Thanks Marta and Marjan for such a great evening!
---
Day 5 – Sinua to Deurali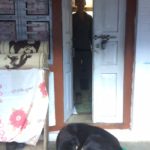 We woke around 6ish as usual, to find a furry friend on our doorstep. Having avoided the first obstacle of the day we sat down to our first breakfast pancakes of the trip. Kate loved them, but not to my taste – they would be my last…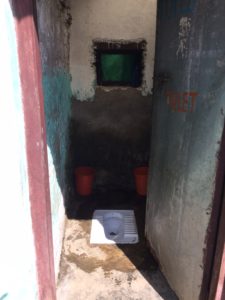 I suffered my first bout of deli belly, a likely combination of the sun, the tough going and possible Dahl Baht overdose… I found the next 2 to 3 days hard going to say the least. Kate felt somewhat smug – as a habitual nail biter at home (a habit she's ditched here) I bet on her being the first to become ill. Bet lost, it wasn't mentioned for the rest of the trip…
We settled at Deurali, sharing our room with a young Dutch couple, Jordi and Malaus (unfortunately 2 days later Jordi was sent down from Base Camp with signs of acute mountain sickness) and it was here that we met our trekking buddies for the next few days, Myanna and Jim. We spent a great evening with them before going to bed ready for the ascent to the Base Camp the next day.
I didn't sleep well…..
---