Myanmar – Laos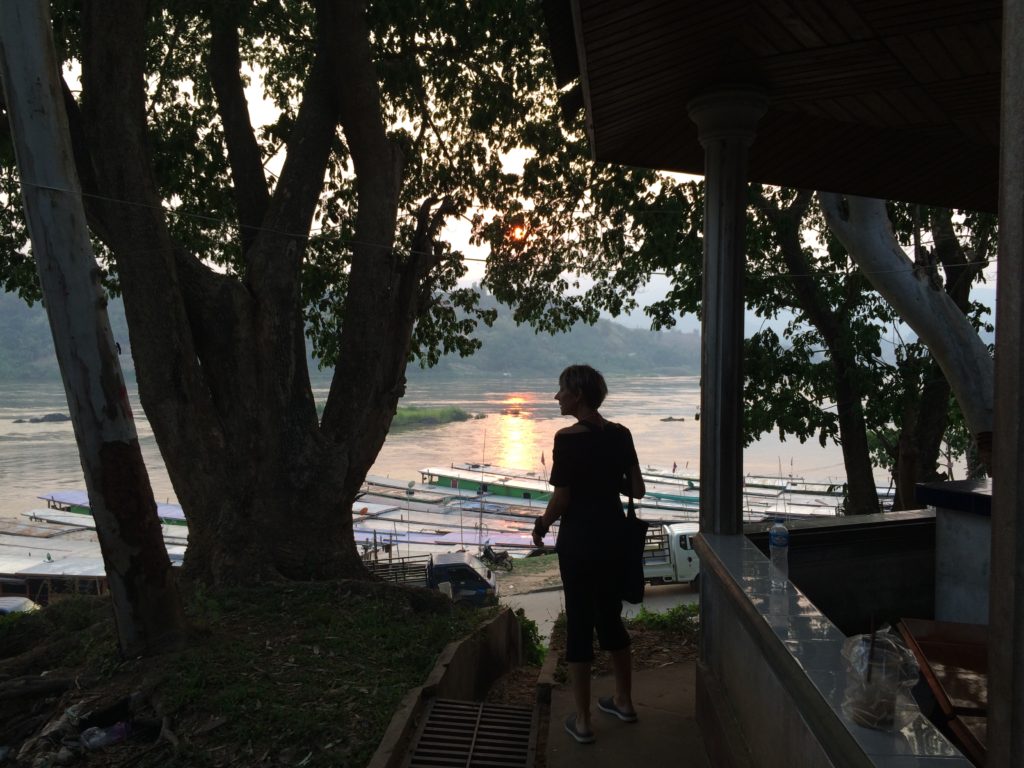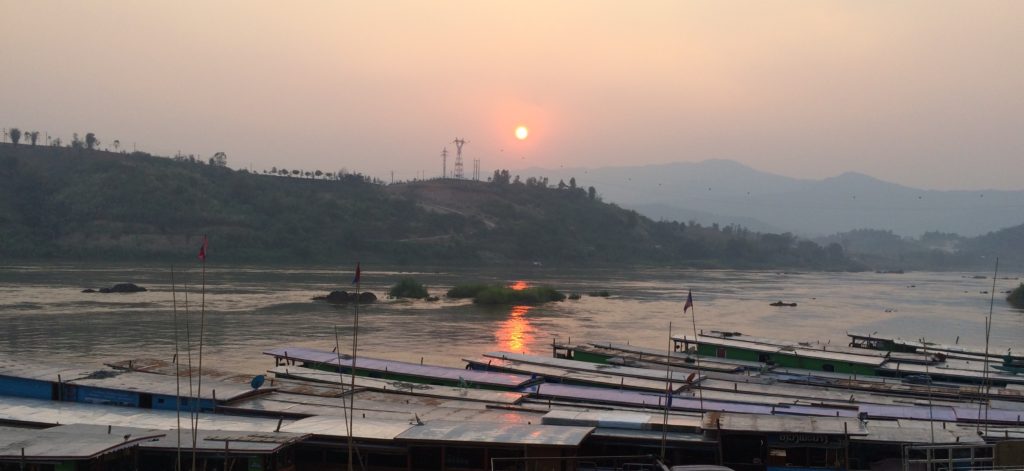 (Via Thailand)
---
Goodbyes said to Myanmar it was time for the lengthy overland journey to Laos via Northern Thailand. Our cheap night bus was posh on the outside but was once again without beds on the inside and Steve especially found this 28hr leg of our trip an uncomfortable one! Happily for him there was a mid way break where premiership football was playing on a big screen – Chelsea v Man United. Unhappily for him, Chelsea were losing which didn't much help his mood!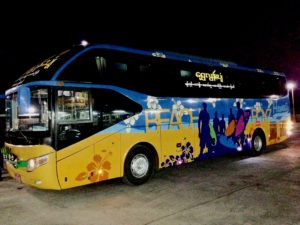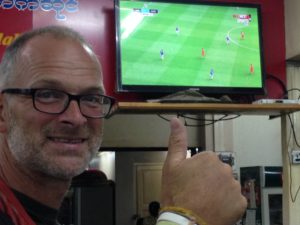 To make matters worse we were both fasting due to our recent illnesses and rationing our fluid intake because of the usual lack of toilet facilities on board. All in all our positive mental travelling attitudes were taking a bit of a battering but we hunkered down and did what we could to while away the hours when sleep eluded us. By the time we arrived in Myawaddy on the Thai border we were dehydrated and famished and very glad to get off that bus…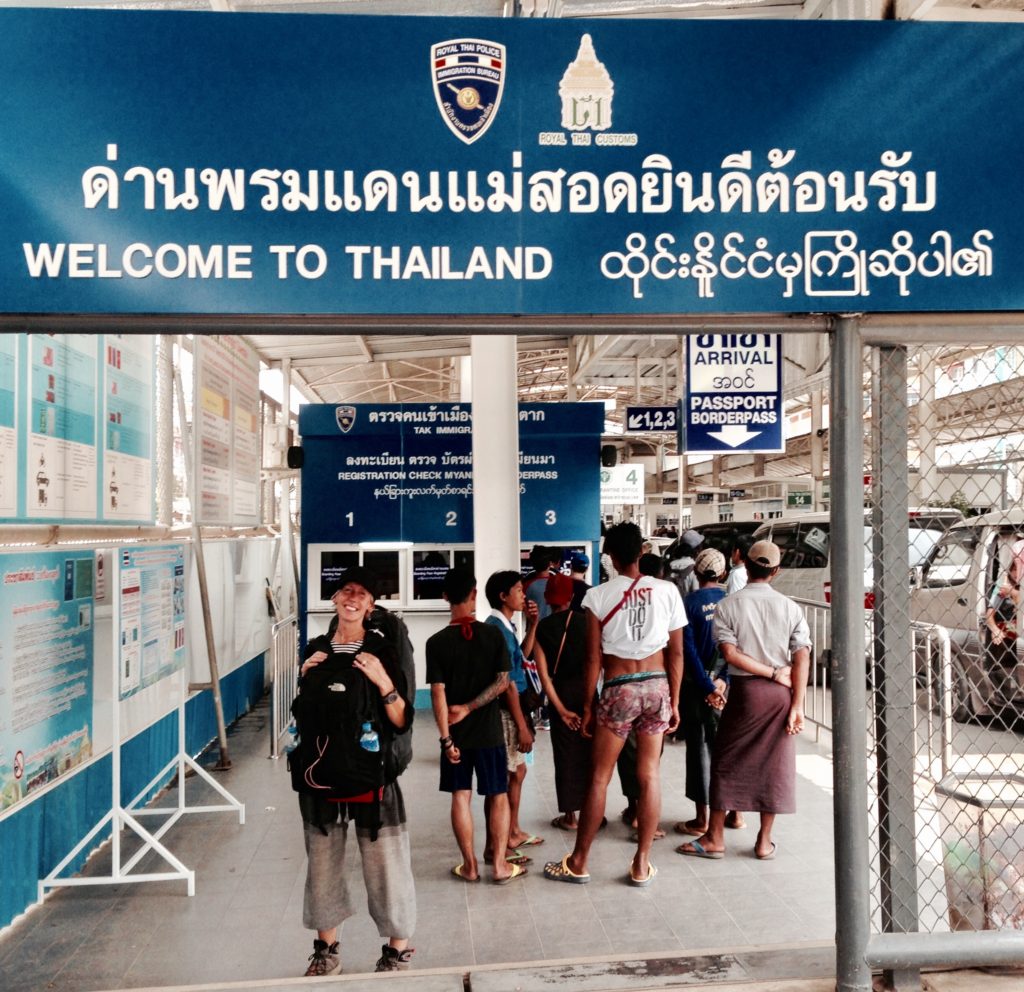 Having rehydrated we changed some currency and headed for the border crossing, it was time to enter Thailand. The formalities at the border were pain free and we were granted entry and issued our visas with very little fuss – everything seemed to be on our side so far this morning.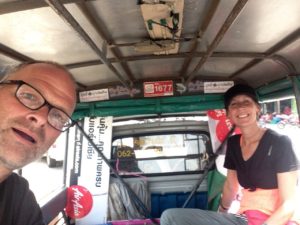 A short songthaew (the Thai equivalent of a tuk-tuk) ride got us into the border town of Mae Sot where we were staying for the night. We found a local cafe for what we hoped would be our first taste of Thai food. Disappointingly though, being so close to the border, it turned out more Burmese than Thai, but it filled a gap and energised us for the walk to our accommodation – which turned to to be farther from town than we'd anticipated. Laden with our bags and still recovering from our illnesses the trek in the heat of the midday sun seemed more like 30 miles than 3. I for one was relieved to assume a horizontal position on a comfy bed as soon as possible after checking in.
Blissfully we lay there whilst discussing our next plan of action. We had hoped to explore Pai and various other places in the area before moving further East. Frustratingly though, Steve was becoming ill again so a decision was made to settle in one place for a while and make a concerted effort to get him fully recovered once and for all. We'd been moving continuously since leaving Nepal so it was about time to take a breather and relax for a little while. The idea of a short break from 'what transport to catch when' and 'how to get where' was at this point appealing. We decided on Chiang Mai for our bolthole and with this in mind Steve set about planning our journey there for the following day. With the help of his favourite website 'The man in seat 61' he very soon had our route, mode of transport and timetable mapped out – what to do then for the rest of the day? Of course let's walk back into Mae Sot! We're not great at sitting still and like to explore our surroundings whenever possible. Our stroll back without the heat of the midday sun and minus our heavy bags was easy. We wandered around the ordinary town for a while before finding a great little cafe and treating ourselves to juice and pasta. This generic food choice was unusual for us, but with our efforts to become well we'd decided to avoid spicy local food, opting instead for alternatives that would be easier on our stomachs. We found this surprisingly hard, but needs must and hopefully it would only be necessary for a short while.
Both the food and drinks though were delicious. We hadn't eaten pasta for weeks so it was a much welcomed treat that we both relished, the healthy looking juices hit the spot too. We filled our bellies, played crib, our travelling card game of choice, and soaked up the local atmosphere. It was a lovely evening.
---
The following day it was time to put Steve's travel plans into action. We had a free mini van transfer to get to the bus station where we caught another minibus which took us to another bus staton. This station turned out to be the wrong one and so a quick zip across town in a songthaew was needed to get us to the right one. Unbelievably our bus was just about to leave so it was out of the taxi and straight onboard, better still we were given two front seats with loads of leg room – Steve was a very happy man.
As with many of our journeys we were the only westerners on board and so once again were the centre of attention amongst our local travelling companions. Their obvious curiosity at our presence suggested this public bus route wasn't regularly used by tourists and we could see why. It had proved a faff. For us though this is all part of the attraction of using public services rather than the often easier, but more expensive tourist transport options. A few hours later found us at the train station – once again the wrong one! We ummed and ahhed about where we needed to be and whether or not to walk, eventually opting to take a lift. It was the best decision of our day. As we arrived at the spotless station to buy tickets we were told that the train we needed was just about to leave. We were escorted, by a very smart and very smiley elderly station master, to our train which 5 minutes later departed – we were on our way. The train was cheap, it was air conditioned, the seats were comfortable and we were served hot food and drink. Our day just got even better.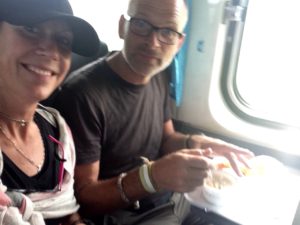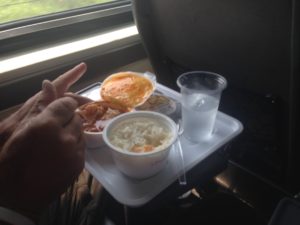 Unexpected food included with our very cheap tickets!
The journey went quickly and we soon found ourselves in Chiang Mai. We'd left booking a hostel here until the last minute, luckily The Lonely Planet came up trumps – Gaps House was chosen. You can't book or reserve rooms here, it's a "turn up and hope for the best" hostel, but as it wasn't high season we were optimistic there would be a free room and happily for us there was. What an amazing place it was too. Set amongst its own little jungle just inside the old city moat boundary and only a couple of minutes stroll from the famous Sunday night Walking Market, it was a cracker.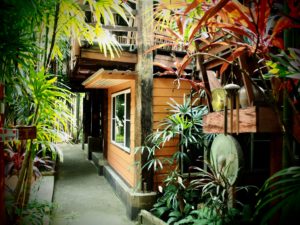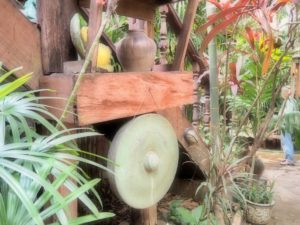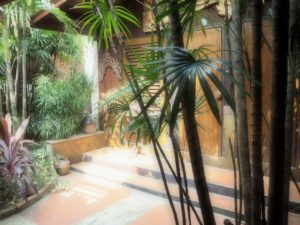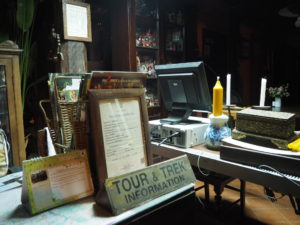 We explored the night markets, we passed the time in the cool cafes, we enjoyed, or should we say endured, a Thai massage, we visited the city aquarium, we went to see Thai boxing – a fascinating and brutal sport combining traditional music, agility and hefty dose of bravery and we worked at getting our ourselves better.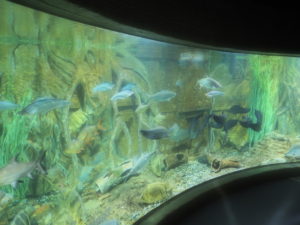 Steve was again unwell, and although much better I still hadn't fully recovered from my brief bout of illness in Myanmar – it was time for some more research. We read that antibiotics, of which Steve had now been on three courses, can in themselves cause stomach problems by killing the good bugs in the gut. In order to become properly well, we read, it's important to get intestinal flora back on track – Yakult, or the Thai equivalent it was then. We found various other suggestions and tips for good gut health which we implemented, replacing the antibiotics for a while to see how it went. It went brilliantly! We were strict with our diets, which meant no street food, however tempting it was, nothing too spicy and no alcohol! (not that we were drinking that much anyway). Steve, with his fondness of spicy local food washed down with a Chang beer, disliked our new strict regime, but he soon learnt to tolerate it, especially when he started feeling properly well for the first time in as long as he could remember. He started to put weight back on and regained colour in his cheeks, finally and thankfully his health seemed to be heading in the right direction.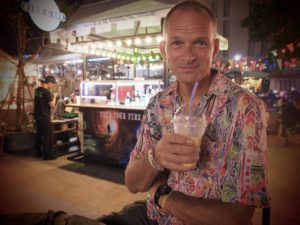 Chiang Mai is a wonderfully colourful city with a cool vibe. You can party or chill here, socialise with the diverse characters that wander its streets or soak up the culture in solitude, you can take cooking lessons, have a massage, watch Thai boxing, browse the gloriously colourful local day and night street markets or shop at the westernised malls with their branded merchandise. We very much enjoyed our 10 days recuperating in the city and were sad to bid it farewell when the time came.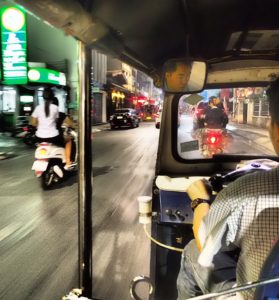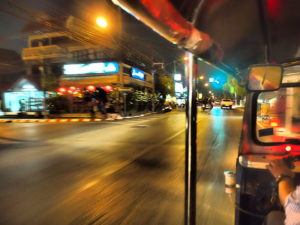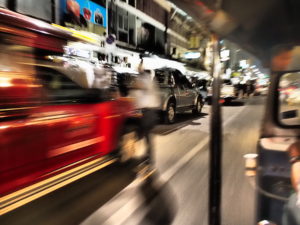 It was an easyish bus ride to the border, so we thought! Our hostel manager, not the most helpful in the world, assured us that buses ran regularly to our destination of Chang Rai and that even with the New Year festivities looming there would be plenty of seats available. Against our better judgment we took his advice and didn't book tickets in advance – BIG MISTAKE!
As we stood at the depot with one person after another turning up with their pre-booked tickets we were kicking ourselves for not going with our instincts. The earliest bus with space available was later that night and meant almost certainty of missing our connection. We needed to weigh up our options – sit it out and potentially miss our boat or find an alternative – what to do? We've found that giving ourselves space works wonders for finding solutions, so that's what we did and sure enough within a few minutes we were a group of four with the same problem. The men on the taxi rank took notice and we were soon approached with a "you need taxi?" We were a long way from our destination and we could see our limited budgets being blown out of the water, but sometimes needs must. The first offer of help and its accompanying price tag was immediately rejected. But work seemed slow on the taxi rank and before we knew it we were being offered a good enough deal to be taxied to where we needed to be. The final price was somewhat more expensive than the bus, but one on which we all agreed – we were good to go. During the trip we were shuffled from one mode of transport to another in a kind of relay affair which wonderfully got us to our destination with bags of time to spare.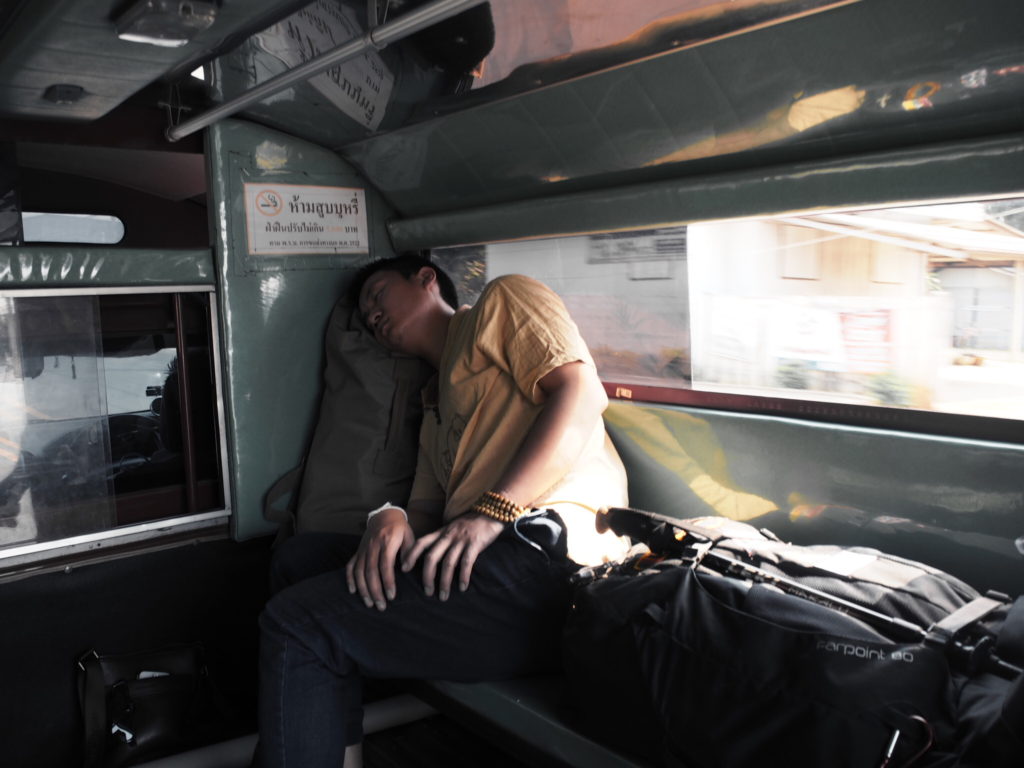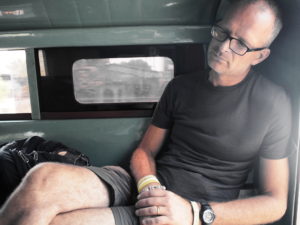 Nap Time!
It was then a songtheau followed by shuttle bus to cross the border and into our next country – crossing a border is always a buzz, but we were especially excited to be entering Laos. Formalities completed we shared a lift with a couple of young travellers on the back of a truck to the small town that would be home for the night. This trip was to be our first experience of the infamous water festival we'd heard so much about. As we passed small villages, pockets of people either with hoses, water pistols or buckets hurled water at us from all angles with great accuracy – we were drenched!
We hadn't booked any accommodation, but it wasn't difficult finding something and we checked into the first place we stumbled across. We picked up our boat tickets, draw out local currency and bought a local Sim* before settling down for the night. Tomorrow we would be catching a slow boat to Luang Prabang – We were excited.
HELLO LAOS!
---
* We use local SIMs for wifi hotspots. Extensive phone coverage in most countries enabled good, cheap, readily available internet access – especially handy for long journeys on buses and trains.