Where to start…
We've just returned from the most incredible 9 days trekking in the Himalaya. Our destination Annapurna Base Camp at 4130 metres was achieved on 24th Oct 2016.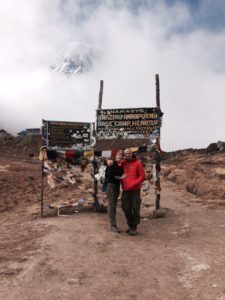 It's pretty much impossible to describe just how magnificent, diverse and awe inspiring the scenery is here, especially in the mountains. Every day we trekked through different countryside – some farmed, some forested, some exposed, some sheltered – all of it beautiful and very little of it flat!
---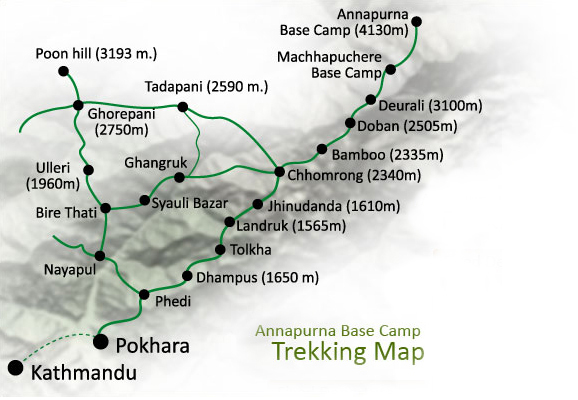 Day 1 – Pokhara to Tikhedhunga
(Between Bire Thati and Ulleri on above map)
---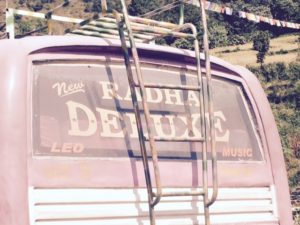 Our first real adventure in Nepal started by public bus which is an experience in itself – especially if you're 6ft + like Steve. Public transport virgins so far this trip, we'd been putting off the inevitable and knowing we had to bite the bullet sooner or later boarded one of the many dubious looking buses. Most public buses here advertise themselves as Deluxe and ALL of them most definitely are not! Not far into the journey we were stopped by the police and both the money collecting lad and the driver were ushered off for questioning at a nearby check point. On asking our guide Yuba what was happening and if it happened often he simply replyed that he didn't know as he avoided travelling on public buses… A little over 2 hours later we knew why!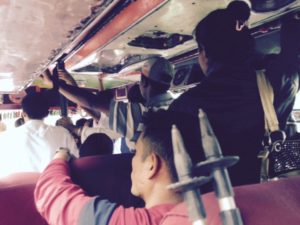 The ride turned out to be a long one -Steve could barely fit into his seat, more and more passengers were 'shoe horned' on as the journey progressed, the suspension was non existent and the roads were in pieces with what looked like lots of 'drekly' work being carried out on them.
Despite everything, we arrived safely at our trek starting point where, with huge relief, we unfurled ourselves from our confinement ready for the off.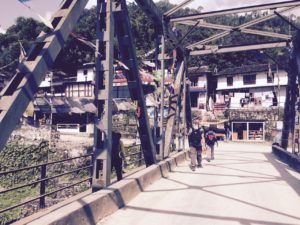 To walk to Annurpurna Base Camp, trekkers are required to buy permits and the first part of our trek was interrupted by having these checked at various checkpoints. Steve and I were fizzing with excitement, eager to get going and just so incredibly happy to be heading for the mountains – our adventure was about to become yet more exciting.
The sun was blistering in the valley, at the low level start to the trip and we walked for a couple of hours or so before stopping for refreshments in the first Tea House of our trek.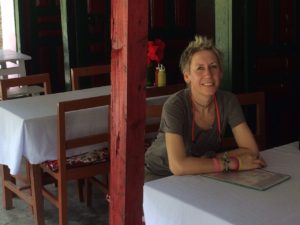 Apart from camping, all accommodation on the trail is in the form of Tea Houses. With their distinctive blue paintwork, Tea Houses offer basic accommodation with not much more than beds in the rooms and mostly shared, limited loo and shower facilities. Further along the route Tea Houses become fewer (after Chhomrong the land is owned by the government and so the building of new Tea Houses is prohibited in this area), this means that during busy times of the season such as now it's Common for trekkers to have to share rooms.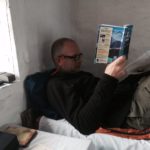 For two nights that's what we did and were lucky enough to be paired with great roommates who remained friends for the duration of the trip. Prices are set across the board – no haggling allowed, which is fine by us because we're rubbish at it! The food is fantastic, all freshly cooked, with tons of choice for all meals of the day. Dahl Baht is the local dish of choice and the best value option as seconds and thirds are always offered. It also happens to be scrummy and great fuel for the long walks. We usually opted for black tea (a far cheaper option than fizzy, canned alternatives), which tends to come sweetened unless asked for otherwise. Ginger tea and Nepali masala were also favourites. Hot showers were available nearly everywhere (at a cost) and we took advantage of them more often than not. We braved the cold option only a couple of times and wet wipes were the fall back solution…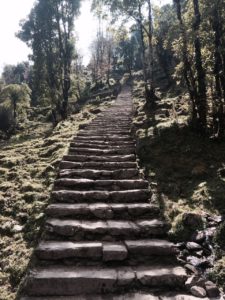 We climbed the first of many gruelling steps and crossed the first of many wicked bridges to get to our Tea House number one stop over in Tikhedhunga. Nestled in the surrounding woodland it was a great place to spend our first night on the trail where basic living was about to begin.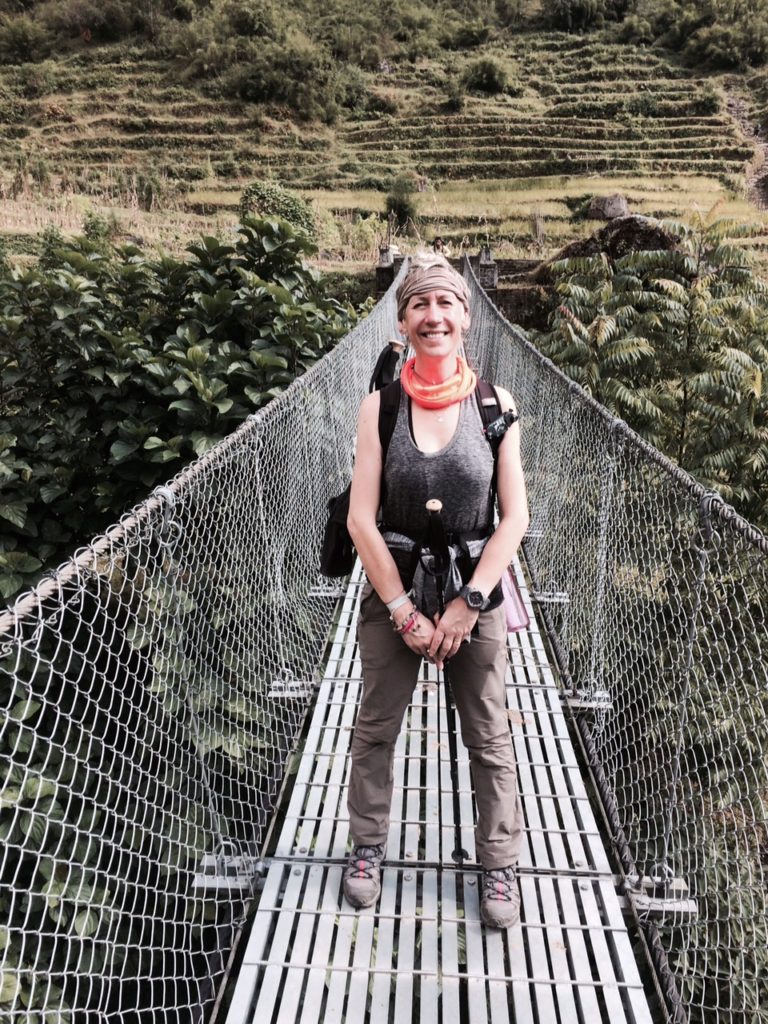 ---
Tucked among trees and by a river, Tikhedhunga Tea House was a picturesque and much welcomed sight after a long first day in the hills.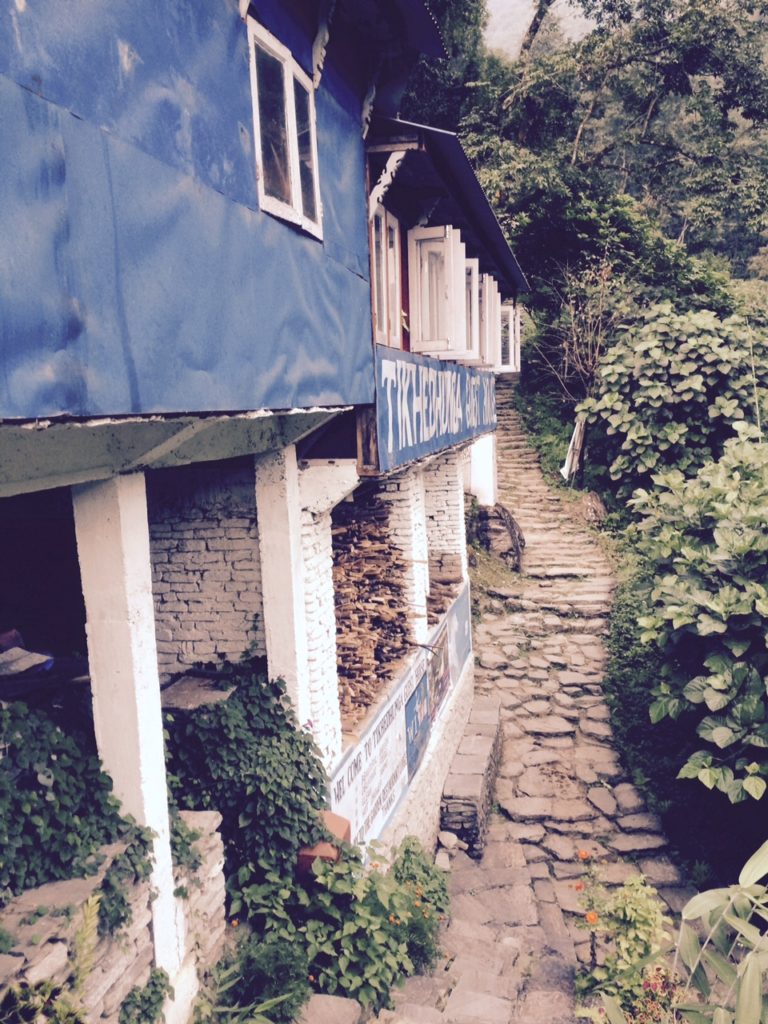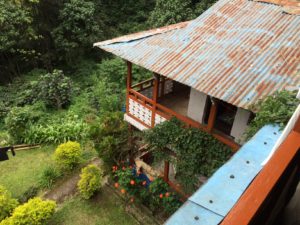 We ordered Dahl Baht to eat and a beer each to drink – Yuba suggested we share 1 beer between the 2 of us! We took his advice and it turned out to be our last beer in the mountains. We went to bed at 7:30 and awoke to our alarm at 6:00 the next morning. A routine we would keep for the next 9 days, breaking it on only two occasions to get up even earlier to watch the sun rise over the mountains – beauty sleep well worth missing!
---
Living the dream…
---