Day 2 Tikhedhunga to Ghorepani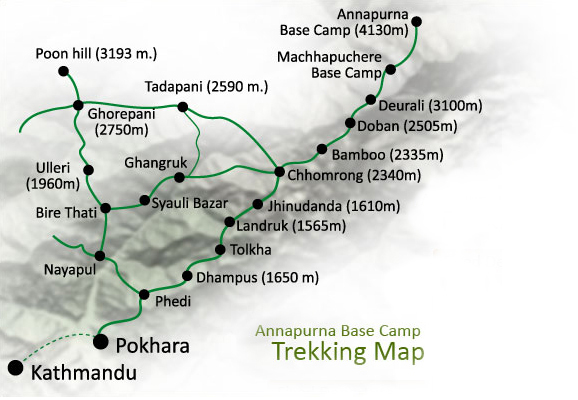 We slept like babies on our first night in the Annurpurna mountains, waking only when the alarm went off at 7:00am. Having wolfed down breakfast, we prepared ourselves for the day ahead. The start to the morning's trek was a testing 3300 steps upwards – oh joy! We ascended them with much huffing and puffing, but actually without too much trouble – maybe there's life in us old dogs yet?!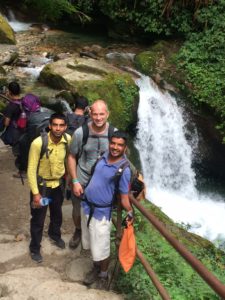 Usually we like to travel independently, but after much consideration and some
research we opted to take a guide and porter with us. Tourism provides the livelihood for many people here, so for Steve and I it was an easy decision to employ two people to help us with our trek. We didn't regret it either – Yuba our guide and Rudra our porter were both fantastic. They looked after us brilliantly with just the right amount of attention, allowing us space when needed, but more often than not joining us for games, meals and chats. They taught us a little Nepali every day and helped us greatly with our pronunciation – really handy for our volunteering work starting soon. For the 9 days we were with them we enjoyed their company immensely and parted as friends.
---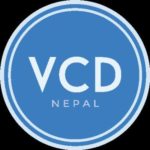 This trek was very kindly arranged by Bicky (VCD Nepal), a Nepali friend of our daughter Meg. Having a connection here has made everything easy and we're so grateful to him for all his help and generosity of spirit.
---
We couldn't help but feel for Rudra, our porter who was carrying our main pack, but when I saw what other porters were carrying I felt much easier – He didn't have the lightest pack, but he certainly wasn't carrying the heaviest load on the mountain. Many porters, employed by tourists and by Tea Houses were lugging unbelievably large, awkward and heavy loads, apparently weighing anything upto a hefty 35kg's! Rudra's pack was a mere 16kgs in comparison…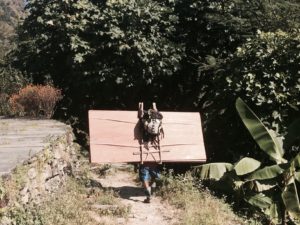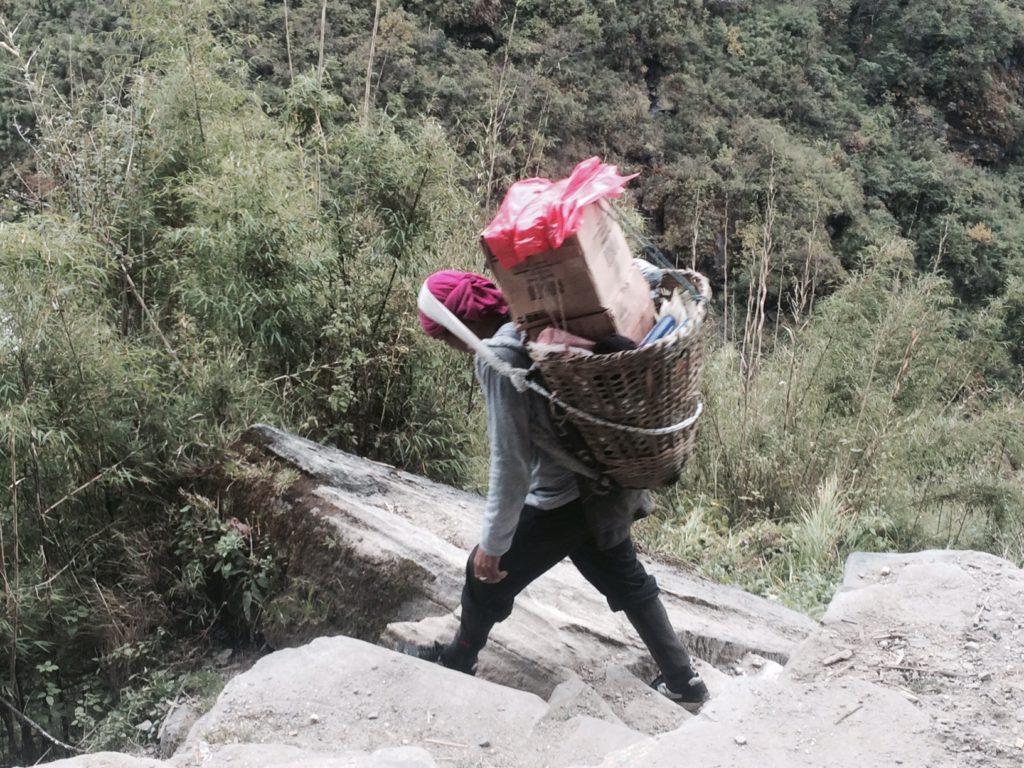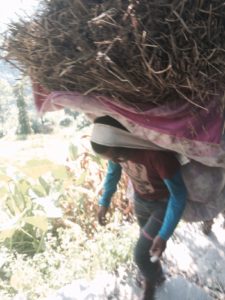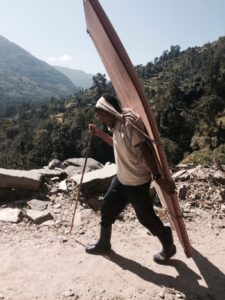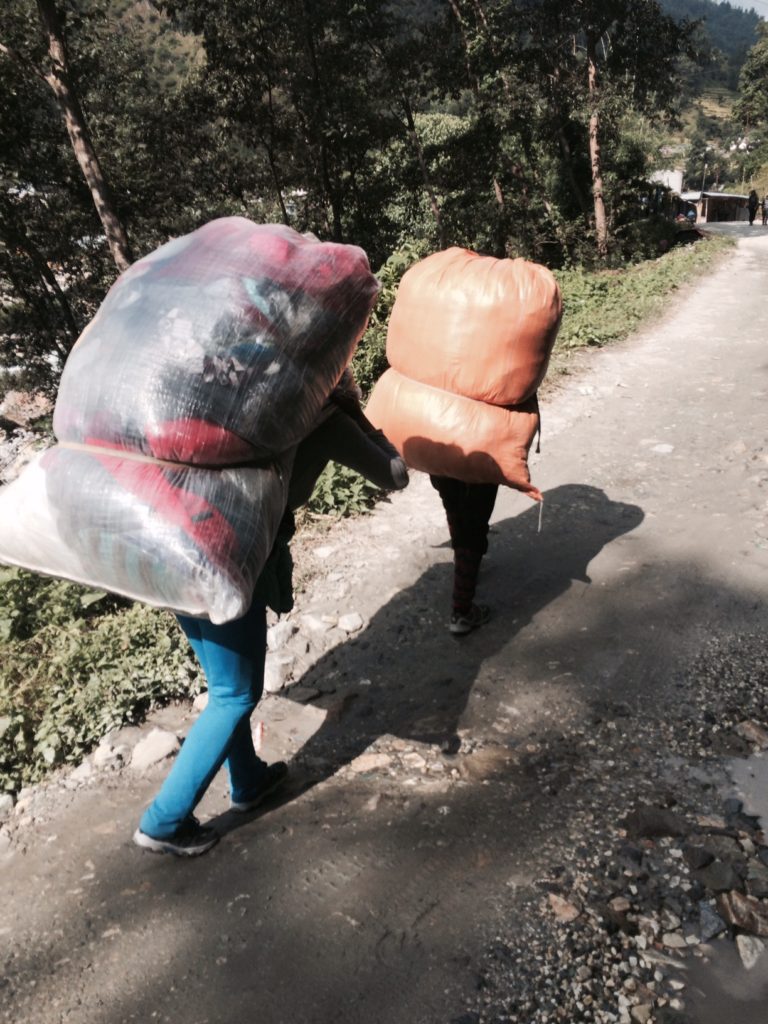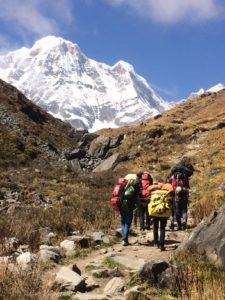 Many porters prefer to carry their loads with straps around their heads, rather than using western style backpacks with shoulder straps – opting still for the tradional methods they grew up with.
---
The day started with blistering sunshine, it ended with rain. We had tea breaks anda lunch stop along the way. For a couple of oldies we felt fit and our progress was good. Some advice from Yuba on this day was to stand uphill of any mule trains passing (a tip that proved a lifesaver later in the trek when mules loaded with large gas canisters trotted passed without stopping – luckily we were pinned to a wall rather than knocked off the cliff!).
---
We soon decided that so far the best bit of kit we had with us were our LifeStraw water bottles. Their ingenious system filters out bacteria and nasties (technical term) so the bottle can be filled from anywhere to provide up to 1000 litres of safe drinking water (around a year's worth for us). Whilst everyone else was faffing around with water purification tablets/systems, Steve and I were filling our bottles from taps and streams and getting on with our day. Environmentally they're brilliant too because it reduces the need for plastic bottles. So far our Lifestraws have been the perfect solution for hassle free and environmentally friendly travelling – we can't recommend them highly enough and have been the envy of fellow travellers throughout our trip.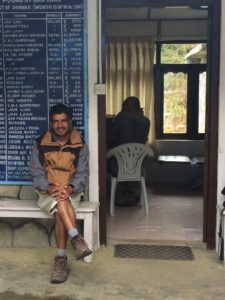 Steve, numpty that he is, had to have his thumb stitched a week before we headed here – long story… Anyway, the stitches were due to be taken out on this day! Luckily we passed a small health post en-route manned by a solitary nurse. She (brilliantly for me, otherwise it was my job) took out his 3 stitches and all was well. It turns out that Yuba, although an awesome guide is somewhat squeamish, so opted to wait outside the door as the deed was done!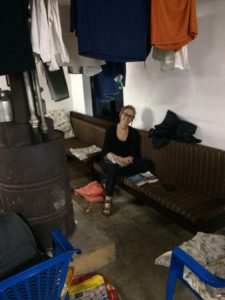 We arrived at Ghorepani Tea House around mid afternoon. An efficient wood burning stove in the communal area was a welcome sight because at 2759m it was starting to feel a little chilly – it also proved a great place to dry our washing!
Steve and Yuba found a chess board and played their first (and as it turned out, only game) of chess, Steve was victorious, but thought Yuba may have given him the win – bigger tip for him now then…
---
Day 3 – Ghorepani to Tadepani
(via Poon Hill at 5am!)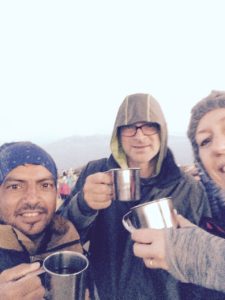 Some things are just worth getting out of bed for and the trek to the top of Poon Hill at 5am in the dark to watch the sun rise over the Annurpurna mountain range is one of them – a magical moment for us and one that will linger long in our memories. As the sun came up, the mountains became rose tinted and a new day dawned in the most majestic of places. We drank tea, toasted the new day and decsended to our Tea House for a hearty breakfast in preparation for yet more uphill climbing.
The next part of the trail took us through incredible rhododendron forests. Growing as huge trees rather than the bushes of home – it must be a spectacle in the spring when the flowers are in bloom. We descended a very long and tricky path through the valley before ascending a much friendlier route to reach our destination for the night, Fishtail Lodge at Tadipani.
---